5 questions you should ask someone with a disability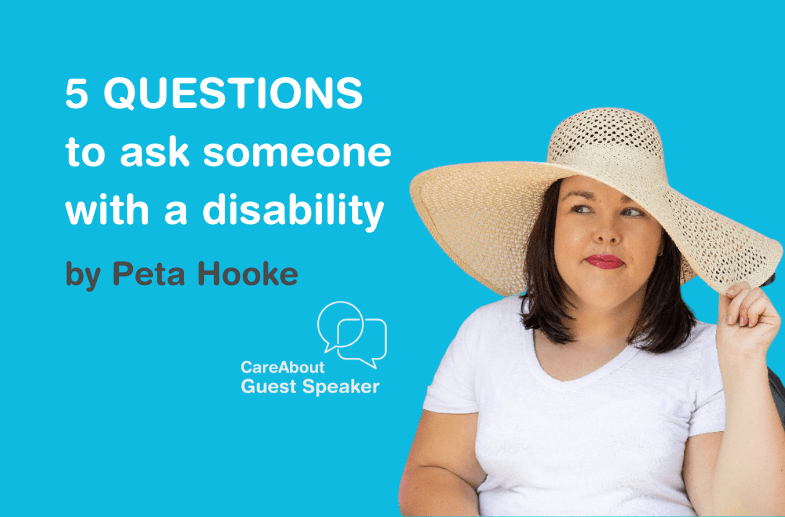 Hello!
I'm Peta, a thirty-something woman, who has Cerebral Palsy. I am a disability advocate.
I have teamed up with CareAbout, which means I have the honour and privilege of being able to write to you once a month. I'll be sharing my own stories or stories of others, and answering any questions you may have about the NDIS and living with a disability.
It is lovely to meet you.
There are only two things you need to know about me:
1. To me being disabled is normal. I was born with a disability. I don't know what it is like not to have a disability.
and
2. I am a pretty determined person.
I am determined to help people with disabilities feel seen, better understood and empowered to live their life on their terms. While also being equally determined to help non-disabled people better understand what it is like to live with a disability.
I want to help make change.
I think we all know we have a long way to go before there is true acceptance and equality of people with disabilities.
Personally, I actively choose to ignore the negative connotations others have towards my disability and the state of being disabled. It isn't always easy, but it is how I get through.
My podcast
I have a podcast, The I Can't Stand Podcast.
On the podcast, I answer questions from my audience on what it is like to live with a disability. There have been the expected questions, like "What is wrong with you?" or "Do you have friends?"
*Sigh
But now over 60 episodes including thirteen guests, I think we are starting to get somewhere. As someone whose job it is to answer questions, I have thought a lot about what I wish people would ask me and other disabled people.
Here are my top FIVE questions I wish people would ask people with a disability:
What do you wish people better understood about disability?
How can I be an ally to the disabled community?
How should non-disabled people support both those with visible and invisible disabilities?
What barriers do you face as a disabled person?
Where are the disabled people? Why am I not seeing disabled people in my workplace, in the community or on television?
I know this is a very short list, but I do believe if every person asked me these five questions, the world would be that little bit kinder.
What questions do you wish people would ask you? Email [email protected] and let me know what you think. I'd love to hear from you.
Until next time,
Peta x