7 signs your loved one needs help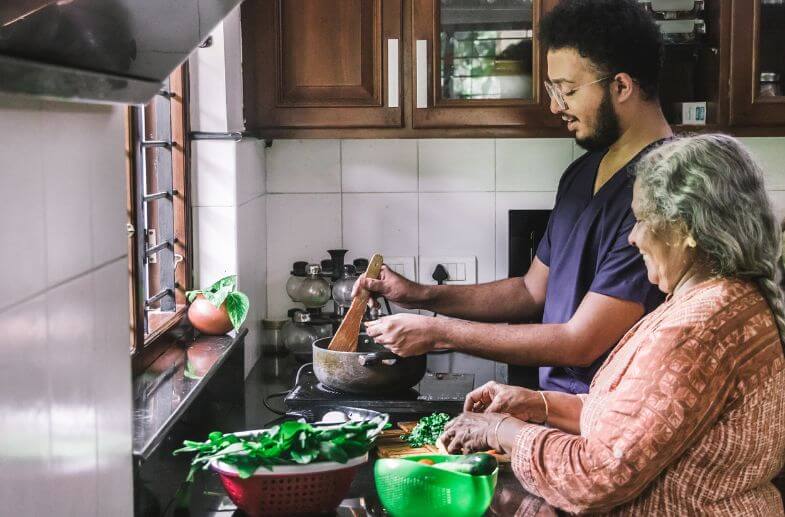 Humans tend to be stoic. We like doing things our own way and under our own steam. We value our independence, our free will and want to live life our own way. It can be extremely difficult to ask for help. But as we get older there comes a time when we may need some extra support to remain independent and safe in our own home.
If you have a family member or loved one who you think might not be coping as well as they have in the past, it's best to seek help as early as you can. Even if you just have a slight sense that they are starting to struggle with everyday tasks, it's worth starting the conversation and taking steps towards getting support right away. The wait times for home care can be long and you don't want to wait until things are more serious.
What are some of the signs that indicate your loved one needs some support?
1. No fresh food

in the fridge or pantry

If your loved one is starting to find it difficult to get to the shops to do their regular grocery shopping, you might notice that their supply of food is getting low, or things are out of date. Have a look in the fridge – is there enough food? Is it fresh and within its use by date?

You might also find that there are more pre-prepared, frozen or canned foods than is normal for your loved one. If so, it might indicate that it's getting hard for them to prepare and cook their own meals.
2. Limited mobility
Loss of mobility is inevitable as we age and it can make simple daily tasks very difficult. Observe the way your loved one moves about their home. Can they easily get up from chairs, reach the cupboards they require and safely shower?
3. Unusually vague and forgetful
Find a time when you're not busy and don't have the competing demands of work or children so that you can really pay attention to your loved one. Are they forgetting things, or having conversations that don't make sense or are out of context?
Be careful not to dismiss any memory changes or confusion you witness – it can be easy to shrug things off and tell yourself that their forgetfulness is just because "they're getting older". However, cognitive decline and dementia is common in over 65's and it's important to know if there is something that needs to be addressed.
4. Unclean or inappropriate clothing
Are your loved one's clothes clean? Are they dressed appropriately for the weather, or for the situation they're in? Dirty or unusual choice in clothing can be an indication of a few things. Often, people who are feeling lonely and depressed lose interest in their own upkeep and will re-wear the same clothes again and again. Or, it could be that doing laundry is physically difficult and is therefore avoided. People who may be showing signs of dementia can also forget to change or wash their clothing.
5. Soiled sheets, towels, or a dirty home
Look around the house – are the towels and sheets clean and the bed made? Are there piles of washing or none at all? It may be that your loved one is finding housework too difficult and they need and extra helping hand.
Changing bedsheet, hanging out washing and vacuuming, dusting or mopping can be very tiring and taxing for older adults, especially if they are starting to have some mobility and flexibility issues. Seeking some household or domestic support can make a huge difference to the life of your loved one.
6. The house and garden need maintenance
Maintaining things in and outside the home are tasks that can be the most difficult for ageing adults. Look out for gutters that are in need of a good clean, lightbulbs that need changing, windows that need washing, or lawns that need mowing and overgrown gardens that need weeding.
An overgrown garden can be a fall or trip hazard, so it's really important that your loved one has some support tidying up and maintaining any paths or walkways leading to and from the house.
7. Limited social contact
Isolation and loneliness is a big risk for many older Australians. Have you noticed that your loved one is leaving home less and less, or has minimal contact with others? Is it hard for your loved one to get to social gatherings or attend medical appointments? Do they need help arranging transport to stay connected?
Don't leave it too late to arrange extra help for your loved one. Government subsidised Home Care Packages have a wait list of up to 3-6 months and by then an Aged Care Home may be the only option.
Get the ball rolling by contacting CareAbout  1300 536 707  to discuss your options and learn more about applying for home care.