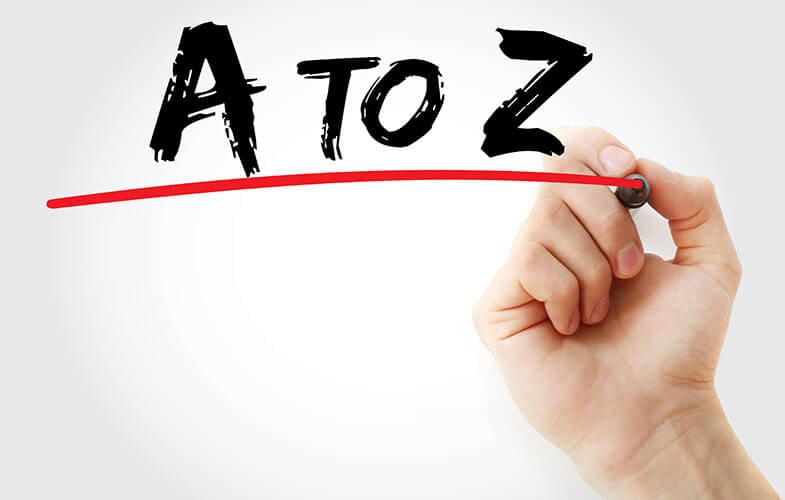 There are many facets involve with Alzheimer's disease. Learn the A-Z's of Alzheimer's disease with CareAbout's alphabetical list Alzheimer facts and stats.
A is for Alzheimer's disease
Alzheimer's disease is the most common form of dementia. It is responsible for about 70% of all dementia cases.
B is for Brain (and for beta-amyloid)
The brain is the source of Alzheimer's disease. The disease is caused by the build-up of abnormal deposits of protein in the brain. There are two types of deposits, plaques and tangles. The plaques are a protein fragment called beta-amyloid and they build up in the spaces between nerve cells. The tangles are fibres of a protein called tau and they build up inside brain cells. These build-ups usually begin in the outer brain, where short-term memory is controlled. It then spreads and starts to affect long-term memory and other functions.
C is for CareAbout
CareAbout can help you locate and importantly choose the Home Care services and providers that are right for you. From Home Care Packages to privately funded care, CareAbout can help match you with the right provider for your needs and budget. There are many options for Aged Care services that let you comfortably stay in your own home and get the support and assistance you need.
D is for Dementia
Dementia is not a specific condition or disease. It is a term that is used to describe a range of symptoms associated with loss of memory, thinking skills and behaviour skills that significantly reduce a person's ability to perform everyday activities.
E is for Exercise
Early onset dementia is also known as younger onset dementia. It is the term used to describe dementia, including Alzheimer's disease, occurring in people under the age of 65.
F is for Finances
People with Alzheimer's disease may developed a decreased capacity to understand finances and make fully-informed decisions. Help them to get the support and advice they need, but make sure you include the affected person in discussions.
G is for Genetics
The vast majority of Alzheimer's disease cases have no genetic links at all and start developing over the age of 65. However, a less common form, familial Alzheimer's disease is caused by genetic mutation and can affect people under the age of 65.
H is for Home care
Looking after someone with Alzheimer's disease in their or your home is encouraged by the federal government, with a range of subsidies available. If you want to talk about Home Care options, contact CareAbout for more information, for answers to your questions, and to put you in touch with a Home Care provider who specialises in dementia care. CareAbout can help you locate and importantly choose the Home Care services and packages that are right for you. There are many options for Aged Care services that let you comfortably stay in your own home and get the support and assistance you need.
I is for Interaction
It is essential that people with Alzheimer's disease maintain interaction with their family and social circles. If you are responsible for caring for someone, encourage and facilitate social contact, and brief those in the social circle about what to expect and how to behave.
J is for Judgement
Judgement is one of the key areas that is affected by Alzheimer's disease. Some of the more common judgement-related problems are:
Dressing in inappropriate clothing
Expressing themselves to people in a tactless and hurtful manner.
Taking things from shops without paying.
Providing credit card details to people over the phone, or in response to an email.
Not checking the credentials of people offering to perform certain tasks for money.
K is for Knowledge
There are masses of sources of knowledge about Alzheimer's disease, many of which are reputable. However, to ensure you get the most accurate and up-to-date knowledge, Dementia Australia is a valuable first source. Their website is www.dementia.org.au
L is for Loss
One of the most common feelings both for someone with Alzheimer's and their loved one, is that of loss. The person with the disease can feel a loss with their own past and the life around them, while their loved ones feel as though they are losing the person they love. Managing this loss can be as intense as managing grief, and needs to be managed in the same way, with professional help.
M is for myths
There are a number of myths surrounding Alzheimer's disease. Among them are:
Memory loss is a natural part of ageing
Only older people can get Alzheimer's disease
Exposure to aluminium can lead to Alzheimer's disease
Silver dental fillings increase risk of Alzheimer's disease.
None of these are accurate. Make sure you get your information about Alzheimer's diseases from your doctor and other medical specialists.
N is for National Dementia Helpline
The National Dementia Helpline is a service that provides answers to questions and points you in the right direction for services. The Helpline operates nationally from 9.00 am to 5.00 pm Monday to Friday excluding public holidays. A message service is available so if you call outside operating hours, they'll call you back the next working day. The number is 1800 100 500.
O is for Omega-3 fats
There is some evidence that the consumption of foods rich in omega-3 fats may help prevent Alzheimer's disease by reducing beta-amyloid plaques. Food sources with these fats include salmon, sardines, seaweed, trout and tuna.
P is for Prevention
There are a number of steps that can be taken to reduce the risk of Alzheimer's disease. These include:
Regular physical activity
Social interaction
Healthy diet
Intellectual stimulation
Consistent, quality sleep
Stress minimisation.
Q is for Quality of life
Maintaining a good quality of life is essential for the physical, emotional and intellectual well-being of someone with Alzheimer's disease. Many of them are outlined in Caring for someone with dementia, however, there is probably no better way of ensuring quality of life than keeping a person with Alzheimer's living in their own environment.
R is for Respect
People with Alzheimer's disease deserve the same level of respect as anyone else. Be patient, do not dismiss their concerns, do not be embarrassed of or for them – and ensure others afford the person with dementia the dignity and respect they deserve.
S is for Symptoms
The key symptoms of Alzheimer's disease are:
Memory loss, particularly recently provided information
Difficulty completing tasks that have been a part of daily life
Difficulty following a plan or a sequence of instructions
Confusing time
Confusing place
Change in visual perception
Loss of judgement
Confusion with language
Withdrawing from social activities
Misplacing objects
T is for treatment
At present, there is no effective treatment that cures or reverses Alzheimer's disease. There are, however, some drugs that show signs of being able to slow some of the symptoms of Alzheimer's disease, though the symptoms will inevitably get worse.
U is for Unpredictable
People with dementia can exhibit unpredictable behaviour including dramatic mood swings and becoming uninhibited or more outgoing. Cares need to be prepared to manage such unpredictable behaviour.
V is for Visual perception
One early symptom of Alzheimer's disease is having problems with visual perception. This can difficulty with focus, judging distance and space, and accurately distinguishing colour and contrast.
W is for Walking
Walking is the easiest and cheapest form of exercise – no gym fees required. Regular exercise such as walking maintains the physical and emotional wellbeing of a person with Alzheimer's disease – and it has benefits for people who accompany them, as it helps reduce the risk of Alzheimer's developing in the first place.
X is for X-ray
X-rays of the brain can be used to detect early signs of Alzheimer's disease. Other tests that can be conducted include:
The tests that are conducted include:
Analysis of medical record
Physical examination
Neurological tests
Blood and urine tests
Testing of cerebral spinal fluid
Testing of intellectual function
Psychiatric testing.
Y is for Yoga
Yoga is a great activity for someone with Alzheimer's disease, as it acts on many affected areas, including balance, emotional stability and physical well-being.
Z is for zzzzzz
Disrupted sleep (zzzzz) is both a symptom of Alzheimer's disease and a possible risk factor. Some research suggests that poor sleep poor can lead to higher levels of beta-amyloid (see B is for …). So ensuring quality sleep is important for everyone – if you have insomnia or a related-condition, seek professional advice.