Get out and explore! Accessible travel for people with disability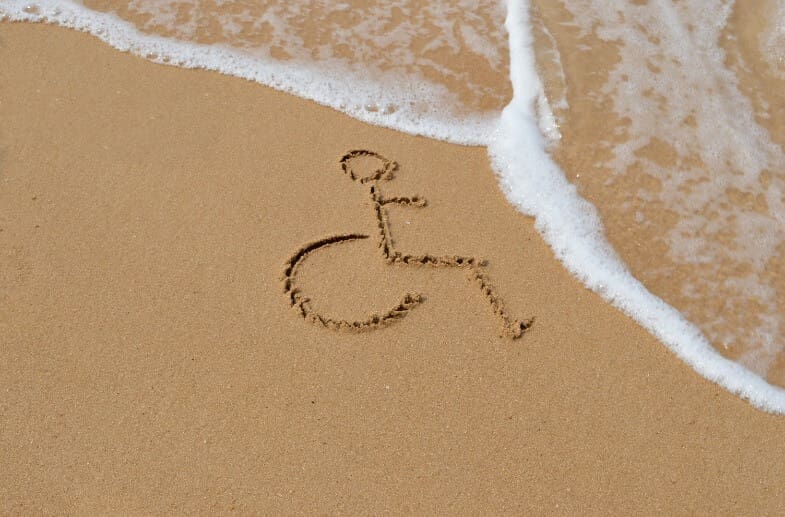 Living with a disability poses additional challenges when it comes to accessing travel and transport. Whether it be daily travel using public transport, or travel for leisure, there are significant barriers facing people with disability.
Travel should be accessible for all and people living with disability should be able to experience the same standards of transport and travel services as others in the community.
We've put together some information that will hopefully empower you to get out and explore like you never have before.
Public transport
Public transport in Australia is continuously being made more accessible to people with disability, with a goal to have public transport fully accessible to all by 2022 (excluding trains and trams). However, Victoria has recently received criticism of its tram network, of which 73% of the 1700 tram stops throughout Melbourne continue to be inaccessible to people using wheelchairs.
Despite some concern around public transport accessibility, people with disability have access to a number of great, free travel opportunities when it comes to using public transport.
Access Travel Pass / Free travel pass
Many States and Territories in Australia offer free travel on public transport to anyone with a significant and permanent physical, intellectual, or cognitive disability. To be eligible, you must be unable to use the standard payment or ticketing system (often a touch-on-touch-off style card).
However, not every State and Territory offers this so make sure you check your State transport website for further details.
All States and Territories do offer a Vision Impairment travel pass, which gives the eligible recipient free travel on all public transport.
Travel Companion Card
This card is also offered throughout Australia and allows an eligible person with disability to travel and attend events with a companion or carer without any additional cost.
The card can be used on all public transport services, in addition to a number of other venues such as movie theatres, museums, Australian Rules Football (AFL) matches, and more.
Multi-Purpose Taxi Program – Victoria
The Multi-Purpose Taxi Program provides significant subsidised transport options for the travel needs of people with accessibility and mobility needs. People with disability can receive up to 50% off their taxi fares.
Travel for leisure
There seem to be endless opportunities for able-bodied persons to see their own backyard and the world, but do these same opportunities exist for people with disability?
Yes, they do!
Travelling locally or around the world won't always be easy but it is certainly possible and well worth it if you have travel dreams.
Accessible Travel Organisations
Travelling with the support of a boutique tour operator who strives to provide accessible travel for all could be a great option for you, particularly if you're looking for someone to arrange all the logistics for you.
Below are some tour organisations worth considering for your next trip.
Leisure Options
A family-owned tour operator in business for over 25 years, Leisure Options help create a comforting atmosphere and shared experienced with like-minded people. With travel tailored to small groups, there is a commitment to individual needs, and a focus on helping create long lasting memories.
Discovery Holidays
Providing experiences that are accessible to everyone, Discovery look to enhance social participation and outcomes in safe and supported environments. They are a registered NDIS provider, and guests can allocate funding to all or some of their total travel service costs.
Helpful travel and transport resources for people with disability
Phone Applications
Whether you're considering a trip somewhere locally or a little further from home, you may be feeling anxious about your ability to navigate, access services and get around easily, communicate or just about trying something you haven't done before.
However, more and more local businesses, travel companies and transport operators are creating inclusive environments that are accessible to all.
Technology is another thing embracing inclusivity and accessibility. So much of what you may need to give you that extra boost of confidence to travel is at your fingertips through assistive phone apps for people with all types of disabilities.
AccessNow App
The 'Access Now' application connects people to inclusive places of interest. Through the use of intuitive technology, it maps out area that are accessible to people with disability and provides user reviews that can help you make better decisions. The app is helping remove barriers by ensuring users have access now to safe, accessible and welcoming locations across the globe.
Download the AccessNow app here – Android.
Download AccessNow for iPhone.
WheelMate
Finding nearby toilets and parking spaces can be a barrier, but not with WheelMate. The app is free and provides overviews of the nearest amenities that are wheelchair accessible, and also helps you with directions from your current location.
Download the WheelMate for Android here.
Download WheelMate for iPhone.
NDIS-funded transport and travel
The NDIS will fund a range of transport and travel. If you are a NDIS Participant and you have school transport included in your Plan, or travel as part of your NDIS goals, it's likely that you will receive some funding and support through the NDIS.