How to have fun together no matter your age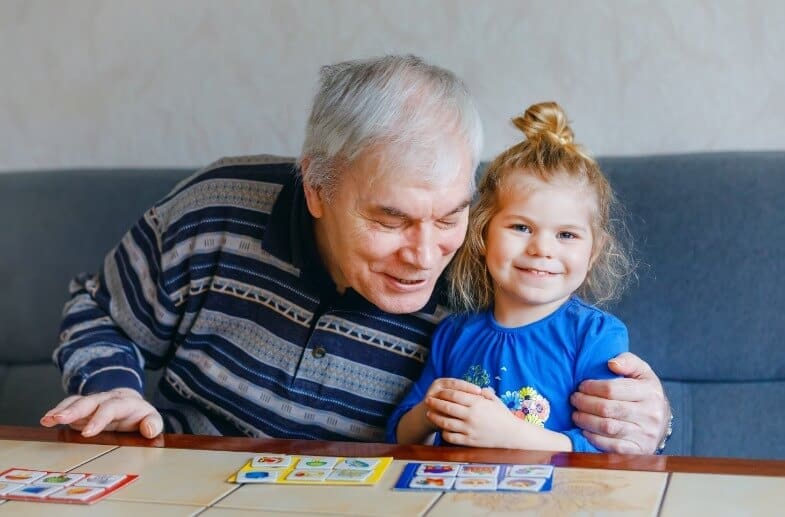 Finding ways to connect across generations can sometimes feel like learning how to speak a different language.  However having a toolkit of great activities you can do together where you can enjoy each other's company, create memories and have some fun no matter your age is a great start.
Here's our list of tried and trusted activities to do with any age group that are sure to become your family's favourites.
Activities to do with pre-schoolers
Snap! A simple pack of cards is an affordable and easily found game. Many of us have inherited card packs in beautiful leather cases from our own grand-parents. Starting with recognising the different numbers and eventually the four suits is a great way to introduce pre-schoolers to cards and something that all ages can enjoy together. The excitement and delight of finding matching 7's and 'snap' the pack is all yours!
Activities to do with school-age children
Knitting is one of those timeless activities. For those who have learnt the 'round the tree, through the hole' guide to knitting it's sort of a muscle memory and once you've learnt it, it will come back to you. Knitting is calming and the ultimate mindful activity as with a lapse in concentration you will drop a stitch and have to ask Nan or Pop for help. You don't need to start with a pattern or even an intention of what you're knitting, you just need to get those knitting needles clicking!
Activities to do with teenagers
There are so many wonderful games to enjoy with teenagers. You can always start with timeless games like Monopoly, Battle ships and Cluedo. These games have endured for decades because they are engaging, super fun and involve a mix of strategy and luck. There are plenty of other games that are great to learn and play together.
Here are some proven winners:
Board games
Catan (the world's most popular and addictive board game)
King Domino (a great introduction to strategic board games)
Forbidden Island (a non-competitive team game to get everyone off the island before it sinks!)
Card games
Sleeping Queens
99 or bust
Canasta
Activities to do with over 65's
Sudoku is a wonderful way to engage the brain. You can play sudoku individually or together. In fact, it's much easier to play together as you try to nut out all the different ways the puzzle might be solved.
Photo books are a lovely way to relive memories and spark easy conversations. Photo books are much more accessible to many older people (and younger people) than looking at a screen. If you prefer digital photos, there are many apps you can use to scan old photographs or negatives and create digital photos.
To create photo books check out the following sites:
Kmart has an easy to use platform that allows you to simply upload photos from your iPhone and it will group into dates and people
Vistaprint is simple and photo books will be printed and sent to you
Sharing knowledge
A great bonding activity is always one in which you can share your knowledge in a fun and rewarding way. This can be two-fold! Pass on some of your life skills to the younger generation and in return, ask them to show you how to listen to podcasts, or to download useful apps to your smart phone.
Have a look at our top recommended podcasts for over 65's and our favourite apps for older Aussies.