I feel completely alone and isolated. Please help!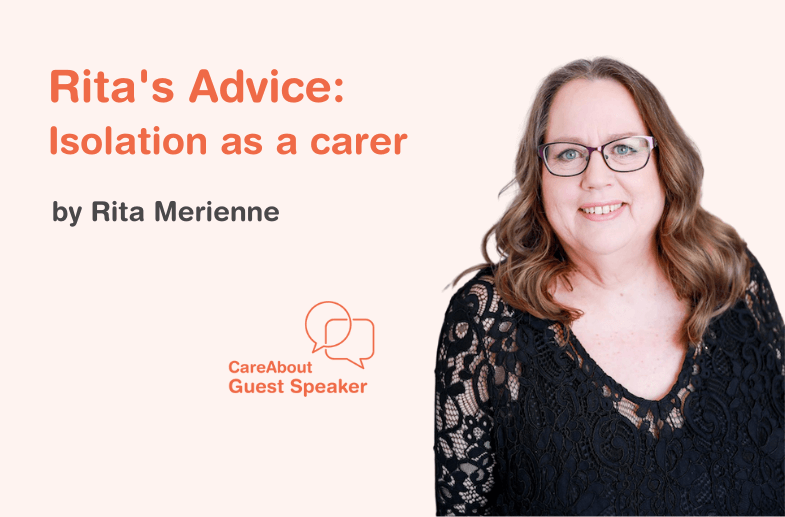 This month our expert carer, Rita, tackles the difficult situation of feeling completely isolated being a carer. Many carers feel this way and are wholly consumed by the act of caring for their loved one/s.
Rita offers some very helpful advice and tips on how to find respite, develop your own sense of self and find ways to connect with others who are in a similar situation.
Dear Rita,
Like yourself, I too am a carer. I have been taking care of my mum and my dad full time for about 4-years now. They live in the home they raised myself and my siblings in and are insistent on living there for as long as possible. They have begged and threatened me whenever I mention the idea of assisted living.
I'm one out of 4 siblings and have been staying at home since my kids were born, so it made the most sense for me to take on the responsibility as the carer. I also live close by where the rest of my siblings live over 30 minutes away.
My dad has suffered 2 heart attacks and has difficulty with mobility. My mum was a smoker, and now suffers from emphysema. She is on oxygen 24/7. My sister is a nurse who comes over and helps organise their medication for the week, but otherwise, my siblings do not help. I stay at their house most of the week, do their shopping, drive them to appointments etc.
I am thankful that I can be there for my parents during this time but it has become, not a full time job, but my entire life. I don't do anything for myself – shopping, spend time with my kids or friends, travel etc. I am dedicated to my parents 100% of the time.
I am:
1. Fearful of when they pass away – what will happen to me? What will I spend all my time doing? I have become so isolated as a carer I haven't maintained any other aspect of my life.
2. What can I do to ease this loneliness without guilt?
Sincerely,
Isolated in caring
Dear Isolated in Caring,
Thank you so much for reaching out. First of all, you are not alone – this is something I hear from other carers often.
What do I do?
I feel so alone?
I don't know where to get help?
Dedicating your life to the care of your aged loved ones is such an honourable thing to do. Not everyone would or could do it. Spending you days caring for them and neglecting yourself.
It takes a lot of courage to look into the future and to make the change you want to see.
Well done for taking the first steps in making the change that will make all the difference.
There are lots of things you can start doing now to make it easier when your aged loved ones pass.
1. Contact Carer Gateway and register now
This is for you not for your parents. There are lots of resources, grants, coaching and personal development opportunities.  Registering is easy and then you will access to the resources that will get you the help you need now and in the future. They also have emergency respite available if you need it. Just click here to get all the details.
2. Start taking a break now!
Doing something for yourself. Learn how to have fun again now when there isn't the stress of dealing with your aged loved ones passing. Build resilience by practicing self care.
3. Take time to rest
Get to know yourself again however most importantly, allow yourself time to grieve. There are some big changes just around the corner and what you do today will help you through the tough days.
There will be plenty to do in settling your parents' estate.
4. Learn something new
A new craft or hobby – why not start now. Having something to do in stressful times really helps. Pick something you can share in a group or do with other people – you will need people around you and It will be good to connect and engage with others.
5. Volunteer
Organisations are always looking for volunteers. There are numerous programs that arrange visitors for the aged. Red Cross has a program where you can receive a call each day to check in and see how you are going – this would be a great way to spend your time. Some of the other programs are the MS visitor program where you visit people in their homes or aged care homes. Engaging and including people who are lonely will help to ease your loneliness.
6. Find your people
Support networks are very important, spending time with people who have lived experience and know what you are going through. You will be surprised at the opportunities that will arise. You never know you may be able to help others going through the same challenges.
The biggest issue I found when my father passed was a couple a months along – when you don't have anything to do but miss your loved one. Friends have stopped calling and offering their condolences and an emptiness creeps in. This is the time you need people around you the most.
Reach out – make the first move and ask people to meet you for coffee, go out for dinner, call a friend. This is when your support group and that new hobby will be just what you needed.
There is also the added pressure of dealing with your aged loved one's grief for their partner. Get some professional help to deal with their grief and yours too.
Sad times are ahead however, you can put a few things in place now to make it easier and reduce the stress.
You are not alone!
To find out more information contact me at [email protected].