CareAbout featured on Channel 10!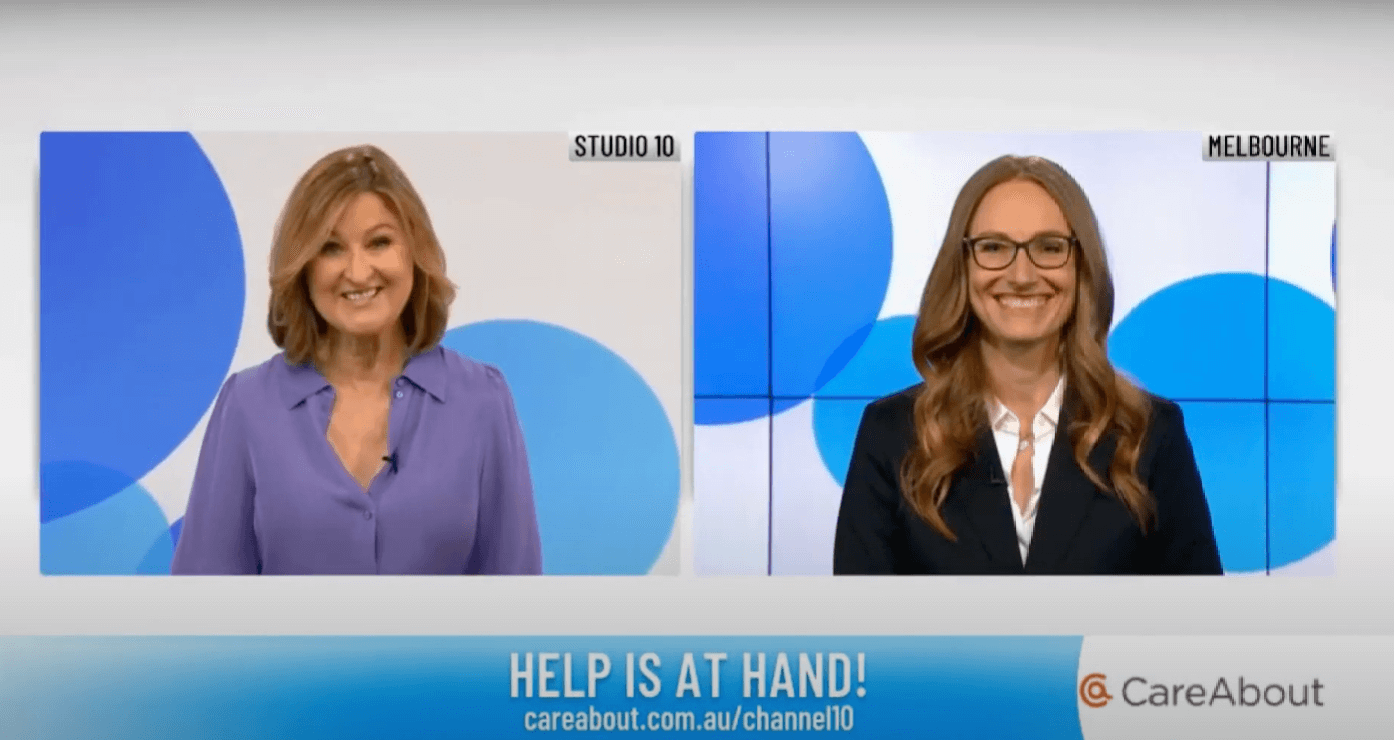 From August through to October, CareAbout is being featured on Channel 10's breakfast show.
We're trying to increase awareness around the fantastic government-supported Home Care Package Program, which helps to keep Australians over the age of 65 staying safely in their own homes.
Home Care Packages are available to any Australian resident 65 years or older who needs a little or a lot of extra help with their daily tasks.
Watch the video below to learn more about Home Care Packages and how you can access one.
Download your FREE Guide to Home Care!
Video transcript
Kate: Well, they say Home is where the heart is. But what happens when living at home isn't as safe and easy as it once was. In the past, the only option for many people was to move into a nursing home. Thankfully, things are changing and receiving care and services at home is becoming the most popular choice.
Kyra Snell, founder of CareAbout, is here to tell us about their free service that can help find a quality provider for you, or your loved ones. Welcome, Kara. Good to see you. Hi, there. It's great to be here. Carrie, why don't we start with you telling us why you founded care about in the first place?
Kyra: Well, I've walked this path, so I know what it's like. I know the confusion and I know the frustration. I understand the worry families have. So, I started CareAbout to make a difference to other families, and to provide the guidance, choice and help that my family just didn't get.
Kate: I'm sure you're making a difference to so many families. So tell us what CareAbout actually does.
Kyra: CareAbout is a free service that helps to eliminate the confusion and stress that comes with trying to find a quality provider. All right, and how does it work? Well, first, you'd speak with one of our Australian based homecare experts that asked you about your needs and preferences for care and the services you need to have delivered at home. From there, we'd match you with one of our providers from our hand picked panel
Kate: Sounds really good so far. And how are the services you help them find actually funded?
Kyra: Well, there is surprisingly generous government funding available to help people over the age of 65 to stay living at home. It's called the Home Care Package program. It's a pool of funding provided by the federal government help Australians over the age of 65 remain safely at home. What many don't know is that if you qualify for these funds, you can access up to $52,000 a year to pay for the care and services in your own home.
Kate: Wow, I had no idea about that. So what's the application process like?
Kyra: Well, that's where it can get a bit complicated. You apply for funding through the government portal, My Aged Care. However, it can be a confusing process. But don't worry, we've put together a really simple guide that will walk you through the process step by step. And you can find the guide at careabout.com.au/channel10.
Kate: That's good to know. All right. I know a lot of your customers are really really grateful. So why don't we listen to Peters story.
Peter: My mum's 82 years of age, she lives by herself and has for a long time. Unfortunately, she suffers from dementia quite badly and she's very independent, but needs help from external people. CareAbout changed my Mum's life by simply giving her the consistency she required. They found a provider who listened, because CareAbout asked me for a brief and I gave him that brief. And they made sure that that brief was met by the provider we've now got.
I could not recommend care about enough if you're after somebody, a business, that will find the right person for the person that you're trying to get the best help for.
Kyra: We always work with each customer individually to understand their needs and preferences so they can make the most out of their funding to get what they need. You know – services like cleaning, shopping, transport, even home respite. We match you with a quality Home Care provider and our service is free.
Kate: That's fantastic. So how do our viewers get in touch with CareAbout?
Kyra: That's easy! Call our friendly team on 130 577 245 or find out more at careabout.com.au/channel10
Kate: Kyra, thanks so much for coming in. It was great to meet you.
Now, to get expert help and advice and join the 1000s of others who used CareAbout to help their loved ones call 1300 577 245 or to find out more go to the website careabout.com.au/channel10.
Download your FREE Guide to Home Care