The Carer's Journey: The Star and Supporting Actors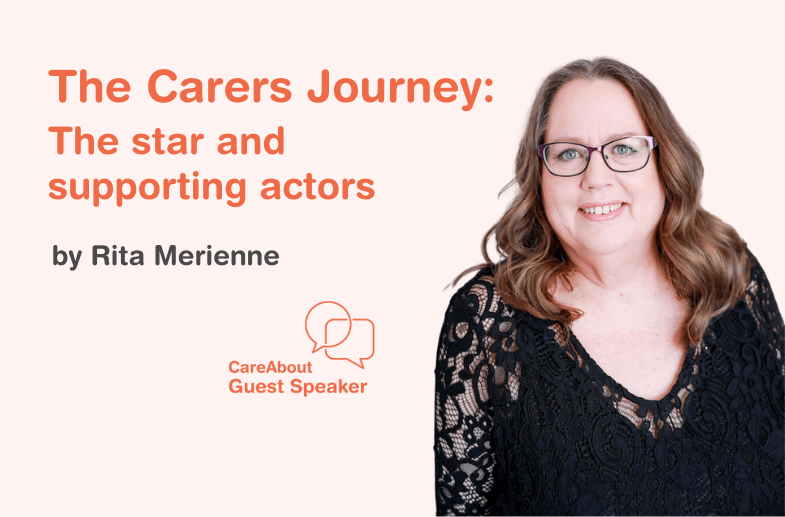 Hi, Rita here! Founder of the online magazine, Carers Chamption. Over the past few months I've written about the analogy of the Carer's Journey in relation to a movie.
We all know how difficult caring for an aging loved one can be, and sometimes, analogies are a great way to simplify it. We've covered everything from the script to the audience and now we'll talk about the stars.
The star is You – the main carer.
Sometimes it can feel awkward with this role but it's simple – without you this caring journey isn't going to work.
In most families, there tends to be one main carer. Reasons can vary from location, ability, time or relationships.
You may get this part in the movie a few ways. It could be because you volunteered for the role or it may be thrust upon you. Regardless, it can happen quickly, and before you know it you are in the starring role and without you the care for your aged loved ones isn't going to happen. As someoone whose been through it I know that this new role can be overwhelming. Especially on top of everything else you may have to do – working, raising your kids and now caring for your aged loved ones. No wonder it is called the Sandwich Generation.
I am not solely speaking to the physical care, there is everything that goes on behind the scene too such as:
Making sure the right support workers are available to provide the day to day care your aged loved one needs.
That they have the right aged care home or the right home care provider that meets their needs.
Paying the bills – this is huge and if you don't keep on top of things can be very challenging.
Being the contact for Doctors, Centrelink, ensuring their estate planning is approriate.
Are they ageing successfully – quality of life is very important too.
Just like the star of the movie – a lot rides on your shoulders. Knowing the story, getting the script right and making changes as required and keeping everyone included.
Working with your Supporting Actors
Something many main carers forget to do is to trust their "support actors" to take over the reins when needed. You need to let them have a go too. Whether it is outsourced services, family members or products, this isn't a one man show. Just because you are the main carer doesn't mean you need to do it all. It is very tough, but please delegate some of the tasks.
I'll admit it, it sometimes feels easier to do everything yourself. It's easier to think, "it's more work to explain to them what to do vs. me doing it". It's not easier. By sharing responsibility with those around you it not only allows you a break, but provides an opportunity for those people to learn how to provide support which as a result can create a distribution of responsibility on an ongoing basis.
If you're the one that likes to be in control, it can be particularly trickly. However, one of the most important parts of delegating tasks to your support carers is to let them do it their way. Yes, it may be different to how you do it but it'll be ok. As long as your aged loved one is receiving the care they need, take a step back and be grateful you are getting some assistance. We all do things differently.
A change of pace is good for you, of course, but there are benefits for your aged loved one too. If others are involved in their care they are interacting and being engaged with other people. This is important for healthy ageing. Seeing different people, engaging with them and keeping them actively involved creates stimulation for a healthier mind.
Reality of caring
It's not uncommon for family members to not realise the work involved with caring for an aged loved ones. It can be one of those things that you don't know about until it happens.
Being a main carer requires time, energy and emotions. By recruiting an extra hand, you're exposing the carers journey to someone else. Which can also evoke empathy and support from friends and family. Ask for help, most people want to but don't know how to jump in.
Recruit your supporting actors
We all need support to be the best we can be and to provide optimal care for our aged loved ones.
Reach out and ask for help whether it is from family members, support workers or professional services like CareAbout who will help you find the right care.
It doesn't matter if your aged loved one is being cared for in your home, their home or an aged care home it is tough and you don't have do this alone.
Any comments, questions or feedback just send me an email to [email protected]
Until next time – you matter to me!