Rita's theory on caring; it's like a movie!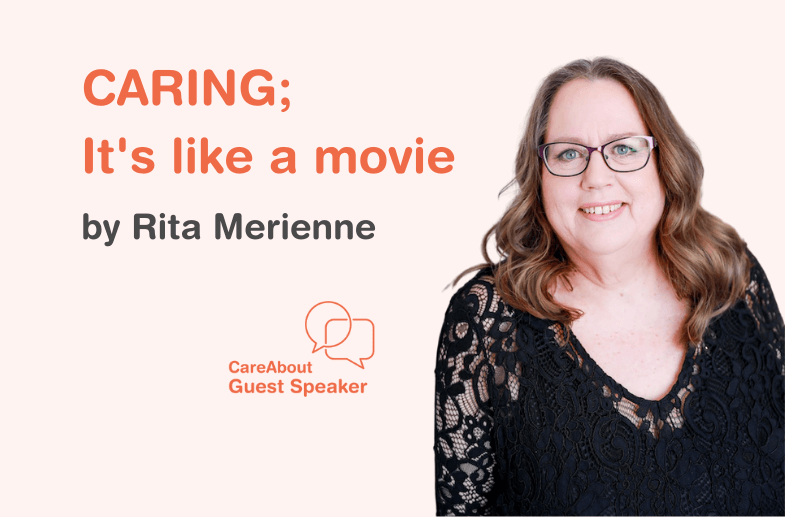 If you missed last month's post, my name is Rita Merienne. I've been a carer for many of my loved ones and now a full time carer's advocate and owner of the magazine, Carer's Champion. I partnered with CareAbout to share stories or tips and tricks with you every month about what the carers journey can look like.
I've often been asked what it is like to be on the caring journey. I'd like to introduce you to "Rita's Theory on Caring."
Caring can be just like being in a movie. Similar to having different movie genres, there are different types of care – main, support, daily, long distance, in your home, in their home or in an aged care home.
Sometimes it can be a tragedy, often comical and always hard work with many tears shed! But like all carers, we're here to enhance the lives of our aged loved ones.
Rita's theory on caring; it's just like a movie
The Story
The story is your aged loved one's story. It's a story to be heard and shared.
The Script
The script is the care you provide. It's reviewed often and it changes when needed. It's often not what it started out as and can be interpreted differently.
The Star
The star is you – the main carer. Sometimes we feel awkward with this tag but it's simple – without you this isn't going to work. There is always one main carer – no blame or shame here it is just a matter of location, ability, time or relationships.
The Support Actors
The support actors are needed. This isn't a one person show. You can't do this alone. The support actors could be other family members, outsourced services or products. Trust the supports and let the understudy have a go too!
The Green Room
The green room is the place you need to rest and rejuvenate. One of the most important aspects of caring – it's a place to fill your cup so you can keep on keeping on! A place where self-compassion is practiced at all times. A place to be visited often.
The Rider
The rider is a list of "demands" the star has. Carers need a rider – this is not negotiable. You need a list of boundaries, things you need to care for yourself so you can keep on caring for your aged loved ones. It can be as simple as a time out for a mindfulness practice or a big break before you break! It's your rider, so you decide and then make it happen. Communicate it to others so they can help you achieve everything on your rider.
The Emotions
The emotions can be overwhelming. You are tired, it is tough and at times we all have different ideas of how things should run. Sometimes the understudy wants to take on more of the role, sometimes the director suggests you take a new direction that takes you out of your comfort zone. Sometimes there are tiffs. Take a step back, breathe and remember the reason you are doing this.
The Camera
The camera is a reminder to take those pictures, shoot those videos and create the memories that will be with you forever.
The Director
The director is there to give advice and share ways to make it easier for you. Find a support network that can help you when you need help. Someone to bounce ideas off, find out about services and products. Someone to listen. Your director/s aren't always needed but it's important that they're always there.
The Audience
The audience can be hecklers and sometimes the reviews can be harsh. Everyone has an opinion – some are good and valid however most can just be ignored. This is your role and you are doing it the best you can. Listen and learn but don't let it get you down.
The Pay Day
The pay day is enhancing the lives of our aged loved ones and creating the memories that will last a life time. It might not always be what you thought it would be however when you look for the things to be grateful for you will find them and your life will be enriched.
The Critics
The critics are always watching. Just like any movie you see, you can love it or hate it – it is individual opinions, beliefs and emotions that fuel any criticism. However, love it or hate it – respect it and the work that has gone into it.
The Awards
The awards show is finding things to be grateful for each and every day and then nominating them for "the wins". You will soon see that there are many wins.
The After Party
The after party is the chance to celebrate the wins. It doesn't matter your part in this movie, sit back and be proud of your efforts in bringing to life this amazing journey and enhancing the lives of your aged loved ones.
The similarities are there for all to see and just like the movie that touches our heart and engages all our emotions our caring journey will do the same. However, a word of caution – just how we have our own interpretations of movies we have our own interpretations of the caring journey. Talk about, share your thoughts and listen to others.
Enjoy your caring journey.
Any comments, questions or feedback is gratefully accepted – just send me an email to [email protected]
Until next time – you matter to me!