Rita's column: finding your sense of self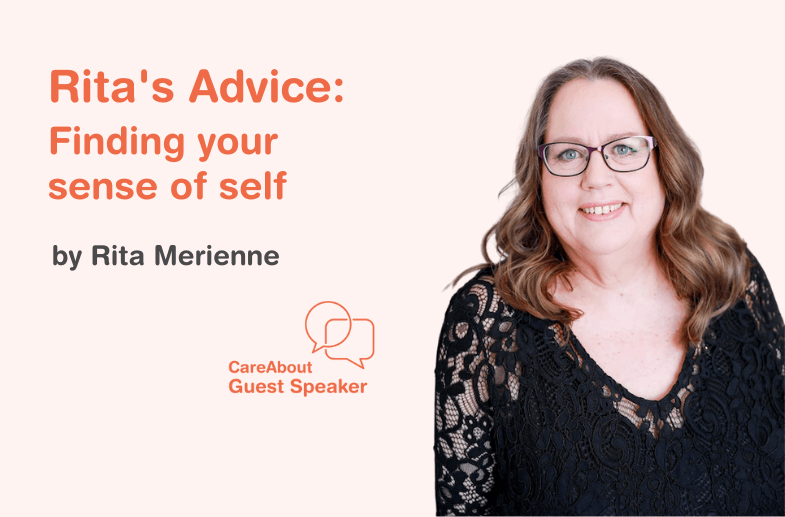 Hello and welcome to this month's column where I respond to a letter about finding a sense of self when being cared for…
Dear Rita,
I'm a 78-year old female suffering from Parkinson's. I was diagnosed a few years ago but the symptoms have started to become progressively worse. Movement is getting more difficult, and I have found myself becoming more forgetful. That said, medications have been a big help.
After I took a fall last year and broke my wrist, I moved in with my daughter, son-in-law and two grandchildren. I sold my house in Sydney and moved to Adelaide after 30 years there. Being away from what I'm used to has become hard. I miss my cafes, local shops and community. I didn't expect to have this big life change now. However, after my husband passed away a few years ago, it was the best option.
My daughter is a busy person. She has a demanding job as a nurse on top of raising two teenagers. My son-in-law is also quite busy and travels a lot for work. They've set me up in their spare bedroom with my own bathroom etc and have spoken about building a granny flat in the back.
I'm so grateful to them but I cannot help but feel like a burden. They cook for me, clean for me and drive me to appointments. I've applied for a Home Care Package, but I'm still waiting. I'd love to be able to contribute somehow, someway or move into my own smaller residence nearby but after the fall my daughter doesn't like the idea of me moving out.
I've been here for 4 months and still struggling to find a sense of self. How can I not feel this way?
Sincerely,
Finding a sense of self at 78
---
Dear "Finding a Sense of Self at 78"
Thank you for your letter and reaching out to me.
First of all, I want to congratulate you for asking the question – it is important to acknowledge how we are feeling.
Oh my goodness, there have been quite a lot of changes for you. Please don't underestimate how big these changes have been. They are huge.
Isn't it wonderful to have family who can help!?
I do have a few suggestions for you:
Talk to your daughter and let her know how you feel, remember it isn't complaining it is expressing your thoughts, needs and wants. Families want to help and sometimes they help so much they leave nothing for their aged loved ones to do.
Offer to do things for her and the family – do you still have some mobility? Could you do some of the chores around the house – putting the dishwasher on? Or maybe fold the laundry when it's done. Checking the grandkids have done their homework?
Do you like gardening? Maybe you could grow some herbs or plants inside – caring for them each day and then the herbs could be used for cooking.
Loneliness is a huge problem a lot of people experience and moving to a new location just makes everything harder. When your home care package is approved, make sure you include some social activities in the services provided. Going to the library or local shops. There are services available that you could use now – yes it does mean paying for it, but it is worth it for the companionship.  'Like Family' is a service that I know of, and I can highly recommend.
Keep in contact with friends – are you able to use facetime or zoom meetings to catch up with friends. Phone a friend each day to talk to them… I bet they are missing you just as much as you are missing them.
Make some new friends – I know it isn't as easy as it sounds however, think about a hobby you have or would like to try and maybe join a group – you could host the group in your place. What about joining an online book club? Are you able to knit or crotchet – you could make lamb jumpers or scarves for the homeless.
There are also council initiatives that can help with services. There are senior citizen clubs in the community.
There is community transport available too, they often hold activities and for a small fee can take you to events.
Join the local Parkinsons' group and meet some people who are going through the same issues you are.
These are just a few suggestions and I recommend that you contact your local council to see what services they have.
Another suggestion is to have your daughter register with Carer Gateway as there are services available – there are also funds available in a one off and yearly grant that could assist with getting some services prior to your home care package. They also hold functions that could be a good outing for you.
It's about knowing your abilities and then working out what you can do to help the family – your community.
Being included and engaged is an important part of ageing successfully, and that is something we all want to do.
When our father was in aged care he felt the same way, after being a very active man – then losing his eyesight, he was lost and wanted to do more instead of having things done for him. Each morning he would go down to the kitchen area and fold the serviettes for use during the day. It wasn't needed and the staff could have done it quicker, but it gave dad a sense of worth, that he was contributing to his community and that is really important.
I wish you well and I have no doubt you will soon settle into Adelaide and your new life.
If you have any questions, comments or feedback please contact me at [email protected]
Until next time, you matter to me!
-Rita