Featured guest: iconic Paralympian, Louise Sauvage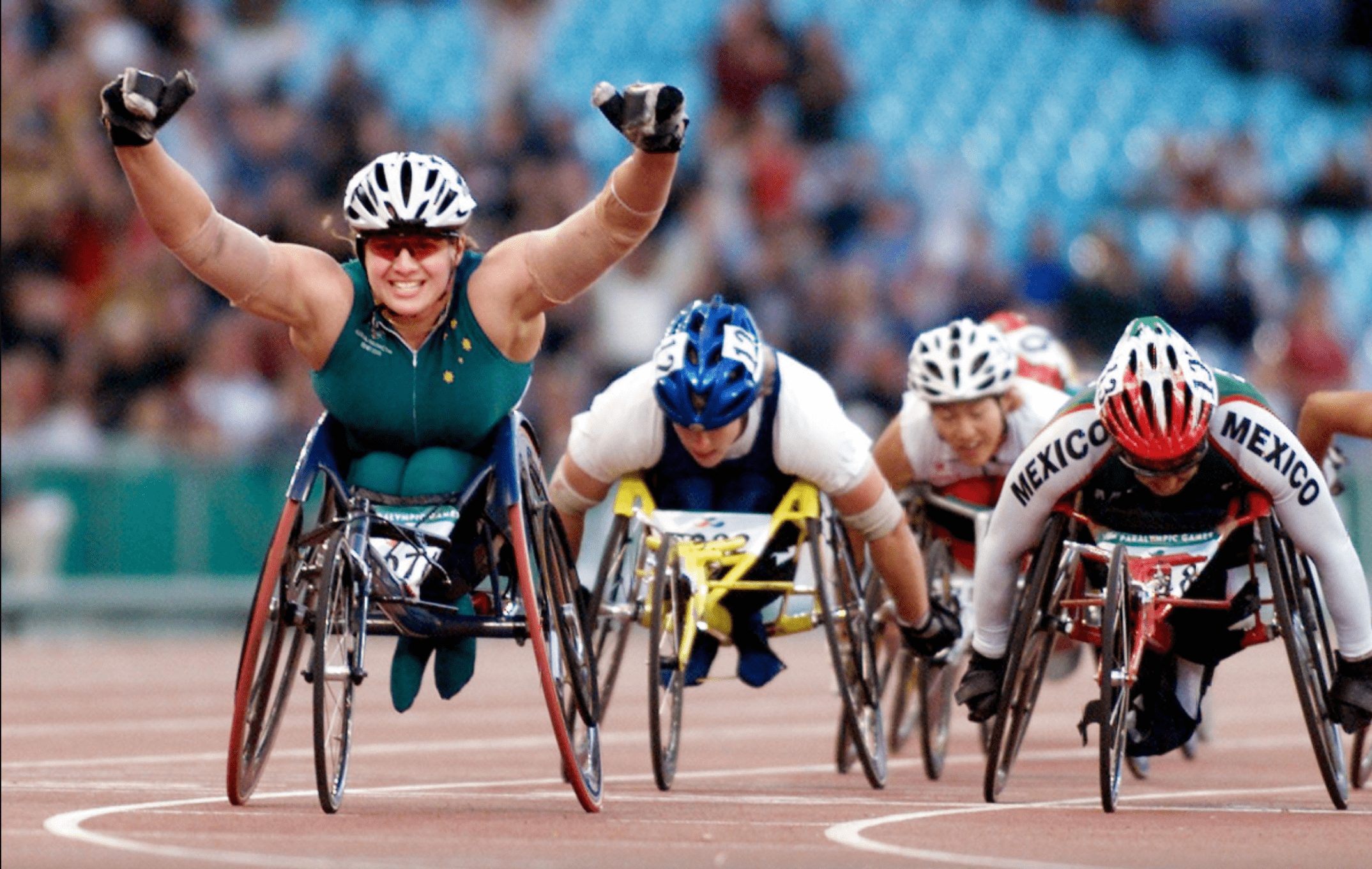 What an absolute honour it was to spend some time chatting with Louise Sauvage. Louise is a sporting legend and is one of Australia's most successful Paralympians, winning nine gold and four silver medals across four Paralympic Games. Louise held numerous wheelchair racing world records throughout her career and won a further 11 gold and 2 silver medals at the IPC Athletics World Championships. She also won the Boston marathon four times.
Hear what Louise had to say about her tenure as a professional wheelchair athlete, her coaching career so far, and her thoughts on how people in the disability community (whatever their ability may be) can use sport to connect with others and find a sense of belonging.
Wikipedia isn't always a perfect source of truth, but it does say that you underwent 20 surgeries before the age of 10! Is that right? How did that impact you?
I suppose I didn't really know any different. Because I was born with my disability there were a lot of different things that they were trying to correct with my legs, my hips, my feet, and all that kind of stuff. And I've had spinal surgery as well. So yes, a lot of different surgeries along the way.
You've been involved in sport from an early age – even though you were frequently in and out of hospital! Can you remember when you first decided you wanted to be an athlete?
Both my parents are not from Australia and you know, being here, it's quite a sporty nation. Everyone's kind of into it and everyone's kids were into sport, after school and during school and things like that. My first taste of any kind of sport was when I was three and I was taught to swim, and this was with a whole bunch of other children with similar disabilities. It was fantastic, I had a lot of fun and I loved it. And, if anyone knows me, I'm just slightly competitive.
So I kind of got the taste for it there. But it wasn't until I was about eight, and then I was introduced to wheelchair sports, and the whole world opened up to me. I was like, wow, I can actually do this, I can be competitive, and it's as equal as it's going to get for me.
One of the wonderful things about sport is that it brings people together and creates a sense of community. Many of the stories we hear from people within the disability community have a similar theme of feeling misrepresented, misunderstood and isolated – did you feel this way as well, and was sport something that helped you to feel more connected?
Absolutely, I think it's a good way of bridging the gap to a certain extent, I think it's very important, to find your place, to find your community, to find out where you belong, and to know that you do belong.
I run a group on a Saturday morning for athletics, and I don't care how old you are, what your disability is in terms of whether you're good, or you're not good – as long as you're participating and having good time. The group is a mixed bag, and who cares? They all get along, they all train together, and they all encourage each other, which is fantastic.
I don't know everything about disability. And you know, I'm not shy, either. I'll ask you: So what can you do? What can't you do? And why can't you do that? It's quite interesting; for a lot of people, and especially the younger children who perhaps haven't had a lot to do with other people with disabilities, or seeing someone who's older than them, or can do different things independently. And they're like, Wow, isn't this cool? And they come out of their shell.
Do you have any advice for people who want to ask questions about somebody's disabiliy?
I think for me, personally, I find it more refreshing that they ask me what I can or can't do – and also accept my answers. Because then they're not assuming what I can and can't do, if that makes sense. And I find that more refreshing.
I suppose there is a way in which you do ask. For me, for someone to approach me I'd rather them to ask me what my limitations are or what I can or can't do. Don't assume. I think that's the biggest thing.
The lessons learned from being an athlete often translate to life lessons. What would you say was the biggest lesson you learned throughout all of your training, competing and sacrifice for sport?
Obviously, I've learned a lot through my sport, the opportunities that I've had through sport, like traveling and meeting lots of different people, experiencing lots of countries and cultures that I would never have had the experience of being able to do.
I think it teaches you to be a lot more tolerant of people and their way of life. And, okay, well, maybe that's not how I'd do it, but that's okay, you know, that kind of thing.
There are so many skill sets that you don't know you've got until you either come out of sport, or you look into a different area of life. And you think, oh, you know, I'm really good at my time management, or I'm really good at planning and sticking to a routine. There are just so many different things that you can think of, you know, like, I'm very passionate about what I do, or I'm a great communicator; and communication just has so many different facets to it.
There are lots of things that I've learned through my sport and didn't know that I had those skill sets. Big lessons there, I suppose in knowing you don't really know what you've got until you stop and think about it and reassess it.
Do you have a favourite sporting memory, or something that you consider to be your greatest achievement as an athlete?
Definitely competing in Sydney 2000, having a home Games. I'm totally biased in thinking that Sydney was probably one of the best games ever. And I think it really was a bit of a groundbreaker for Paralympic sport and for it going forward. Unfortunately, I'd been there four years earlier, and it wasn't a great job in Atlanta that they did. So with Sydney, obviously being my home country, I really wanted to make sure that we did a bloody good job.
The Boston Marathon, as you mentioned before, winning that three years in a row was a real highlight. The first time I won it, yeah, I was pretty stoked! It took me long time and I think the one of the biggest barriers was one particular athlete; other things didn't seem to matter, it wasn't the course, it wasn't anything else, it was just this one person who'd won it every single year that they'd entered it. And I was like, argh, I've got to try and beat this person, it's so hard!
But at the end of the day, you know, it shouldn't have been about that one person; it should have been about myself and really trying to be the best I could be and focus on what I was trying to do.
So those are definitely things that I think are probably the outstanding sporting moments for me. My coaching goal was to coach Paralympic gold medalist. And I literally achieved that a month or so ago.
You moved into coaching after you retired as an athlete and that's not always an easy transition – did you find it difficult, or was it a natural segue?
I wasn't sure what I wanted to do after I retired, I actually could plan a little bit for retirement because I had to make a sensible decision to retire because of ongoing injuries. And, you know, I had to look to the future and how it's going to be able to get around.
I definitely thought that I wanted to stay involved in my chosen sport, I loved it so much, and was really wanting to give back to what had given me so much as well. So I kind of planned to go into coaching. And you know, I didn't know whether I'd be any good at it. I just thought, we'll see how we go, and progress from there. I did a few hours here and there and then just built up and built up, and obviously had some great mentors and people to advise me along the way. So yeah, that was my journey going from being an athlete to a coach.
But it was very difficult, I must say, and I think this has been documented a lot lately, which is great. It's good that lots of other people are talking about it. The transition from being an athlete to anything else afterwards has been very difficult for a lot of athletes, and I'm one of those.
Can you tell us a bit about what you do now?
I work with the New South Wales Institute of Sport, we have the national program for wheelchair track and road, and I'm one of the national coaches. So my main job is to coach national athletes at that level. And you probably know of Madison de Rozario, she's my main athlete that I coach personally – she takes up a lot of my time!
But, I'm also involved in the underpinning programs. I'm heavily involved with Wheelchair Sports New South Wales and run a program on Saturday mornings, which is anything from come and tries to regular training sessions. These athletes are up-and-comers in terms of one day they might represent Australia, others will just participate in the sport and do local comps, have a great time and keep fit and active, make friends and be a lot more social. So there's a lot of different levels of athletes there.
Do you want to get involved? Check out the Wheelchair Sports NSW/ACT website, here!
What's next for you? Do you have any exciting events on the horizon?
Paris is only three years away, so there are a lot of competitions in between; we have Commonwealth Games with some select events, and also World Championships next year – and then the cycle just continues on so to speak.
But I'd love to see some more athletes come through and obviously, that'll mean more challenges for me as a coach working with different people, different athletes, trying to get the best out of them. Yeah, so there's a few guys that are knocking on the door of the national squad. So it's exciting.
I'll continue working with some of the kids that we've got as well to see whether we can bring them up and get them qualifying and being part of their journey. I think that's most exciting thing for me; to be part of someone else's journey. Helping them to achieve their best and they know and I know how much work we put into everything and to see them achieve is the ultimate.
I've had a lot of success personally but being part of someone else's journey is just as important. It's just as rewarding.
If you could change one thing for the disability community as a whole, what would it be?
I don't know whether it's one thing. It kind of relates to what I said before and people's acceptance of people with disabilities and not assuming what people can or cannot do.
To have a broader kind of acceptance in the community. It's really hard to explain I suppose, but the fear is there (of doing or saying the wrong thing) and the negative context of disability is so high and it's so frustrating.
So I think, you know, having more exposure to various disabilities and disability groups and to be a norm in the general public would be unbelievable.
Getting that vision out there and being able to be seen in everyday life, and in jobs and in the community. Because, why can't we do this or why can't we do that – getting to a stage where we don't have to fight for things so much.
Thank you, Louise! We're so grateful that you took the time to speak with us and can't wait to follow your coaching journey and keep an eye out for you and your athletes in Paris!