Featured guest: Peta Hooke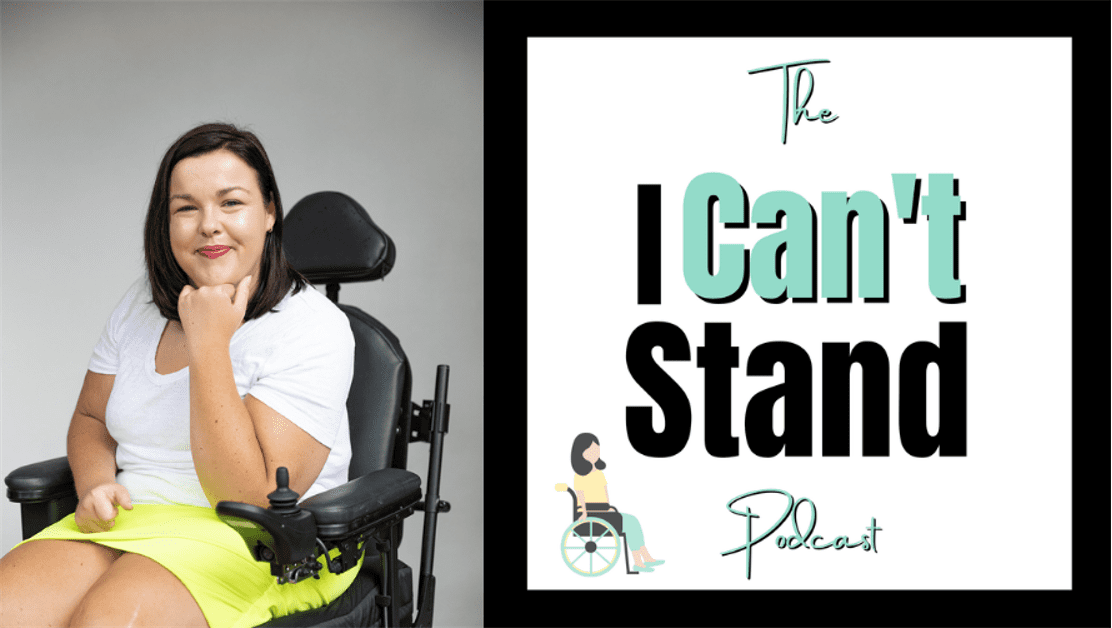 We loved speaking with creator of the 'I Can't Stand' podcast, Peta Hooke. On each episode, Peta answers a question from her audience about what it is like living with a disability. No questions are off limits for Peta, she describes herself as "an open book".
Hear what Peta had to say about what led her to create the podcast and what some of the more surprising questions she gets asked are.
What's your name, and can you tell us a bit about your podcast called 'I can't stand'?
My name is Peta and I live Melbourne, Australia. The 'I can't stand' Podcast started in January 2021, and I am so proud of how far I have come so quickly. I created the podcast because as someone living with a disability (I have Cerebral Palsy), I get asked a lot of by strangers what it's like to live with a disability. Whilst I like to answer questions, I know thats not the case for everyone. I thought, there must be a better way to do this, and that is where the podcast was born. Every week I answer a question from my audience, and I will answer anything. I am a completely open book and I will answer anything.
What do you love about creating the 'I can't stand' podcast?
Not only do I answer my audiences questions every week, I also get to speak with other people with a disability. Whilst the podcast is all about particularly educating people without disability about what it is like living with a disability, I myself am only one person with one disability. So I am really passionate about making sure there is a wide variety of voices being heard on my podcast. I love getting to know everyone, it is so much fun.
What were you doing before you started your new venture as a podcaster?
Before the podcast, I was working in disability services. prior to this, I completed two qualifications, both at Monash University. I have a Bachelor of Business and Commerce and a Masters in tourism. It might seem a little bit odd, but I am particularly passionate about accessible tourism and allowing everyone with a disability to access travel.
How did you make the decision to leave your job and start the podcast?
I started thinking about creating a podcast many months before I took the jump. Like a lot of people it is really hard to leave secure employment, particularly for someone with a disability. But I felt like I was underemployed and I wasn't being given opportunities that I felt like I deserved after being there for 5 years. I wanted to move up and feel like i was succeeding in life and I wanted to feel hear.
Was there a particular lightbulb moment that led to the creation of the podcast?
There was this one moment, I was planning a trip overseas for my 30th birthday. I went to a specialist disability tourism organisation and they were so unhelpful. They made me feel really bad about my disability and my inability to transfer out of my wheelchair. I remember walking back into work the next day and I was so frustrated that someone that was meant to understand what it is like to live with a disability, didn't actually understand. So, I was having a coffee with a work mate and a colleague walked up to me and said Peta, you've got to start your podcast. I thought, she's right, so within 8 weeks I had quit my job.
What is the most rewarding thing about creating the podcast?
The disability community is so supportive and lovely, I've been so overwhelmed with the support I have received so quickly for the podcast. So feeling a part of that community for the first time has been really lovely. Also, I am very passionate to make sure people with disabilities aren't just talking in silos, instead we are talking to other people who have no experience what it is like to live with a disability. Because that is where true understanding comes from. People with disabilities, we get it, but we need people without disabilities to be on our team, to fully understand what it is like, so more equality can happen. That is why I am so passionate about what the podcast does, I feel like it is a really good introductory form of what it is to have disability that isn't scary or intimidating.
What are some of the more surprising questions that you have been asked to answer?
Everything from how do you get a wheelchair, to what is it like to be drunk when you have a disability. Now, I am sure that is something you've never probably thought about, but it was a really great episode. I thought well how am I going to answer this question. Even though this is not something that I encourage, responsible drinking everyone please! But I decided that i would record half the podcast sober and half the podcast not sober, to illustrate in my voice and my ability to concentrate on words and form words and how that changed overtime in the podcast. It was really fun interesting and I think a lot of people loved that episode.
If you could change one thing about the way people with disabilities are perceived, what would it be?
It was have to be the low expectations that society has in general about the capabilities that people with disabilities have. So many of us constantly feel like we have to prove ourselves every time we leave our house, and it is true. Even people who have a understanding of disabilities, when I used to have carers come into my house, the questions that I would receive by people that were qualified in this area were astounding. The amount of times people have asked me if I have friends. It's like, of course I have friends! Those sort of expectations that people with disabilities don't have a full life, don't have capability, aren't intelligent or aren't able to have a positive impact on the community. I think this is really detrimental to the disability community but not only that, society as a whole are missing out on some really great people.
What advice do you have for people who are starting out on their NDIS journey?
It is intimidating, the NDIS journey, I must admit! I can't imagine how hard it would be if you didn't have the knowledge that I have in my background in disability services. It is intimidating, even for me every time I have my plan renewed. I think it is really important to have an advocate to come with you. I am an intelligent person, I live independently and don't really need that much help. But to have that support there from my mum at the time was really invaluable, because it can be such an overwhelming experience. You are trying to tell someone in such a short space of time, who you are, what your capabilities are and why you need the NDIS support that you need and that meeting determines your life, which it can for a year. So I would advocate for people to make sure you have support, whether that be letters from your doctor, letters from your Occupational Therapist, letters from your Physiotherapist, and have someone there supporting you on the day as well.
What's next for you personally and as a podcaster?
I really hope that after COVID, I am able to go out more in the community and show people what it is like to live with a disability. because I am all about illustrating that even if you have a disability, it is does not mean that you are sad and you don't have a fulfilling life. Now, lockdown has been pretty tricky to illustrate that, so I am really looking forward to getting back to my old self. Being super social and really trying to illustrate that all of us have big fulfilling live and I am really excited!
How do we listen into 'I can't stand'?
I am all podcasting platforms, including Apple, Google and Spotify and I can be found on Instagram, my handle is @petahooke. Or you can send me an email at [email protected]. I would love to hear from you, because without your questions the podcast can't exist.
Thank you, Peta! We're so grateful to have been able to speak with you and can't wait to follow your journey and see what you get up to next!