This day is too important not to try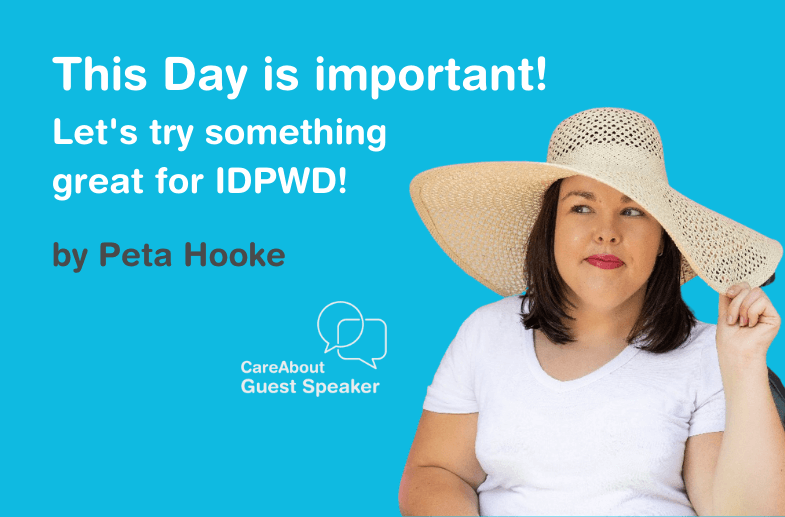 Hello!
Before I get started, thank you for your warm welcome to the CareAbout family. I really appreciate all of you who have contacted me via [email protected]. 
Ok! On to this months' newsletter.
International Day of People with Disability
If you have a disability, you support someone with a disability or work in the disability services industry, you will probably be familiar with International Day of People With Disability. A day marked in our calendars to celebrate people with a disability and for disabled people to have the spotlight on them. 
It is a fantastic initiative that reminds mainstream society that we, disabled people exist, and we deserve your attention. As a disabled person myself, I believe disabled people deserve this level of recognition every day, but we all know the world currently doesn't work like that.
That is why the 3rd of December is so important. On this day, people with disability get handed the microphone; encouraged to speak loudly about our lived experiences.
On this day, when we get noticed by non-disabled people. It is the one day where we have a chance of enacting positive change because the next day our voices are turned back down and returned to consistent background noise.
From my experience in the past, I feel that the daily lives online. Yes, I must acknowledge that Covid and accessibility needs have probably played a hand in that.
But after celebrating the day last year, I felt flat. When I picked up my phone it was brimming with content related to International Day of People With Disability. When I looked up into the world, there was almost no recognition from the public, councils or brands. It felt like the day didn't exist in the mainstream. I felt isolated. My social media feed was not reflecting reality.
So, what should we do for 2022?
This day deserves thoughtful planning rather than the all too familiar rush job that many companies do when they realise the day is mere weeks away.
On my podcast, The I Can't Stand Podcast, I set a very big goal for this year. I want International Day For People With Disabilities to have more IMPACT!
Some of my lovely followers have been helping me figure out how to do that. Here are the ideas we have come up with:
A silent disco – in various locations
A celebratory breakfast – in various locations
A 24-hour zoom with entrainment and guests
A partnership with a business. Encouraging them to become more accessible and more inclusive both for customers and in employment
What do you think?
Do you have a better idea?
If you do have a better idea, please let me know.
If you think you could help me (and I would love you too) shoot me an email. I am just a regular person trying to make positive change and make sure we get the most out of this day. This goal is overwhelming at times. I sometimes feel I have bitten off more than I can chew but this day is too important not to try.