Special Guest: Todd Winther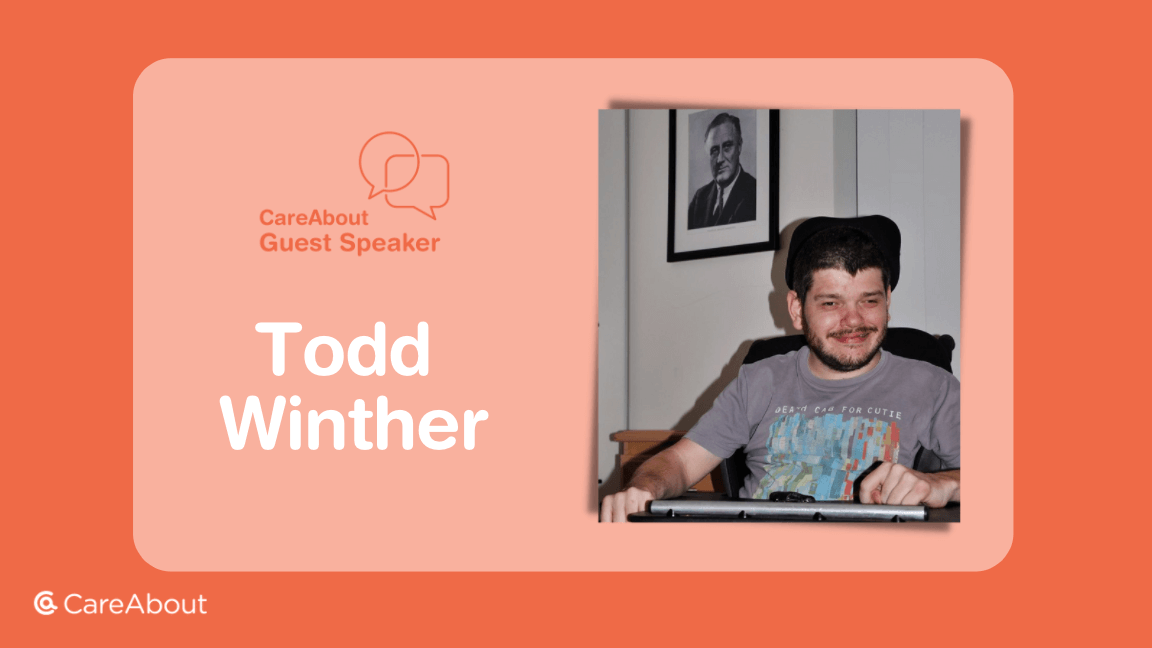 This month we had the pleasure of meeting with Todd Winther to chat about his experience growing up with a disability, the barriers he's faced and his incredible tips for accessing the NDIS!
Todd is a self described 'political nerd' with an academic background in political leadership, party politics, and disability policy.
Todd is also an NDIS participant and who has severe Cerebral Palsy.
Todd's writing has been published in academic journals, The Conversation and the ABC. He has also worked for NGOs in the Home and Living sector, and working directly with other NDIS participants.
Watch Todd's interview below
Can you tell us a bit about yourself? Where are you from? What do you do for work?
I'm Todd, I'm 37 and I'm a management consultant to do with the NDIS. I live in Brisbane with my wife and I have severe cerebral palsy known as spastic quadriplegia, which affects by my arms and legs.
I'm trained as a political science academic. So, I've studied and taught subjects ranging from political leadership, public policy, disability policy, and the media's relationship to the political climate.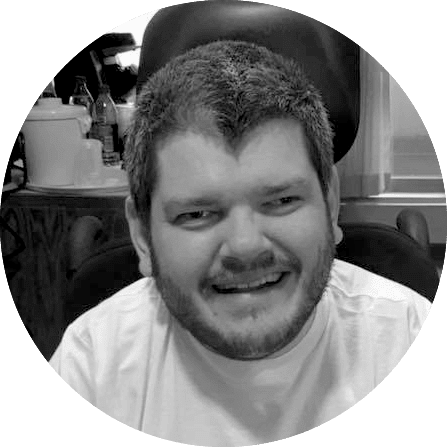 What impact did your disability have on you growing up?
When I was diagnosed, I was nine months old and when that diagnosis came, the doctor told my parents, and I quote him, that I'd "be a vegetable". He said I wouldn't be able to do anything except blink. I was very fortunate that I have two very committed parents, so I progressed at a rate that nobody basically expected. I was able to talk when I was four and a half, I was able to feed myself and go to the toilet.
I was one of the first children to be integrated into a mainstream school, and I was able to complete primary school and high school.
Bring us to your early days, when did your love of politics start?
I was a very obnoxious teenager, and basically told everyone who was listening, that I wanted to be Prime Minister of Australia.
That was for two reasons;
Society doesn't consider or explore the fact that people with disabilities can be smart, let alone academically minded, and;
I have always had the goal, in various different forms, that I wanted to transcend my disability. And Prime Minister was the ultimate transcendence basically.
Can you share more about your story growing up with a disability?
I had a very rocky stage about a decade ago, when I was trying to find myself and figure out, what does it actually mean for me to be disabled.
For a lot of my life, prior to my mid 20s, I was actually in denial about the fact that I didn't like my disability. And that time in my life, I sort of came to the conclusion that, yes, despite what I've been able to achieve, my disability is something that I don't wish to have, and something that I struggle with, and confront on a daily basis.
What has your experience been like in sharing your personal story with the public?
I think it's really important if you have the intellectual ability and the ability to communicate with others, that you have to educate the public because they're not going to know any other way [of how to interact with and acknowledge people with disability]. And people don't actually know what goes on for a person with a disability until you share that information.
Do you have any advice for those applying for the NDIS?
Most definitely! The common factor with the NDIS is that the people who have the most knowledge and expertise in certain areas are the ones who get the most out of their Plans!
The NDIS really focuses on dependence; the very nature of the model for getting money for assistance for the things that you can't do means that you have to focus on what you can't do.
So, it's very important to get very good Support Coordinator, one that understands your needs, but also one that can help you navigate the system really well.
The common factor with the NDIS is that the people who have the most knowledge and expertise in certain areas are the ones who get the most out of their Plans!
One other thing I tell people specifically about their Planning Meetings is, as I mentioned before, in the end it's all about dependence. I'll use myself as an example, you have to tell them what your worst day is like rather than what your best day is like.
That process of going through what you're not good at is a traumatic experience, so don't dive into the NDIS straight away. Do your research, make sure that you're in a good psychological state to actually confront what you're confronting. And get a good support team involved.
Also try and develop an application and then send it off to a third party (not necessarily your family) somebody that's able to be impartial and have a 'third eye' so to speak. Someone who can say 'well, you might want to mention this particular thing and not mention that particular thing.' It's good to get a wide variety of perspectives.
Because when you when you're trying to get the funding, you want to try and get the most funding possible. Oftentimes when you try and focus on what you can do, you often look past the things that you can't do. And it's very vital when you approach the NDIS that you have to express in detail, all the things that you can't do.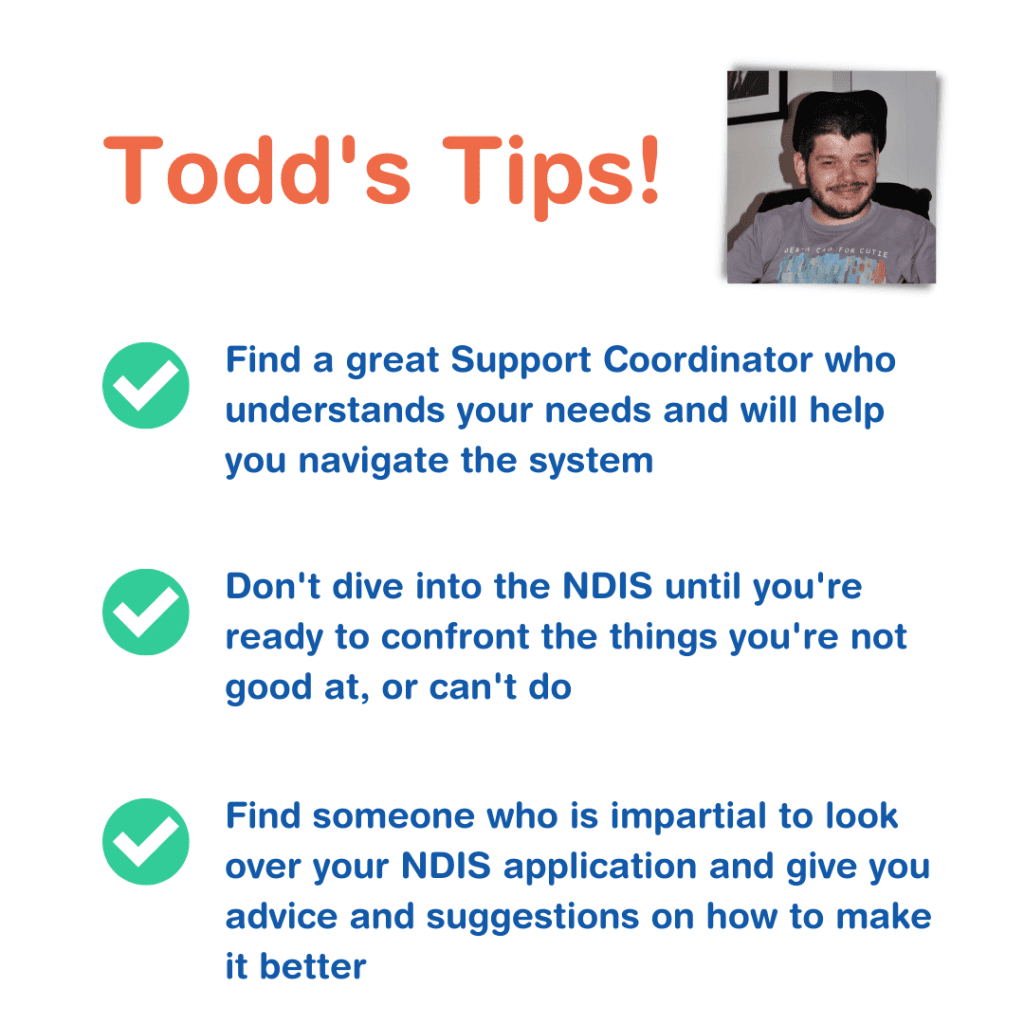 We'd like to say a huge thank you to Todd for spending some time with us and for sharing his experiences and amazing advice. We're definitely going to keep up with Todd's journey and can't wait to see what he does next. You can follow along with Todd too!