Thriving – not just surviving on the caring journey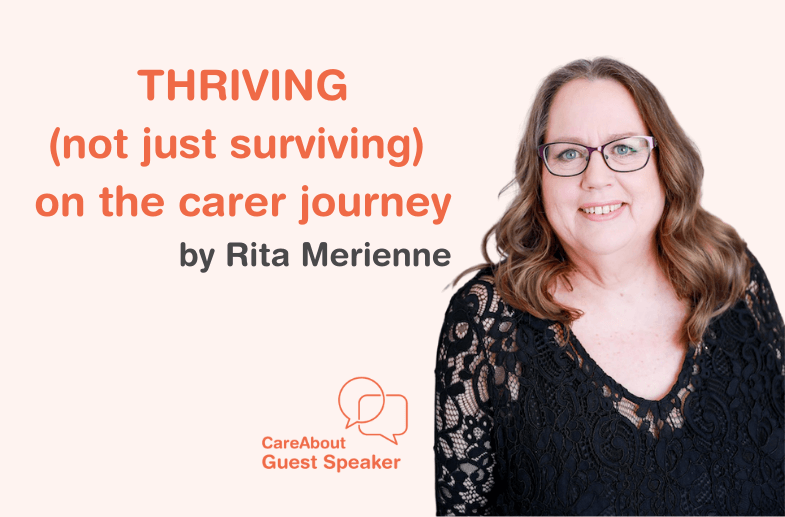 Hello my name is Rita Merienne and welcome to my first column for CareAbout. You will be hearing from me once a month where I will be sharing my lived caring experience, insights and tips.
I am really excited to partner with CareAbout not only because of the fantastic service they provide but all the carer's tips and support they share. It's important to me to find services that match the needs of all the family, and that help to reduce isolation, and loneliness, for clients and carers. Caring is for the carers too!
My story
It doesn't matter if you care for your aged loved one in your home, their home or a home – it is tough. When I was caring for our Father I felt lost and didn't know where to turn for help. However, I soon found out that many people feel that way – so I decided to be the help that people need and since 2014 I have been doing just that.
A little about how I ended up here! I have been on the "caring journey" since 2006 when our Mother passed away and Dad was left to fend for himself. I am one of three sisters. My role in taking care of Dad was being a part-time long distance carer, whilst our elder sister Marilyn did most of the caring, my other sister and I helped out where we could. We'd visit regularly to give Marilyn a break, ring Dad every couple of days and take on some of the "paperwork".
Mum and Dad had been married for over 55 years and had migrated to Australia in the early 1950s. As a result, there was no family other than myself and my two sisters to help them out as they aged. Not long after Mum passed Dad was diagnosed as legally blind due to Macular Degeneration. Not only did he lose the love of his life but also his eyesight, his driving ability, his beloved fishing and lawn bowls.
Things weren't easy
To be honest, Dad was struggling. This was in 2008 when the Home Care Package system was very different. We tried many things but none of them were what Dad wanted. Hindsight is a wonderful thing and now I know that he was lonely. So much had been taken from him – his wife, his eyesight, his hobbies – even his girls had grown up and moved away from home. Invites stopped coming in as people didn't know how to deal with his grief and his disability.
Then a new aged care home opened up around the corner and Dad wanted to move in.
Caring changed!
Dad still needed care, a different type of care.
However, in 2012 our darling elder sister Marilyn passed away unexpectedly.
Our world would never be the same again. My sixteen years in the Royal Australian Air Force and fourteen years in the Australian Public Service hadn't prepared me for all the challenges that lay ahead.
As I mentioned, Marilyn was Dad's main carer – she took him for all his appointments, did his shopping, took care of his banking and payments and most importantly visited him regularly.
Managing my own grief and prioritising caregiving
We didn't have time to say goodbye, and as a result, did not know how Dad's care was managed or even know what his bank account was. We had to deal with our grief while making sure dad was looked after.
Marilyn was Dad's one power of attorney – well why not? We trusted our big sister with everything. Why would you need two people? Turns out, it's not a bad idea. We needed it and the week we should have been sitting by my sister Marilyn's bedside as the machines were helping her take her final breath, we were at the solicitors getting the paperwork sorted so we could look after Dad.
Caring for Dad was now my other sister, Yvonne, and I's main concern. I remember thinking, "How were we going to do this long distance?" Dad needed monthly injections in his eyes, and I lived 14 hours drive away while Yvonne lived another 10 hours drive further.
Moving Dad to be close to me
A lot has happened since. Many trips to Dad. Many tears from all of us.
Then one day Dad put his head on my shoulder and said, "Bubby what am I going to do?". Without thinking I said "come live with me in Canberra." I didn't check with my then husband, I didn't check with my sister. I just wanted to have Dad close to me so I could see him everyday.
There were so many things to consider before the move – transferring to another aged care home. Finding a doctor who will continue the same treatment. It wasn't just the physical move that I was worried about: moving Dad to a new place away from all he has ever known was hard for all of us. I feared I was making the wrong decision but in my gut knew it had to be done. We had to make sure Dad was cared for. Suddenly my life was being consumed by my new caring role.
I had to adjust to my new normal.
There is so much I learnt as a full time carer. Just because your aged loved one is in an aged care home doesn't mean you don't have the responsibilities of caring.
Working full time, raising a family and now caring for our father was taking its toll on me. Being there for Dad every day, helping him settle in, dealing with all his medical appointments and especially helping Dad through his grieving process.
Dad passed in 2013.
My present day
8 years later, a lot has happened in my life. A divorce, new relationship, a move to Sydney, a book published, lots of public speaking events, being a support carer (again) and the publishing of my free online carer's magazine, The Carer's Champion.
My caring journey has continued as I am helping my partner care for his mother who is 93.
One of the biggest things I have learnt from being a carer for so many of my loved ones is that we don't know what we don't know! There is no blame, no shame, no judgement, no guilt, just acknowledgment and understanding.
Caring is my thing!
Caring seems to be my thing and in particular helping others ease their caring journey by providing tips to make it easier. I understand what it is like to be a carer, the challenges and the struggles.
I am looking forward to sharing lots of ideas, tips and hints with you.
Any comments or questions for me is gratefully accepted, and may be featured in CareAbout's next newsletter. Just send me an email at [email protected]   
Until next time – you matter to Me!
Rita