Tips for your Planning Meeting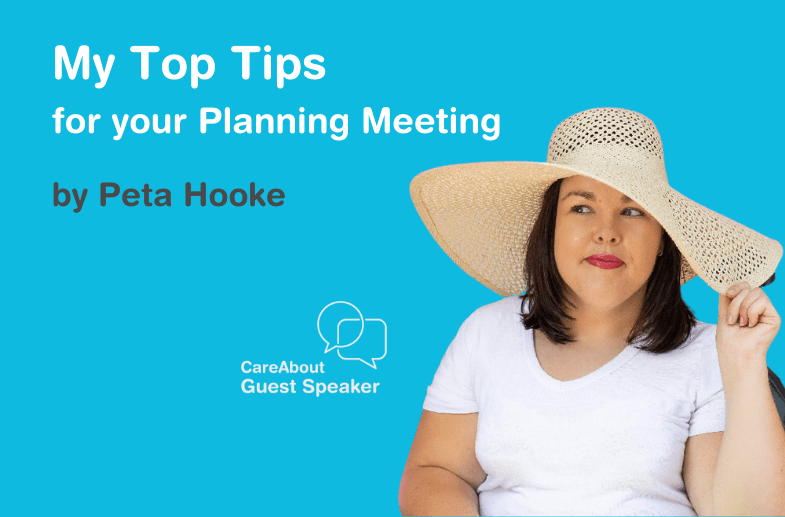 – Written by Peta Hooke, Disability Advocate and creator of the I Can't Stand podcast. Learn more about Peta here!
Regardless of how long you have been an NDIS participant, planning meetings are a part of the process. I am on my third plan but I still get nervous when it is up for review.
Being nervous before your meeting is normal. After all, this meeting determines the amount of funding and therefore support you have, for at least the next 12 months. It is super important you are prepared and feel as confident as possible when advocating for your next plan.
Before I go on, I want to remind you there are always opportunities to appeal if you are not happy with your plan.
Let's face it if you can avoid that extra stress of an appeal that is always the preferred outcome.
My top NDIS planning meeting tips:
One
When you are informed of the date of your planning meeting, you do have the right to ask for another date for it to take place. Having enough time to prepare is really important to me. While it might only be an extra few days, those few days can be really valuable to have in your back pocket.
Two
Carry around a notepad with you for a day or two. Write down everything you can't do. This process can be really difficult and it is totally counterintuitive to how I live my life. So I always give myself enough time to get into this different mindset.
I prefer to write things down as they come to mind, rather than having to think of everything on the spot. Maybe it is just me but I often remember things in the middle of the night or while I am in the shower.
I try to remember that my disability can cause me stress. If my wheelchair breaks down I am instantly in floods of tears. If my hoist isn't maintained I can get seriously injured. If my house isn't clean I get overwhelmed and I'm less effective in my business.
I ask myself the question how can I make my life easier? How can I make my life with a disability less stressful? Asking myself these questions helps me form a list. Then I use that list as a basis for what my NDIS goals should be in my next plan. It also allows me the time to think deeply about how the NDIS can improve my life.
Three
Evidence and information are power. Cliché? Maybe but in this context it is true. When I attend my planning meeting I take so much information with me. In the past, I have taken an enormous folder to my meetings.
I am very lucky and have a fantastic relationship with my Local Area Coordinator (LAC) but I treat the meeting like I am going to court. I treat the meeting like I've never met my LAC. I treat my meeting like I have to prove to 'the judge' (The NDIA/ my LAC) that I require this level of funding and support.
I present every form of evidence that illustrates why I need that type of support included in my plan. I never rely on my LAC having the information, if they do have it to hand that is a bonus. I take invoices, reports, medical documentation and email correspondence to my planning meeting. All documentation that illustrates that what I am asking for is fair and reasonable to include in my plan.
The NDIS/NDIA loves the phase 'improve or build capacity'. All my NDIS goals in my plan are worded around improving or building my capacity as someone with a disability.
So if one of my goals is
"I will continue to improve my capacity to live independently with supplies being delivered, as well as my home being properly maintained"
I can ensure that each element I ask for works towards achieving this goal. Without my house being cleaned every fortnight, for example, the overall goal would not be achieved.
Four
We are very lucky to have something like the NDIS supporting people with disabilities. So many countries have nothing like the NDIS. Remember the 'I' in NDIS does stand for Insurance. The NDIS is an Insurance scheme. Many good people are working for the organisation that do want to support you but it is a government organisation at the end of the day.
If you think it would help to take someone with you to your planning meeting, do it. Having the support of someone who understands your life can be really helpful. I took my Mum to my first two planning meetings.
If you can, leave your child with a sitter (I realise that sometimes that is easier said than done) but if you can, do it. You need to ensure you are communicating your needs (or the person you advocate for needs) effectively while in this meeting. Think about what is your ideal environment where you can concentrate, not get distracted and reduce some of your possible anxiety.
Every person on the NDIS is different. We all have different needs, different supports and different goals but I hope my top tips have been helpful to you.
Questions? Email me at [email protected]
Peta xo