CareAbout partner, Household Capital: tips from their Retirement Specialist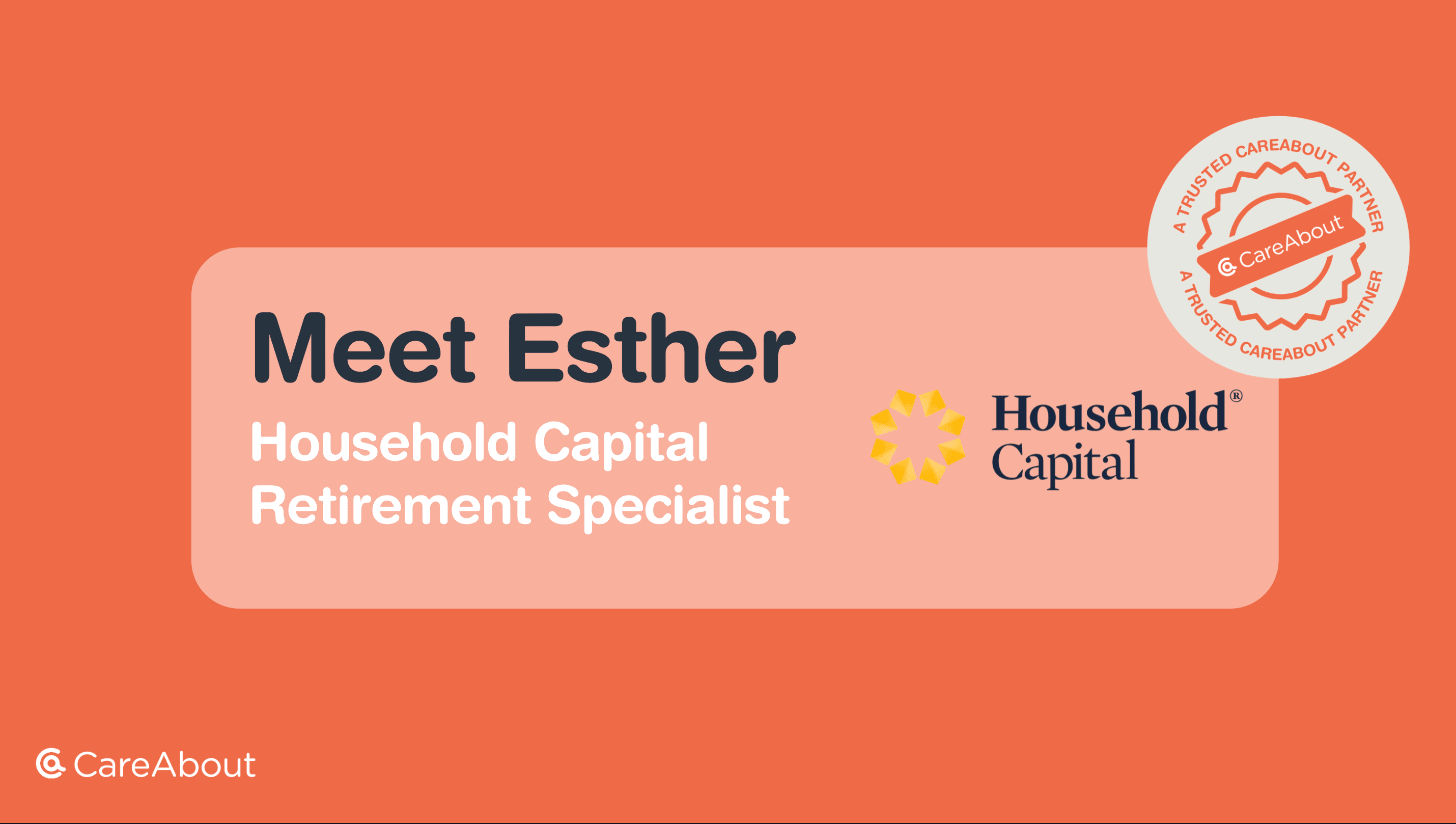 Aligned by a customer-first approach, CareAbout and Household Capital's mission is to keep people living safely in their own homes. With the goal of keeping Australians living well at home, CareAbout recently partnered with experts in Household Loans, Household Capital.
A Household Loan can be a great solution for some to fund retirement needs, depending on existing funds and assets. To learn whether you qualify for a Household Loan, use Household Capital's Home Equity Calculator.
Why might someone take out a Household loan?
Household Capital is a purpose-led lender so we will only lend for specific purposes.
I'll cover off a couple of the popular purposes:
One of them is home renovations. People who are deciding to stay in their home as they're ageing may require some modifications. They will borrow some of the equity in their home to do those renovations
Another popular purpose that we support clients through is pulling out some of the equity from their home to fund in-home care – that might include simple tasks like cooking and gardening that you can no longer do for yourself, but it could also include paying for medical care in the home
Finally, assisting with aged care facility payments so those that are looking to transition from their home to an aged care facility we will help fund the bond of that facility or potentially daily payments that are required for that facility
What is the difference between a Household Capital loan and other loans?
Our household loan is a type of reverse mortgage. It can help you access the equity accumulated in your home to complement your lifestyle and well-being in retirement without needing to sell or downsize.
Is a reverse mortgage regulated?
Yes indeed it is a regulated loan in Australia. There was a time when taking out a reverse mortgage there were little to no rules around it. However, today it is the number one regulated loan in Australia.
Could I lose my home if I take out a reverse mortgage?
The regulators have prescribed that a client who has taken out a reverse mortgage can stay in their home for as long as they want to, so essentially there is no default risk.
You cannot be removed from your home by the lender nor forced to sell your home at any time against your will (that is assuming that you've met your obligations under the loan).
Whilst we're talking about regulations, I think another important note to make is that there is a no negative equity guarantee. This clause was introduced some years ago and it means again that you are protected by law and you cannot ever owe more than what the house is worth.
Irrespective of the value of the property when you sell, you do not need to find additional funds to repay the loan.
Do I have to make repayments?
The benefit of a household loan is that we provide flexibility. The client can choose to make interest repayments, they can choose to make interest-only repayments and if they want to, they can repay the loan at any time in full without any penalty.
How long does it take to get a Household loan?
The process of applying for a household loan right through to settlement, via a complete digital journey, will only take two to three weeks. So it's quite quick.
However, for those clients more comfortable with hard copy documents, it can take six to eight weeks.
What advice would you give to someone who is just starting this process?
My strong advice is if you're wondering where can you find some additional money for in-home care or even aged care facility support without feeling forced to sell if you don't want to, call Household Capital and make an obligation free inquiry.
We'd love to talk to you and we'll talk through your specific situation and present some scenarios that could help.