What is a Local Area Coordinator?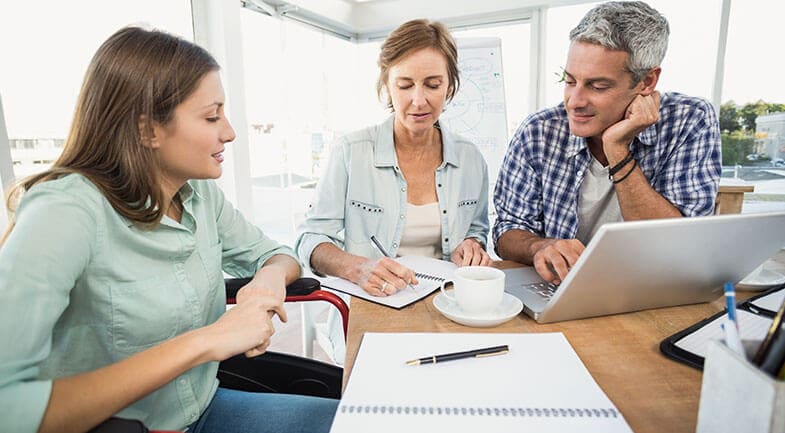 In this article we take a look at Local Area Coordinators. Who are they? What exactly do they do? What don't they do? How can you work effectively with them to get the best possible outcome?
Who are the Local Area Coordinators?
LACs come from a variety of backgrounds and usually have qualifications in the disability sector or lived experience or awareness of the impact of disability upon individuals, families, carers and the community, or a combination of both.
LACs are employed by a variety of organisations across Australia. In each state and territory there are a number of different organisations providing Local Area Coordination or Early Childhood Early Intervention services.
As new NDIS areas are rolled out, the NDIA introduces new LAC and ECIS Partners in the Community. The LAC and ECIS organisations by state and territory are as follows:
Victoria
LAC
North East Melbourne, Hume Moreland, Bayside Peninsula – Brotherhood of St Laurence
Central Highlands, Ovens Murray; Wimmera South West; Barwon, Inner East Melbourne, Inner Gippsland, Outer East Melbourne – Latrobe Community Health Service
Loddon – Intereach
ECIS (0 to 6 years old)
Barwon – Barwon Child, Youth and Family
Central Highlands, Wimmera South West – Latrobe Community Health Service
Inner East Melbourne, Inner Gippsland, Outer East Melbourne – Link Health and Community
Loddon – Intereach
North East Melbourne, Hume Moreland, Bayside Peninsula – Brotherhood of St Laurence
Ovens Murray – Merri Community Health Service
NSW
LAC
Ability Links NSW
Nepean Blue Mountains, Northern Sydney, Western Sydney, Southern NSW, Illawarra Shoalhaven – Uniting
South Western Sydney, Central Coast, Hunter New England, Sydney and South Eastern Sydney – St Vincent de Paul Society NSW
Far West, Murrumbidgee, Mid North Coast, Northern NSW and Western NSW – Social Futures
ECIS (0 to 6 years old)
NSW Government and Early Childhood Intervention Australia NSW/ACT
Queensland
LAC
Toowoomba, Ipswich and Rockhampton – Carers Queensland Limited
Townsville and Mackay – Feros Care
Bundaberg – IWC
ECIS (0 to 6 years old)
Townsville, Toowoomba and Mackay – UnitingCare Community
Ipswich – EACH
Bundaberg and Rockhampton – BUSHKids
South Australia
LAC
Barossa, Light & Lower North, Northern Adelaide Service Areas – Feros Care
Western Adelaide, Eastern Adelaide, Yorke and Mid North Service Areas – Baptcare
Limestone Coast, Murray and Mallee, Adelaide Hills, Fleurieu and Kangaroo Island, Southern Adelaide and, Eyre Western and Far North Service Areas – Mission Australia
ECIS (0 to 6 years old)
South Australia's Department of Human Services (SA DHS), formerly the Department for Communities and Social Inclusion (DCSI).
What is the difference between a Local Area Coordinator and a NDIA Planner?
LACs work with participants to develop their plan, implement it and provide support to achieve their goals. This includes helping them connect with community, mainstream and funded supports. LACs support participants throughout their plan and monitor how the plan is going.
LACs also engage with local organisations and communities, including other government services, to build awareness and improve opportunities for people with disability to access and actively participate in community activities.
NDIA planners are employed directly by the NDIA and approve participant plans. The NDIA planners are guided by the NDIS legislation in what supports they approve or disapprove. LACs must make their recommendations to the NDIA in line with the NDIS legislation.
What is the difference between a Local Area Coordinator and a Support Coordinator?
Support coordination is included in a plan if it is reasonable and necessary for the individual. Some people may have Support Coordination funded in their NDIS plan. A Support Coordinator is generally funded to strengthen a participant's ability to connect to and coordinate with a range of more complex informal, mainstream and funded supports.
They coordinate services from a range of suppliers or providers, address service delivery issues and develop the capacity and resilience of their support network.
Support Coordination is usually funded for people with high needs or increased complexities. However, some Participants may also get Support Coordination funded in their plan if there is no LAC or ECIS available in the local area (for example a remote or very remote region in Australia).
Over time it is expected the NDIA will decrease its funding of Support Coordination, as people better understand how to use their control and choice in accessing supports and services.
Help make the Local Area Coordinators job easier!
One of the wisest things to do when you are engaging with a Local Area Coordinator is to be well prepared.
Remember the LACs have a large number of people they need to see each day. They will spend around 1 to 2 hours with you to develop the plan. Giving them information in the form they can use to help develop your plan will make their life easier.
Remember also they are not necessarily experts in your disability, nor in the specialised supports and services that may be available to you. So it's worth your while to record a number of options you can suggest. It's most important to have a clear idea of your goals.
Collect all of the relevant reports and recommendations made by specialists and service organisations about you and the services you receive and list them. You can record your information in a document, for example a word document, which you can provide to the LAC.
You may even want to consider getting your pre-plan done professionally, so that the language used to describe the impact of the disability on your functioning is in the best possible form to be accepted and used by the LAC and the NDIA planner.
CareAbout has developed a suite of resources to help you with your engagement with the LAC. Or you can contact CareAbout on 1300 036 028 and speak to one of our experts.