CareAbout staff get asked all the time to explain the various parts of the National Disability Insurance Scheme (NDIS). In this article we look at Support Coordination in the NDIS, the role of Support Coordinators, what they do and who they are.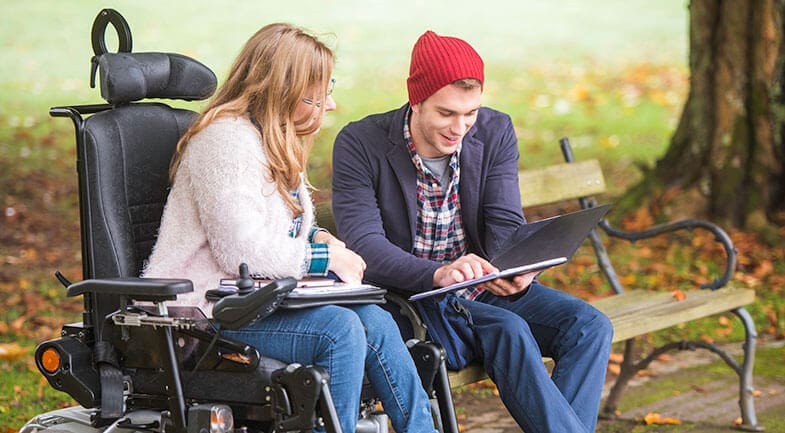 Support coordination assists NDIS Participants to implement the supports in your NDIS plan, including informal, mainstream, community and funded supports.
Support Coordination may be one of the supports specifically included in your NDIS plan, within the Capacity Building category of supports, to assist choice and control. There are three types of Support Coordination:
Support Connection
Coordination of Supports
Specialist Support Coordination.
The amount of hours of Support Coordination per year does vary depending on the needs and situation of the Participant. Some people may receive 50 to 100 hours of support coordination (up to 2 hours a week) while others may have larger numbers of hours. Overall spending by the NDIA on support coordination is around 3 to 4% of the total NDIS spending.
Who should get Support Coordination?
About 4 in every 10 Participants have Support Coordination included in the NDIS Plan. This figure does vary depending on age (young children tend to get less) and which state or territory you live in. For example, 35% of Participants in NSW receive support coordination, 31% in Queensland, 42% in South Australia, and 46% in Victoria.
Participants most likely to receive support coordination in their NDIS plan include people:
of Aboriginal or Torres Strait Islander heritage
with extremely low functioning, complex needs and receiving multiple supports
young people in nursing care
conditions of a degenerative nature, and supports requiring regular active management and ongoing adjustment due to the participant's changing needs
with episodic mental or ill health support needs
requiring regular crisis management
with poorly resourced families or limited or no informal support networks
with current or past child protection or criminal justice involvement
with a history of changing and challenging support provision
with psychosocial disability.
Participants classified as intensive or super Intensive during pre-planning receive Coordination of Supports and/or Specialist Support Coordination. It is possible for a provider to deliver Coordination of Supports and/or Specialist Support Coordination and be a participant's service provider, but the provider must ensure they proactively manage conflicts of interest.
What does a Support Coordinator do?
There are about 1,500 Support Coordinator organisations registered with the National Disability Insurance Scheme (NDIS). Many of these organisations are also service providers.
Support Coordinators will help a participant to:
assess all the options for mainstream, community, informal and provider supports
implement the NDIS plan including help to choose preferred options or providers and over time increase your capacity to direct and manage your own supports and exercise choice and control
use the NDIS myplace portal
organise assessments that may be required to determine the nature and type of funding required (eg assessment to determine the type of complex home modifications required)
negotiate services and prices, develop service agreements and create service bookings with preferred providers, make changes to provider service agreements and help Participants understand their responsibilities
help decide the budget for each support type and inform plan managers how the funds will be spent
increase your options to link with mainstream or community services including education, health, housing and or transport. And provide advice on housing options and life transitions
get value for money for the supports you receive (make sure you get the full value of your plan)
help resolve points of crisis, problems or issues that arise
undertake some specialist activities including assisting with plan reviews by looking at progress towards goals, looking at new or changed goals, making decisions about value for money, assess whether they achieved their goals and got value for money for their plan, troubleshooting problems implementing the plan
Are there activities which a support coordinator cannot provide?
Support coordinators, like the  LACs, are busy people! With this mind, there are some things Support Coordinators do not do.  Support Coordinators do not:
make judgements about the adequacy of the plan
make requests to NDIA for unscheduled plan reviews
provide transport for participants
undertake plan administration or plan management
organise support rostering
undertake advocacy
provide disability supports (except under special circumstances).
There are rules about how Support Coordination is supposed to work, which are part of the legislation for the NDIS.
How do I organise a support coordinator for my NDIS plan?
First you need to ask your Local Area Coordinator or NDIA Planner for Support Coordination to be included in your plan. Not everyone will receive Support Coordination.
Your initial access request and the answers you provide in the discussion with the LAC will also inform whether you receive Support Coordination. Your level of functioning and whether there are complex issues involved are also taken into account.
Once your NDIS plan is approved, and if it includes Support Coordination, then the NDIA planner makes a request to your preferred Support Coordinator organisations. These organisations will also receive details of your plan and what supports they will need to assist with and coordinate. They do not have to agree to provide Support Coordination to you, but if they accept, then a plan handover is arranged between the planner and support coordinator.
What should I expect from my Support Coordinator?
Once you have locked in Support Coordination, you need to know what you can expect from your Support Coordinator. They should:
be registered providers
contact you as soon as possible after the handover with the planner, ideally within two days and meet with you within the next five days
understand the role of the mainstream service system
understand the NDIS legislation and rules
understand the NDIS Price Guide and flexibility within budgets
manage any perceived or real conflict of interest (for example, if they are coordinating your supports, they usually will not also be providing you all your supports, they should help you to get supports from other providers if they are available. There are some exceptions when there are not sufficient other providers available or where the Participant's support needs are very specialised).)
work with you and develop reports on your progress towards goals, which they need to provide to the NDIA.
What is the difference between Support Coordination and Local Area Coordination?
Support coordination is included in a plan if it is reasonable and necessary for the individual. Some people may have Support Coordination funded in their NDIS plan. A Support Coordinator is generally funded to strengthen a participant's ability to connect to and coordinate with a range of more complex informal, mainstream and funded supports.
They coordinate services from a range of suppliers or providers, address service delivery issues and develop the capacity and resilience of their support network.
Support Coordination is usually funded for people with high needs or increased complexities. However, some Participants may also get Support Coordination funded in their plan if there is no LAC or ECIS available in the local area (for example a remote or very remote region in Australia).
A Local Area Coordinator works for the NDIA and undertakes planning functions, connects people with disability to the NDIS and to the community.
Over time it is expected the NDIA will decrease its funding of Support Coordination, as people better understand how to exert control and choice in accessing supports and services.
CareAbout has developed a suite of resources to help you. Contact CareAbout on 1300 036 028 and speak to one of our experts.