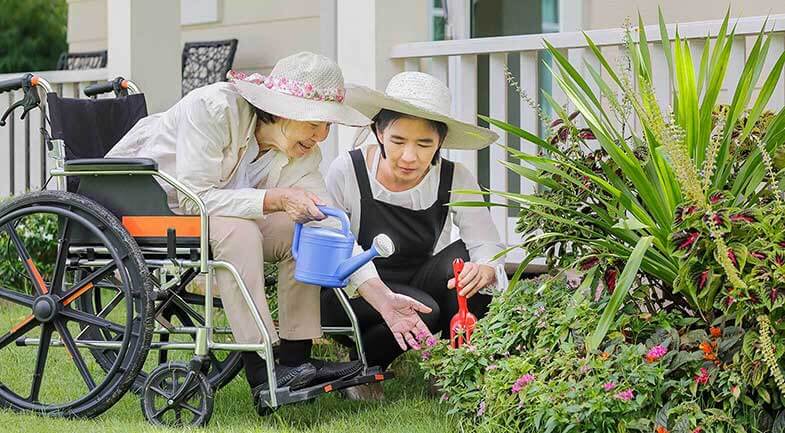 What is Home Care?
Home Care is receiving care in your own home. It's the preferred option for most people, their families, and the federal government. You do not have to travel anywhere, or get dressed up to leave the house! A carer will travel to you and provide you with care and support in your own home. Sometimes the thought of having a stranger in your home can be a little scary – find out what you can expect when someone provides care services in your home.
Whether you are paying for Home Care yourself, or you have been allocated a Home Care Package by the government, you are free to choose which provider you use, and which services you want them to provide. This is called Consumer Directed Care and allows you to control the care you receive.
Consumer Directed Care
The Australian Home Care system works on a Consumer Directed Care model which is designed to give you more choice and flexibility. Under this model, Home Care providers are required to:
have conversations about your needs and goals
co-produce care plans with you
provide greater transparency about what funding is available to you and how your funds are spent
agree upon the level of involvement they will have in managing your Package, and
conduct ongoing monitoring and a formal reassessment to ensure that the package continues to be appropriate for you.
If you want to know more about Consumer Directed Care, and how the different care providers operate, speak to CareAbout.
10 benefits of receiving care in your own home
There are many benefits to receiving professional care in your own home rather than relying on friends and family or moving into an Aged Care Home. Here are 10 benefits of receiving care in your own home.
Home is where the heart is

Staying at home, rather than moving into an Aged Care Home, means being surrounded by what makes you feel most comfortable and happy.

Individual care

With assistance from a personal carer, all the attention is on you. You won't get that 1:1 ratio in an Aged Care Home.

Family members get a break

After all, they have their own lives as well, full of responsibilities. A short-term or long-term respite carer can be arranged for family members, so they can have a break and tend to their own errands.

Diet and nutrition

A healthy diet and the right nutritional balance become more and more vital as you age. Having a professional preparing the right meals will ensure a healthier life.

Personal hygiene

A professional carer can help maintain your personal hygiene, from shaving and washing your hair, to bathing.

Maintaining social interaction

A personal carer can accompany you to regular social activities or even just trips to the supermarket.

Managing medication

It can be confusing taking medication, particularly is there are more than one medications prescribed. A professional carer makes sure you take your medication correctly. what you should, when you should.

Independence and respect

Maintaining your independence for as long as possible is critical to one's overall well-being. So is respect for your values and belief. Receiving care in your home preserves these essential elements of one's life.

Safety first

A professional carer can identify and remove potential hazards but will be on-hand if accidents, such as falls, happen.

Affordability

It is probably far more affordable than you imagine. Contact CareAbout to find out exactly how affordable.
What services can I access?
There are a huge number of services that aim to ensure you can stay safely and happily in your own home for as long as possible. The following are some popular options for both Package recipients and those paying privately.
personal care such as assistance getting dressed
transport to shops, medical appointments and social activities
simple modifications to your home, including installation of handrails and ramps
nursing and physiotherapy
assistance taking medication
preparing and serving meals
household jobs such as cleaning and gardening
provision of mobility equipment such as walking frames
linking with local community groups and social activities.
The ideal Aged Care solution
Having care provided in one's own home, at least for as long as possible, is as close to an ideal outcome as one can get. It's the preferred option for most people, their families, and increasingly, the federal government. That's why generous subsidies are available