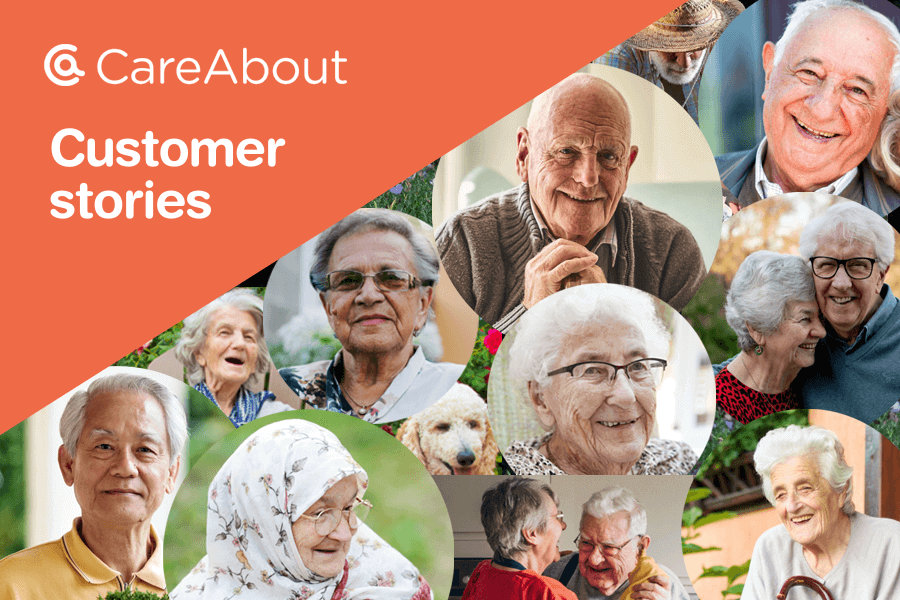 We help a huge number of Aussie families feel at ease and connect them with great, quality providers. Don't just take our word for it! Listen to Chris's story and how CareAbout was able to help him find the support he needed for his Mum.
I was stoked with CareAbout because they really went into the nitty gritty and explained everything very informatively.
After Chris' Mum received a letter from My Aged Care letting her know that her Home Care Package funding had been allocated to her, she was so confused about what she was meant to do next that she turned to her son, Chris, for help.
After reading through the letter from My Aged Care, Chris found the lack of clear information and direction overwhelming and had no idea what he should do, or how he should go about finding the right provider for his Mum.
That's when Chris found CareAbout, who clearly explained the entire Home Care Package process so that Chris and his family were confident about the steps they needed to take and what they could expect throughout the entire journey.
CareAbout then connected Chris and his Mum with a great provider who was highly suited to their wants and needs. Any of Chris' initial nerves were allayed after CareAbout explained all of the checks and benchmarks that CareAbout-approved providers must go through.
Chris and family were extremely happy after meeting with the provider and they're even happier today, with Chris saying that "they are amazing people, they're caring, they're very compassionate and my mother just loves them."
Watch Chris' customer story below
What's your name and who were you looking for care for when you found CareAbout?
My name is Chris and when I found CareAbout I was looking for some assistance for my frail mother who had just been introduced to a Home Care Package.
Where were you in the process when you found CareAbout?
We had received a letter from My Aged Care, that was basically stating that she had obtained some funding.
How did you find the process of applying for a Home Care Package?
The process was very overwhelming for me, I am pretty a student in a lot of levels, but I was pretty blown away by this process. I had no understanding of information on what the process was, how it worked and the funding was distributed, who was to get the funding, what services it was supposed to provide. Basically the letter itself stated that we had to go and attain a service provide. We didn't know who these services providers were or where to find them, we didn't understand what it all meant.
What type of care were you looking for?
My mother is 81 years old, she lives with dad and thankfully they are relatively healthy. But she needed some assistance, she suffers from a lot of arthritis, she needed some assistance with the basic maintenance of her household, cleaning, changing bed linen, small gardening tasks.
How did you find CareAbout?
I came across CareAbout after my mother had come to me asking for assistance as she didn't understand it all. I went through the information she was provided and I couldn't understand it either, I couldn't make heads or tails of it. So I decided to go onto google and try gain some understanding and gather some information about this process.
What was your first impression of CareAbout?
I looked at it and I thought this would be very very interesting, as they happen to be an Independent service that would connect me with service providers. I thought this was pretty good, as prior to that we were getting calls from people who certainly seemed like they wanted to access the funds but really didn't know who they were and couldn't understand what services they were offering. They couldn't provide the services that we were looking for at that point.
How did CareAbout help you through the process?
With CareAbout, when I read their information on their web page, they actually were going to connect us with service providers, which was pretty good. There was a 1300 number, so of course I rang it and organised a quick phone call for an agent to call me back.
What was the process like when you spoke with the agent from CareAbout?
When the agent called back from CareAbout, I was even more impressed as they guided me through step by step what exactly the funding was and who holds that funding, and how they could connect us to a service provider.
When CareAbout matched you with a provider, what was the outcome?
Initially it was a very daunting experience, but after CareAbout connected us with a service provider it became very very easy. CareAbout arranged the initial meeting with the provider, who contacted me and informed me of all the services they provide, where they were and how they could possibly assist my mother. They were absolutely perfect for our needs.
What was it like meeting your provider?
We did meet, CareAbout arranged the meeting and assured me there was plenty of checks they complete on the service providers and we had no fear that anything could be undue. Accordingly we wound up having a meeting at my mothers place, we signed with the service provider and are still with them. They are amazing people, they're caring, they're very compassionate and my mother just loves them.
What would you suggest to someone going through the process?
There has been a couple of people I know, people in my age group with elderly parents as well. A lot of them have been trying to understand the Home Care Package and I just recommend them right away to CareAbout. I tell them get on this webpage and they will be able to tell you everything. They have all gotten onto CareAbout and have had the same results.
How do you feel about CareAbout today?
I was stoked with CareAbout, like I said earlier, a lot of councils and other people were going and I realised very quickly that they were very interested in attaining that funding but nobody was indicating to us the appropriate services that we needed and they could provide. I was stoked with CareAbout because they really went into the nitty gritty and explained everything very informatively, they connected us with a couple of service providers and the one we went with are absolutely amazing, mum loves them. I can't speak highly enough about them, they made the process that I thought was going to be so complicated and impossible to sort out or understand, they made it very very easy.