Navigating My Aged Care – the registration and assessment process made simple.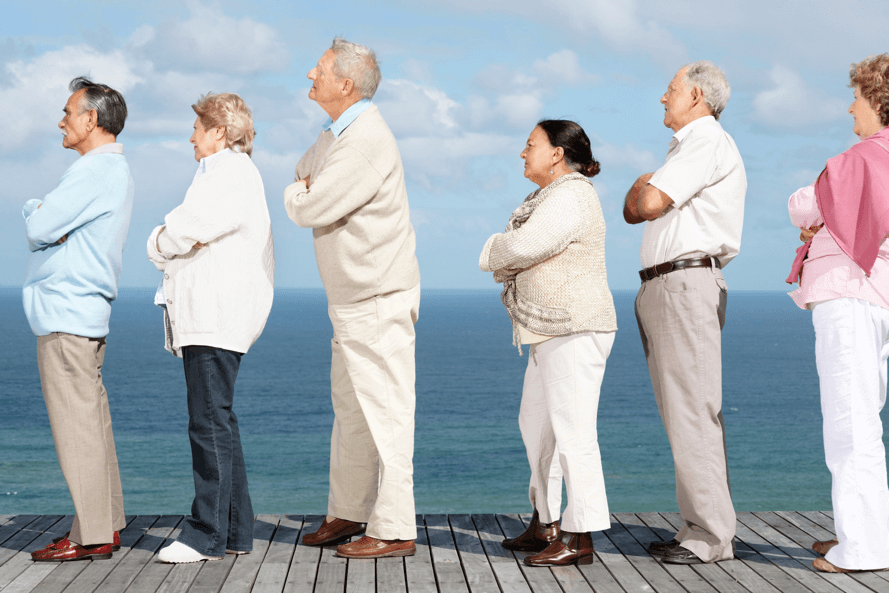 Are you looking for Aged Care services in Australia? If so, it's probably likely you've heard of My Aged Care. Before you get started with any Aged Care services in Australia, you will need to register with the government organisation, My Aged Care.
The system can be a little difficult to navigate, so we've put together a simple guide to introduce you to My Aged Care and their registration and assessment process.
What is My Aged Care?
My Aged Care is the main entry point into the Aged Care system in Australia. It is a government organisation responsible for registrations and assessments relating to Aged Care services. Through My Aged Care, older Australians can register, create an account, and organise to be assessed to determine their Aged Care subsidy eligibility and needs. Government subsidies are available for Residential Aged Care Homes and Home Care Packages.
If applying for a Home Care Package, the following support is available: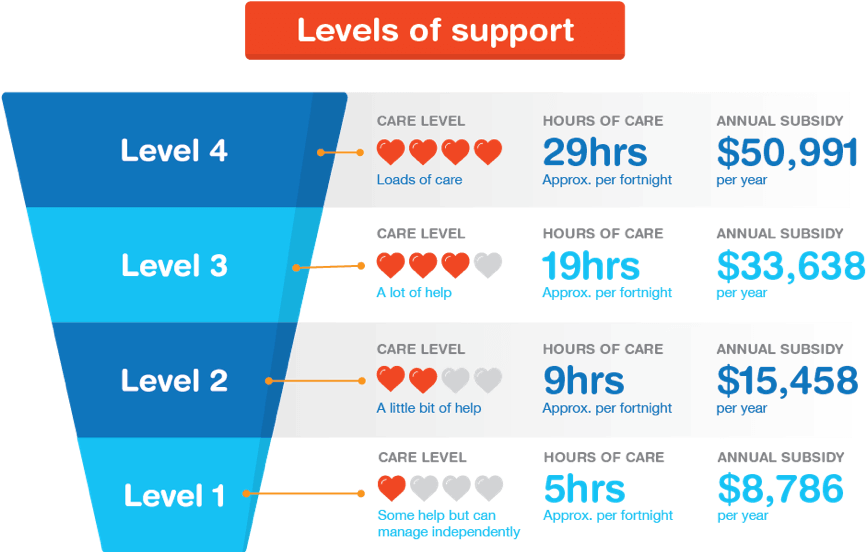 How do I contact My Aged Care?
You can get in touch with My Aged Care through their website here or by calling them on 1800 200 422.
Who is eligible for My Aged Care?
If you are 65+ (or 50+ for Aboriginal and Torres Strait Islander people), you may be eligible for government-funded Aged Care services.
Anyone who meets the above criteria is eligible to register and to be assessed through My Aged Care, but this does not necessarily mean that you will be approved for government funding.
How do I get a referral to My Aged Care?
You do not need a referral to My Aged Care, you can simply register yourself with My Aged Care via their website or by calling 1800 200 422.
My Aged Care Registration
Before you can access any government-funded Aged Care services, you must be registered with My Aged Care. To register, you need to call My Aged Care and answer a range of questions to help them determine your individual needs and current situation.
What is the phone number for My Aged Care?
You can contact My Aged Care by calling 1800 200 422.
What do I need before I call?
Make sure you have your Medicare card ready, as you will need this in order to register with My Aged Care. The phone call will take around 10 minutes, to make sure you call them when you have a little time up your sleeve.
What happens during the call?
You will be asked for your Medicare details, followed by a range of questions about your current health status and need for care.
The questions you are asked during this phone call will relate to:
Information about your needs and any previous assessments or support services
Support you are currently receiving (if any)
Health concerns you might have
Details of how you're managing with daily tasks and activities at home
Your safety at home
If you give your permission, My Aged Care will create an account for you that saves all of the information you give them. This means that when you call again, you won't have to relay your story a second time.
You can access your account and client record at any time by logging in to the myGov portal. If you don't yet have a myGov account, click here to create one.
If My Aged Care decides that you may require subsidised care, you will be referred for a face-to-face assessment during this call. You won't have to do anything, My Aged Care will organise the assessment for you.
Do you feel nervous about calling My Aged Care? Are you unsure you can answer their questions properly?
Don't worry, you can have a friend or family member with you when you call – you can even hand the phone over to them and let them do all the talking! You'll need to chat briefly to the My Aged Care representative first though, just to let them know that it's okay for your friend/family member to answer the questions on your behalf.
Is English not your first language?
That's absolutely fine! My Aged Care will organise an interpreter who will help translate during your registration phone call.
My Aged Care assessment
After your first phone call to register with My Aged Care, you may be referred for an assessment. My Aged Care will organise the assessment with an Aged Care Assessment Team (ACAT) staff member. The ACAT member will travel to your home to assess you, running through a number of questions to determine the amount of support you might need.
During this process, you can have a family member or a friend with you to assist with answering questions, or just for moral support.
Preparing for your assessment
Before the ACAT assessor is due to arrive at your home, start to have a think about your current circumstances and write a list the things you are starting to find difficult around the home. If you have any health problems, make sure you know what these are (some can have tricky medical names, so it might be a good idea to write these down too!).
You can have a family member or a friend with you during your assessment, so make sure you organise this with them beforehand.
If you require a translator or somebody to help you to communicate, the assessor can organise this for you – just make you let them know in advance.
Things to have with you
You will need your Medicare card and one other form of ID, such as your passport or driver's licence.
Any relevant medical information, such as referrals from your doctor
Have your doctor's contact details available in case the assessor wants to ask them any questions
Write down a list of questions you would like to ask the assessor (examples below).
Some questions you might like to ask the assessor
How long will I have to wait before I can receive some support?
What are the different types of support services available to me?
What is the difference between Commonwealth Home Support and a Home Care Package?
How easy is it to find support services in my area?
If I have a carer, what support services are available to them?
Do the service providers in my area speak my language and cater to different religious and cultural beliefs?
If I have forgotten to mention something, how do I contact the assessor after my assessment?
My Aged Care portal
If you have a MyGov account, you can sign into the My Aged Care portal using your MyGov login details. This portal will allow you to see your client record, view and update your personal information, and see your interactions with My Aged Care including your assessment status, support plan and service information.
For more information, see the My Aged Care Portal User Guide.
My Aged Care service finder
The My Aged Care website includes a service finder where you are able to search for certain services or providers in your area.
After selecting the type of care you are looking for and entering your postcode, you can pick from a list of services including personal care, therapy services, dementia care, continence and many others. After selecting all of the services you'd like to receive, you will see a list of all the providers in your area who can deliver your chosen services.
Sometimes the list of providers can be huge! How are you meant to choose? My Aged Care don't show any reviews or any mention of the quality of the providers in these lists, so it can be very difficult to make a choice.
CareAbout makes the task of choosing a provider much easier – we've done all the hard work and shortlisted for you. The providers on our panel have all been thoroughly screened, so you can be assured that they are high quality and have transparent fees. Find out more about the hidden fees you could encounter.
My Aged Care fee estimator
This tool is found on the My Aged Care website and is used to provide an estimate of the fees you might be required to pay for either a Home Care Package or if you were to move into an Aged Care Home. It is an estimate only. It takes into account your annual income plus your assets (if using the estimator for an Aged Care Home, your assets are not required for the Home Care Package fee estimation).
Click here to access the fee estimator.
If you are still confused and would like to chat to an expert on Aged Care options, call CareAbout on 1300 036 028.