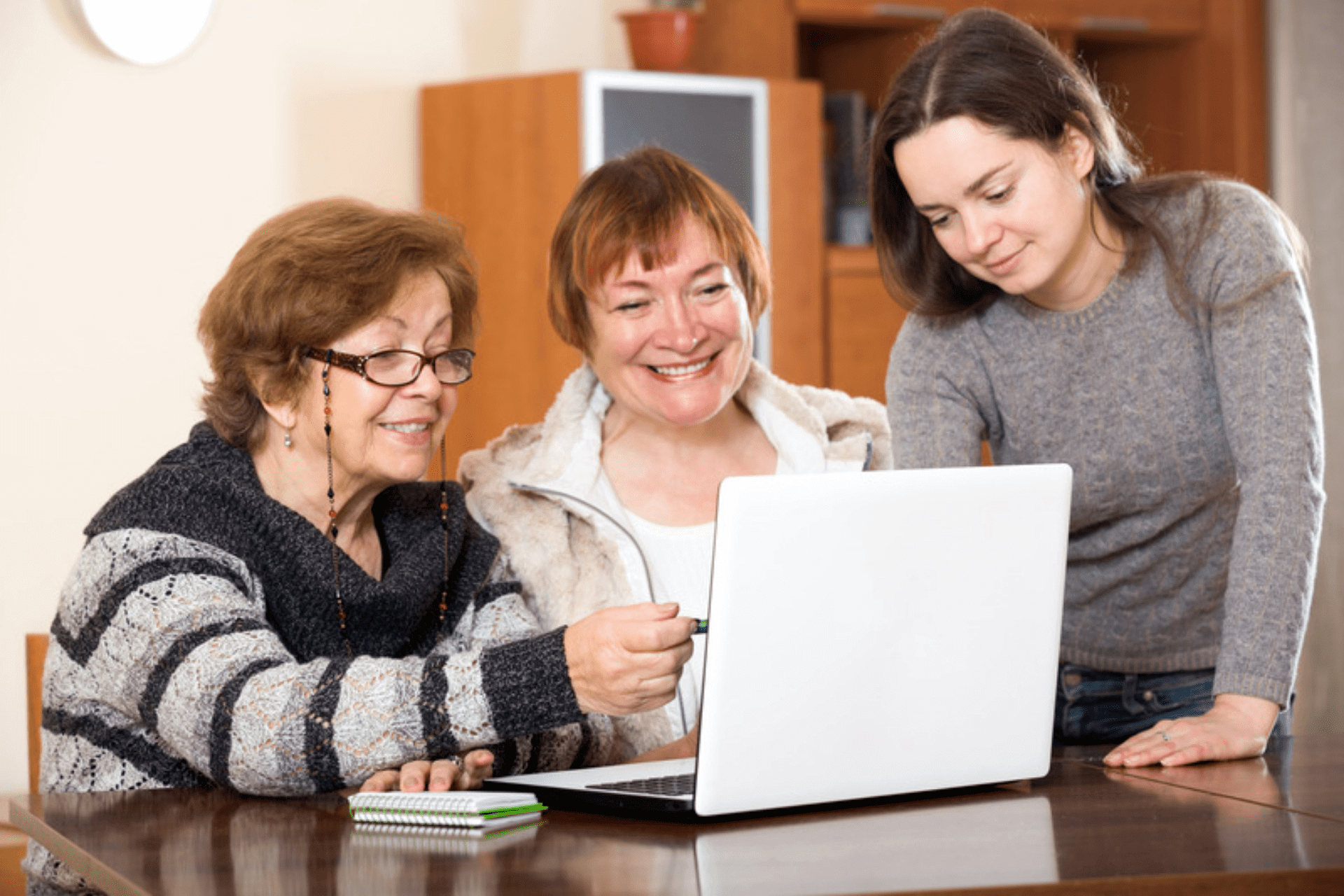 When you apply for aged care a personalised record is set up for you. The My Aged Care Client Portal is designed to help you, or people acting on your behalf. Such as family members or carers, to manage the services you receive through the government's aged care program. A portal is basically a feature on a website. It is designed to bring information from multiple sources together, allowing content to be shared amongst a variety of people.
What is included on the portal?
The portal allows you, or your representative, to view and update your personal information. As well as, keep a record of all your conversations with the staff you deal with through My Aged Care, the government agency responsible for managing this program.
The portal has been designed to save all your important information in one place and create a 'My Aged Care Online Account'. Which can be accessed by you, or anyone else involved in your care, if and when they need to.
Setting up your account
There are two steps you will need to follow to make sure that your My Aged Care online account is active and easy to access online:
Step 1: Activate your My Aged Care online account
You will need to contact My Aged Care on 1800 200 422 to activate your online account. This will be done during your call to them so you will know this step has been completed. If you applied for an assessment online, your Online Account will already be activated.
Step 2: Log in to your myGov account
You may already have your myGov account set up. This is the secure online account you use to access other government services such as Medicare, Centrelink and the ATO. Log in to myGov using your existing username and password. Once you've logged in to myGov, you need to connect your My Aged Care online account. To do this you simply choose My Aged Care from the services list and then follow the online prompts.
After you have completed these steps the My Aged Care logo will now appear on your myGov homepage which means the two accounts are now linked. The next time you want to access your My Aged Care Online Account you log in to myGov and then click the My Aged Care logo.
If you don't have a myGov account, you will have to create one. This is a relatively straightforward process and each step you need to follow is explained on the government website. If you don't feel confident working online, ask a trusted family member or friend to help you.
Your client record
As well as your personal details, this record contains a history of your assessments and details of any upcoming assessments, a list of services you have been approved for and those you are currently receiving.
If you're on a waitlist for a Home Care Package, you can view updates about wait times. It also outlines any goals you have discussed during your assessment and details of the people you trust to act as your representatives.
When necessary, you may be asked to allow your client record to be shared with other people, such as assessors and aged care service providers.
Assessors and service providers can also update the information on your client record when necessary but they must have your permission to do so. If you've misplaced any important documents, you can find copies of all the letters you have received from My Aged Care.
Approved aged care service provider portal
Approved aged care service providers also have their own portal- My Aged Care Service Provider Provider Portal. Providers must use this portal to manage information about their services, their referrals, update client records, generate reports and send requests to Aged Care Assessment Teams to review a client's support plan.
Your representative
If you're not in a position to manage your dealings with My Aged Care, you can nominate one or more representative(s) to speak and act on your behalf. This could be a trusted family member, friend or carer. A representative is classified as either 'regular' or 'authorised'. If you are capable of providing consent for someone else to speak and act on your behalf, you can nominate and set up that person to be your regular representative. If you are not capable of providing consent for someone to speak on your behalf, you will need an authorised representative. Your authorised representative will need to provide My Aged Care with legal documentation to show that they can legally act in this role and represent your interests.
If you've already nominated a family member or friend to deal with My Aged Care on your behalf, they can also access your client record. To do so, they will need to log into their own myGov account first and connect to your Online Account from there.
For expert advice about applying for aged care and setting up and managing your My Aged Care Online Account contact CareAbout on 1300 721 855.