Channel 9 – Today Extra and CareAbout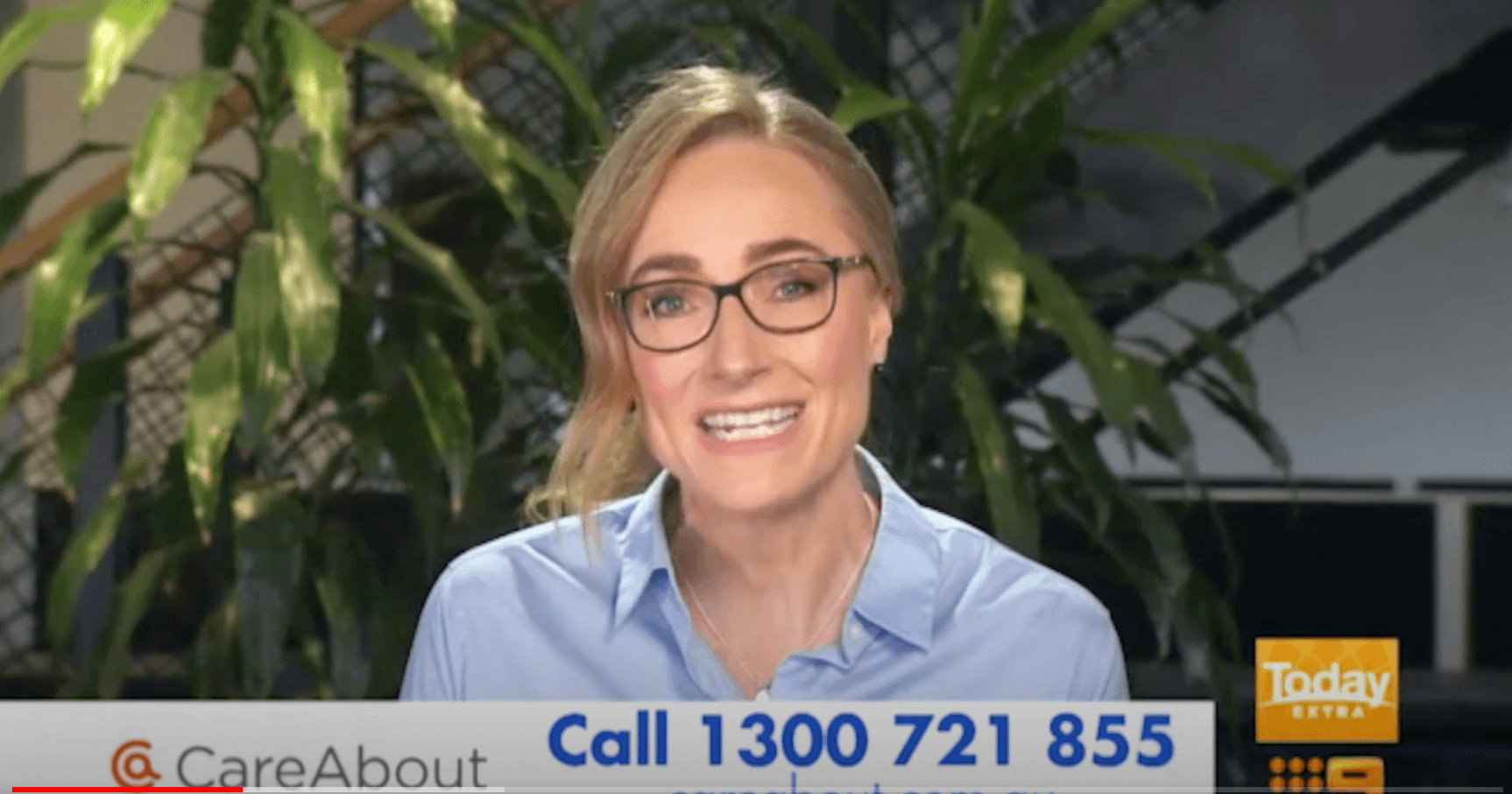 It's a challenging time for so many Australians right now but particularly for older Australians. Today, our founder Kyra-Bae Snell participated in Today Extra on Channel 9 and explained how CareAbout can help older Australians in these trying times.
Video Transcription
Paul: It's a challenging time for so many Australians right now but particularly for older Australians.
We have all seen the devastating health toll this pandemic has brought, and this is most noticeable in our aged care system.
Staying in your own home and having access to quality aged care service providers has never been more important and today we have Kyra from Care About to explain how they can help.
Kyra: Hi Paul,
Paul: Hi Kyra, tell us how Care About in particular, can help older Australians stay at home and still access quality aged care?
Kyra: Well Paul, for many older Australians staying at home, rather than moving into an Aged Care Facility means being surrounded by what makes you feel most comfortable and happy – friends, family and the community you know.
We want older people to be have the choice to stay safely in their homes for as long as possible, even when things become challenging without having to do everything themselves or relying heavily on their family members and friends, and we can do this by matching them with a quality home care provider.
Paul: That sounds like a great option Kyra, that would work well for many older Australians, so how would they go about getting access to these quality providers?
Kyra: Well Paul, CareAbout have already done all the work for you. Simply call us on 1300 721 855 and our dedicated team of Australian experts will guide you through the process of finding a quality Home Care Provider
Alternatively, you can go online to careabout.com.au follow the prompts, supply some information about your needs and one of our expert team representatives can contact you.
Paul: Yes, because every person has different needs when it comes to home care, right?
Kyra: That's right. Everyone wants to live differently at home and what's important to them is different, too.We understand that this can range from Meals, grocery shopping, transport or help around the home.
And once we understand this, then we can match you to the best provider for those individual needs.
Paul: Sounds like a simple process Kyra, but I'm sure there's a lot of work done behind the scenes to get this right. Can you tell us about the providers you work with?
Kyra: Absolutely Paul. Quality care is imperative and now more than ever during these challenging times.
CareAbout is assisting thousands of Australians to enjoy the benefits of home care, and have created a select group of quality providers who we work with who are focussed on the needs of older people and keeping them living at home. It's understanding the recruitment of their carers, how they communicate with their customers, their fee structures and processes as well as any feedback from their existing customers.
The most important part of this process Paul is ensuring that you are working with the best provider for your circumstance, it makes all the difference.
So families can have the peace of mind knowing that their loved ones are being looked after by people they can trust.
Paul: That sounds like something that many older Australians and their families would love access to right now.
But how can they afford quality Home Care?

Kyra: Well Paul, many older Australians are already on government Home Care Packages, this is where the government provides them with subsidies, which covers the cost of their home care. This support can vary from 9k to 52k a year depending on your health needs.
Paul: Great news. Kyra, what about people that don't have one of these packages?
Kyra: Well, we can help with that too, simply contact us and our expert team and they will work through the entire application process with you
Paul: You really are the place to go when it comes to Home Care
Kyra: That's right Paul, we want to make the process as simple as possible and the best part, our service is completely free for our customers.
We want all older Australians to access the quality care they deserve and work with a provider who can meet their individual needs.
Paul: Thanks Kyra.
Kyra: Pleasure.
Paul: To join the thousands of Australians every month who use CareAbout call them on 1300 721 855 or go online to careabout.com.au