The best apps for seniors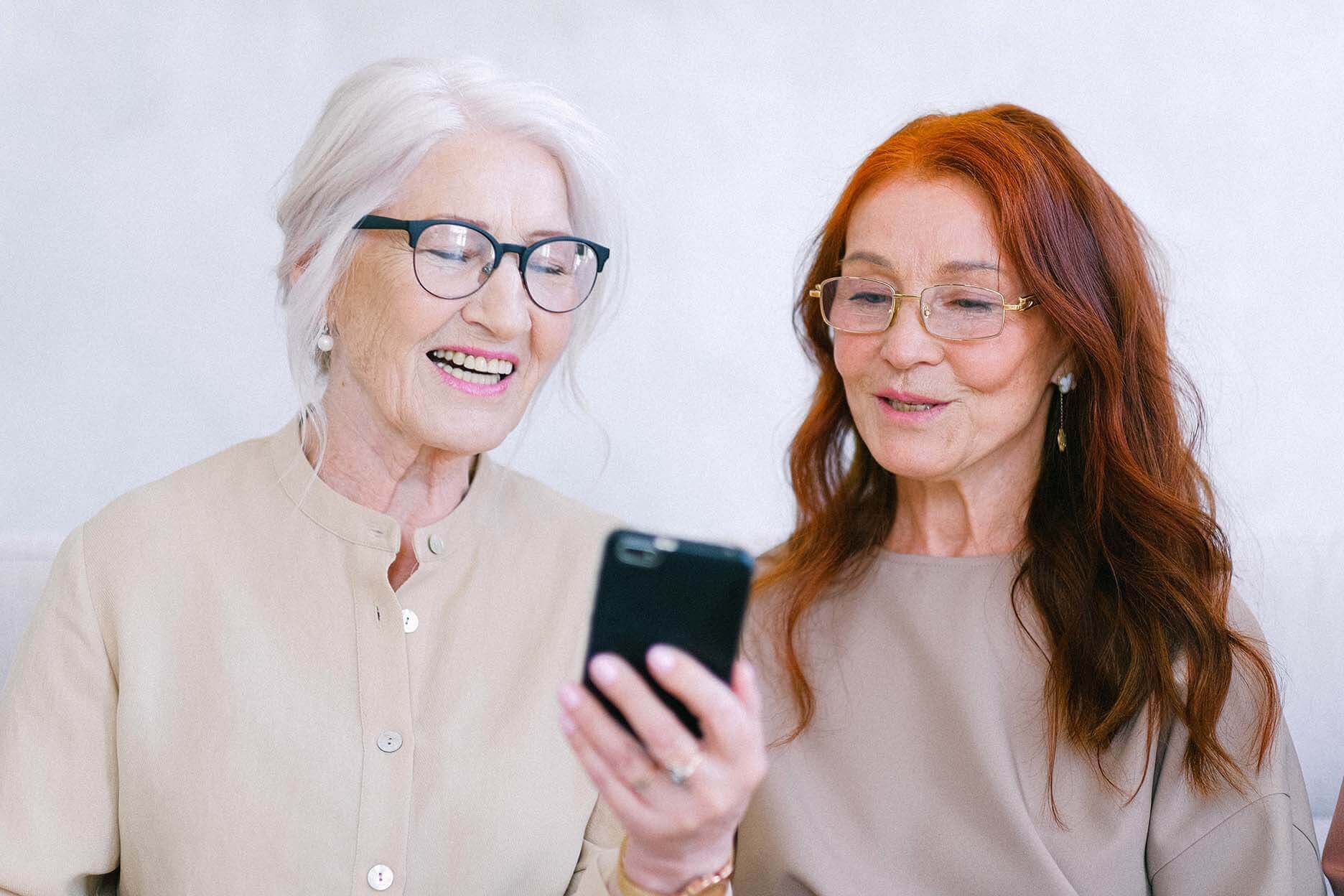 Technology is a wonderful thing – if you know how to use it and what to look for. There are some amazing apps for seniors out there but there are now so many of them it's becoming impossible to find the hidden gems.
What is an app?
The term 'app' is used to describe a mobile application and refers to an additional piece of software that you can download onto your smart phone or tablet. Learn more about apps and how to use them here.
There are many different types of apps – those you can have for free as well as – those you need to pay for, there are apps that will show you the weather in every town around the world, apps that will 'listen' to music playing in the background and tell you the artist and song name, and apps that can even turn on your lights, heating, alarms or TV!
The 8 apps for seniors you need right now
Mobile apps have changed the way we communicate, organise our lives, socialise, make decisions, consume media and entertainment. They can make our lives easier by saving time and effort – but it's also very easy to get caught up in them and forget to look up from our phones or tablets!
There are millions of different apps on the market, so how can you possibly know which are helpful and worthwhile and which are best left alone?
Don't spend hours trialling them on your own, we've done some work and have pulled together the best apps for the elderly.
Make sure you're keeping yourself safe on the internet, too.
Here are the top 8 apps we think you should get to know:
1. Staying connected
Making sure you stay connected with your family and friends is important, particularly when you're living alone.
It's likely that your children or grandchildren prefer to keep in touch using technology and apps on their phones – rather than via a traditional phone call. Apps that help you to stay connected are a fantastic edition as they can not only allow you to stay in touch via phone calls and text messaging, but you can share photos, videos, play games together and make video calls – it's almost as good as seeing family and friends in person!
Zoom
With Zoom you can make both voice and video calls to your loved ones. It allows you to make group calls, so everyone in the family can join in together – you can have up to 100 people in one video call!
It's easy to use and is free if your call doesn't exceed 40 minutes.
WhatsApp Messenger
WhatsApp is a very popular messaging app, allowing you to send text and voice messages, share photos, videos, documents, and even your current location. WhatsApp make it easy to have group chats, so that you can create groups of either family or friends and share your day to day life with them.
2. Emergency & safety
Whether you feel like you need this one or not, it's good to have it downloaded on your phone just in case.
Emergency Plus
Emergency Plus is a free app developed by Australia's 000 services and is enabled with GPS to show your exact location. In an emergency, this app will allow 000 services to find you, no matter where you are.
Get Emergency Plus for iPhone.
Get Emergency Plus for Android.
3. Brain training
Keeping your brain active and solving problems is one of the key activities that helps to prevent cognitive decline and dementia.
Trying to come up with brain stimulating activities on your own can be tricky! Meet Lumosity.
Lumosity
Lumosity is an app designed to stimulate your brain with fun games and activities that work on improving your attention, problem solving, speed of processing and memory skills. It's a real brain workout!
4. Travel apps for seniors
If you're still enjoying some local travel, finding places to stay is simple with apps like Wikicamps and Hipcamp.
Wikicamps
Wikicamps shows you all of the caravan parks, free and paid camping grounds, potable water sites, dump stations, toilets, showers (and much more) around Australia. The apps is used by thousands of people and is kept up-to-date with any closures. It features prices, reviews, photos and links to book if relevant.
Hipcamp
Hipcamp is an app that features campsites and outdoor activities on private land. With Hipcamp, private landowners are able to list their land for use for camping and/or activities such as fishing, horse riding and bushwalking.
The app has clear pricing of each campsite or activity, as well as reviews from people who have stayed there previously.
Hipcamp can be a great way to avoid the busy camping grounds, meet local landowners and experience a more peaceful and unique getaway.
5. Medication management
It's easy to forget to take medication and if the timing of your medication is important, having a reliable and consistent reminder can make your life a lot easier!
MedAdvisor
MedAdvisor is an Australian-based medication app that manages your prescriptions, gives you reminders to take your medication, as well as instructions and information on dosage and effective use of your medications.
MedAdvisor is linked to your Pharmacy and you can use the app to order new prescriptions and have them pre-filled so you don't have to wait in line.
6. Relaxation & meditation
Taking time out to relax your body and mind can be life-changing. Learning meditation techniques can help you to focus, feel energised, reduce stress and anxiety, improve your sleep and help you to stay present and appreciate even the smallest moments throughout your day.
Headspace
Headspace is a guided meditation app that walks you through simple ways in which you can learn to relax and improve your meditation skills. If you've ever tried to meditate before, you may have found that it's very difficult to quiet your mind and stay in the present moment. Headspace makes this easy, with a huge range of guided meditations – some at just 3 minutes long. It's a great introduction to what can be a life-altering practice.
7. Music
Music has a way of changing your mood, helping you to process your feelings, or taking you right back to a specific moment in time.
Whether you want to listen to your old favourites, or discover new music, these two apps are the perfect choices.
Shazam
Shazam is one of our favourites! Have you ever been listening to the radio, or hear a song in the background of a cafe, or in a movie scene and you just HAVE to know what it is? Well, Shazam is your new best friend. By tapping a button, this app 'listens' to whatever is playing and then tells you exactly what it is. It also connects to your other music apps and can add any song it finds into your music library, so it's yours to keep and listen to whenever you like.
Spotify
Spotify is a music streaming app where you can search and find almost any song ever recorded! If you don't know what you feel like listening to, Spotify recommends certain playlists that it thinks you might enjoy based on your previous listening.
Spotify also has some fantastic podcasts to discover, where you can listen to your favourite people or topics and learn something new.
8. Practical apps for seniors
While not the most exciting apps, these ones are very useful and ones you're likely to use on a regular basis.
Banking
Most banking is online these days, and your bank will have its own app to make your online banking much easier, and to keep track of your funds.
Many banking apps also feature budgeting software to help you keep track of spending, as well as sharemarket trading and monitoring.
Weather
Your phone is likely to come with a weather app built into it, but in our experience, these often aren't the best. We recommend Weatherzone, which can follow your location and give you reliable and up-to-date weather information. It shows you the weather up to 10 days in advance and also has a rain radar so you can monitor the skies and ensure you get your washing in before the rain hits!
Public toilet finder
This one can really come in handy! The National Public Toilet Finder app shows almost 20,000 public toilets across Australia.
Get The National Public Toilet Finder app for iPhone.
Get The National Public Toilet Finder app for Android.
Do you need extra help at home?
As we get older, living at home can be made easier by using Home Care services. But finding the right care for you or a loved one can be an emotional and challenging journey. That's where CareAbout comes in: We help people find the right care provider for themselves and their loved ones, and help navigate the various Home Care and Aged Care options, at no cost to you. For experienced help with understanding Home Care Packages or providers, contact our team for a personalised and obligation-free discussion.
With CareAbout, you're never alone on this journey. Speak to our friendly team today on 1300 536 707.