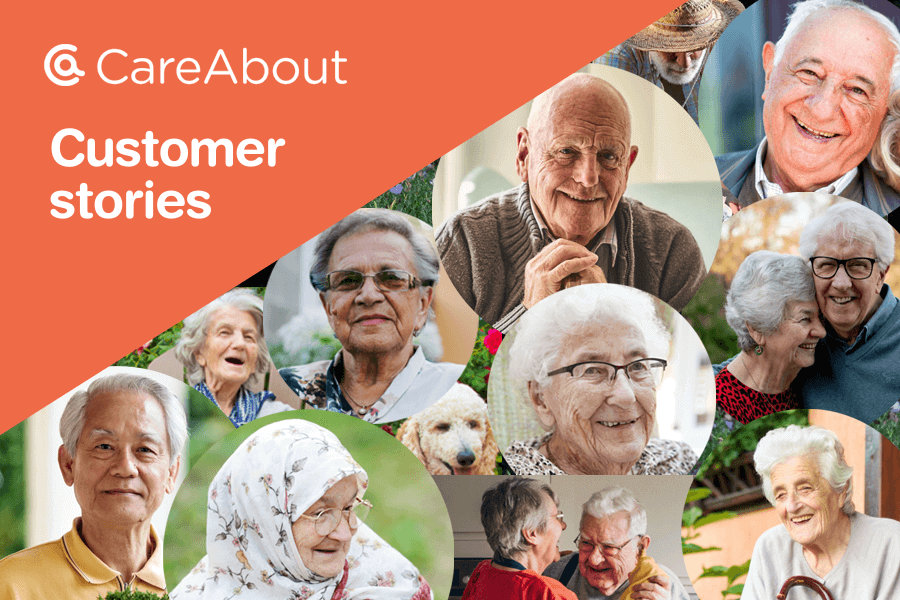 We help a huge number of Aussie families feel at ease and connect them with great, quality providers. Don't just take our word for it! Listen to Jim's story and how CareAbout was able to help him find the support he needed.
What I found about CareAbout was their experience, their knowledge and their passion to find the best provider for my mother and her requirements was absolutely a pleasure to deal with… I couldn't be any happier.
Jim reached out to CareAbout after receiving a letter from My Aged Care letting him know that his mother's Home Care Package wasn't too far away.
Jim's mother had been paying for council services through the CHSP when one of her care workers recommended that she apply for a government-funded Home Care Package.
CareAbout were able to find a great provider for Jim's mother! After carefully listening to all of the things Jim and his mother were looking for, CareAbout matched her with a boutique, local provider with excellent services and reasonable fees.
Jim couldn't be happier, and wanted to take the time to spread the word about the great service that CareAbout provides, ensuring older Aussie's are connected to quality care providers who will look after them.
Watch Jim's story below
Video transcript
How did you hear about the Home Care Package Program?
Mum used to pay for her care through the local council and it wasn't until one of these workers said to me 'Jim why is she paying to be showered, to go to the physio, to have her house cleaned when there are Home Care Packages available?' This was never mentioned to us. So I wanted mum to feel quite comfortable and safe in her home and in her own environment, and also be able to have friends and family to come and visit her when they liked.
How did you find the process of applying for a Home Care Package?
I found the process quite daunting, I found there wasn't enough information available.
What type of care were you looking for?
Mum is 85 years old of age but tried to be strong and self-sufficient. I do make sure that someone is there to assist her with showing and getting dressed. We have fortnightly visits for home cleaning and making sure the home is stabilised with bars and platforms.
What was your experience with CareAbout?
I had a lovely lady call by the name of Sue. It only took a couple of hours once I had put my details in online. I told her I had received a letter from My Aged Care saying that mum was going to receive a Home Care Package within in the next couple of months. Sue explained to me what the letter meant and explained that I needed to wait for another letter to confirm the grading, which is one, two, three or four. She gave me some fantastic information, so I waited for the second letter. The second letter came and confirmed mum's grading of a level 3 and the date that I needed to find a provider by. I got back on the phone with Sue. We went through a series of questions, I told her mums strengths, weaknesses and opportunities and what we were looking for. Sue identified a beautiful boutique organisation and she arranged a meeting two days later. I met a lovely young man, and for me when I met these people it was all about building relationships. Because that shows me the amount of care they're going to show for my mother.
How do you feel about the provider you were matched with?
There were no exit fees, non of these astronomical administration fees, their rates were reasonable. I told them what my mothers requirements were and everything was ticking. What I found with this boutique organisation was they ticked every box for my mother and even more.
How was your experience with your CareAbout agent?
Sue was outstanding, I can't speak highly enough of her, her understanding, her follow up. Even the organisation's follow up, 'is there anything I can help you with, are you happy with the situation, can we do anything more?' It was absolutely outstanding.
How do you feel about CareAbout today?
I can't speak highly enough about CareAbout, that is why I want to speak to the range of the community out there. It is daunting when you have to find a provider and what I found about CareAbout was their experience, their knowledge and their passion to find the best provider for my mother and her requirements was absolutely a pleasure to deal with. I highly recommend it and I've already recommended them to other family members and to friends that are now waiting for their Home Care Package. Without CareAbout I would still be looking for a provider as we speak; you made it so easy and I couldn't be any happier.