What is Home Care Package Level 3?
A Level 3 Home Care Package offers intermediate-level Home Care to its recipients. Individuals at this level may also be eligible to receive care at an Aged Care Home, but would prefer to remain in their own homes instead.
What does a Level 3 include?
At this level, you will receive Home Care assistance with day-to-day domestic and social activities. Depending on the type of support you require, a Level 3 can help with tasks such as gardening and cleaning.
This package level also gives you approximately 16 hours of support every fortnight, depending on your provider's fees.
What can I spend my Level 3 Home Care Package on?
The choice is yours! You can spend your Home Care Package on any reasonable service or product to assist you with your care and safety at home. You also get to choose your preferred service from an approved provider.
Some of the most common services requested in this package level are:
Domestic or household tasks such as cleaning, dusting, laundry, and dishes
Household maintenance
Gardening services such as lawn-mowing, weeding, and ensuring garden paths are safe and hazard-free
Transport services
Meal preparation
Personal care services
Nursing care services
Memory and/or behavioural support
Medication management services
How much is a Level 3 worth?
The annual government subsidy for a Level 3 Home Care Package is $39,311, which is calculated in daily and fortnightly subsidies (July 2023). However, this subsidy changes each year in July and will be paid directly to your provider.

When selecting a provider, it's important to consider your package subsidy and how much you will have to pay out of pocket. The right Home Care order will be able to explain your fees clearly so that you understand how much and what you'll pay.
What fees are associated with a Level 3?
You may need to pay a basic daily fee and an income tested care fee when you have a Home Care Package.
Basic daily fee
Some Home Care providers may charge a basic daily fee for their services, but others may discard this fee. You will not be charged this fee from a CareAbout Home Care provider.
The basic daily fee changes in March and September each year, and the current fee for Level 3 is $12.20 a day (September 2023).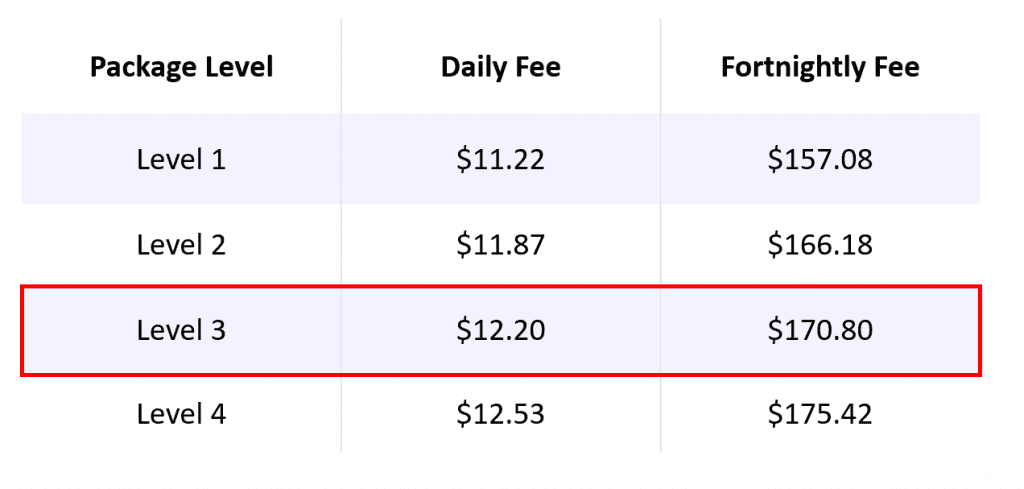 This fee is your contribution to the costs of your Home Care and is determined through an income assessment. Pensioners and those whose income doesn't exceed $32,331.00 a year will not need to pay this fee (September 2023).
Currently, the income tested fee ranges anywhere from $17.97 to $35.95 per day, and this fee is also subject to change in March and September each year (September 2023).
Your Home Care provider may charge additional fees besides these two fees mentioned above, so it's important to check with them and ask for a breakdown of your fees.
How do I apply for a Level 3 Home Care Package?
You can apply for a Home Care Package at the My Aged Care portal or call them at 1800 200 422. Once you have applied, My Aged Care will arrange for an assessor to visit you in your home to evaluate the level of care you or your loved one needs.
Am I eligible for a Level 3?
Australian residents above 65 years who need help with tasks at home may be eligible for a Home Care Package. Aboriginal or Torres Strait Islander individuals are also eligible for a HCP Level 3 from 50 years old.
Find a provider you can trust for your Home Care Package
Understanding your Home Care Package and finding the right provider can be challenging. If you'd like help with applying for a Home Care Package and comparing providers, CareAbout is here for you.
CareAbout helps carers and their loved ones select and navigate the various Home Care options available. For experienced advice in understanding Home Care, contact our team for a personalised discussion.
Know more about individual Home Care Package Levels :