When is it time to consider a Nursing Home for a loved one living with dementia?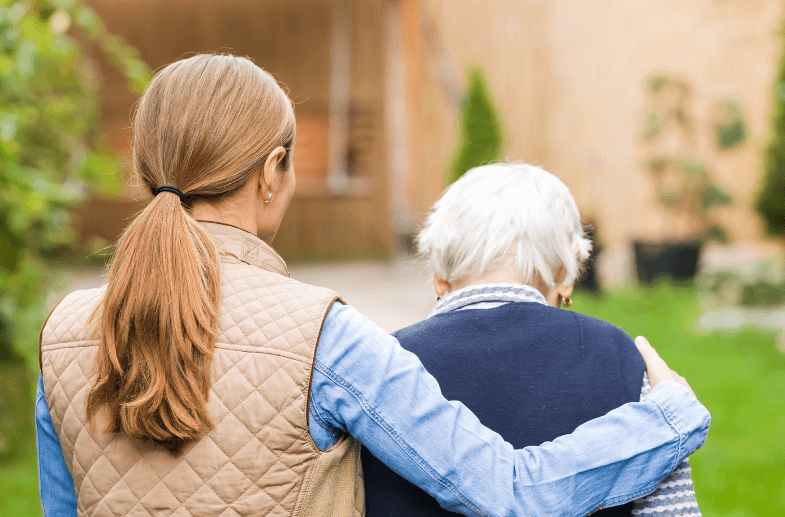 Deciding when the right time has come to consider a Nursing Home for a loved one living with dementia can be an emotionally challenging process. It requires careful consideration of the person's needs, to ensure they receive the best possible care and support. It's crucial to involve the person living with dementia in the decision-making process to the extent possible and to carefully consider their preferences and wishes. Seeking guidance from healthcare professionals, social workers, and family members can also provide invaluable insight and support in making this decision.
As the needs of the person living with dementia change over time, the timing of moving to a dementia-specific Aged Care Home will vary for each individual. Therefore, it's essential to regularly assess the situation and be open to reevaluating the decision. 
This article will help you better understand how dementia-specific care services work and explores the key factors to keep in mind when making this important decision.
Understanding dementia care in Aged Care Homes
If you have a loved one living with dementia, you'll be aware that dementia isn't a specific disease but a collection of symptoms caused by a brain disorder. These symptoms affect one's memory, thinking, and behaviour, which include:
Memory loss
Difficulty in performing basic, everyday tasks, e.g. brushing teeth, changing clothes
Misplacing items and overall forgetfulness
General confusion about activities, time, and place
Withdrawal from social activities and people
Agitation and anger
Dementia affects people in different ways and changes in the behaviour or emotional state of a person living with dementia are common. Caring for a loved one with dementia can be challenging to manage on your own because it's difficult to predict their mood or keep watch over them every minute. Hence, many carers seek help from dementia-specific Nursing Homes equipped with the facilities, expertise, and trained staff to manage these patients.
Do you need more information? Dementia Australia provides free information kits about all aspects of dementia. Find out more.
The benefits of Aged Care facilities for dementia patients
Not all dementia patients are the same, and some may require more care than others. However, the right home will be able to cater to your loved one's specific dementia care needs.
Currently, there are over 50% of dementia patients in Aged Care Homes in Australia. These homes provide a high level of care needed by dementia patients and offer benefits such as:
Specialised staff and nurses with experience, qualifications and skills to care for patients
24-hour care, support and supervision that ensures your loved one is safe
Dedicated facilities such as sensory rooms, memory cafes, reminiscence rooms, and special lighting to mentally support your loved one
Structured routines and timetables so that they feel more secure and less confused
A social environment with activities that can reduce their feelings of loneliness and offer them companionship
Providing you with a better mental and emotional capacity to spend quality time with your loved one
Allowing you to support and influence your loved one's level of care in a healthy and positive way
When is the right time to seek dementia care in Aged Care Homes
Knowing when it is the right time is to move a loved one with dementia into an Aged Care Home is a deeply personal decision. If you're considering this as a carer, it's crucial to discuss this decision with other family members and research the right Aged Care Home before making a decision.
It's important to always prioritise your loved ones safety and quality of life when making these decisions. Consider the following questions:
Does your loved one struggle to live independently?
Is their current environment safe for them?
Do they have a good quality of life in their current environment?
Does your loved one need ongoing supervision to perform daily tasks?
Does your loved one need more support and care than you can provide due to their declining health?
Does your loved one suffer from symptoms of memory loss, confusion, disorientation and impaired mobility that prevents them from living a full life?
If the answer is yes to most of these questions, then you could consider moving them into a Nursing Home for dementia care. It's normal for them to resist this change initially, so get them involved in the decision-making as much as possible to minimise their anxiety.
Key takeaway
Moving your loved one into an Aged Care Home is undoubtedly an emotional and difficult decision. It may be a decision you are considering, if on balance, you feel it is the best option for your loved ones safety and quality of life. The right Aged Care Home should allay your worries and allow you to spend time with your loved one, knowing they are comfortable, safe and well cared for.
To determine if a Nursing Home is right, ask them about their approach to dementia care. Do they provide personalised care plans? Do they offer activities suitable for residents with dementia? How do they handle behavioural changes related to dementia?
Make a checklist of the things that are important to you and your family when caring for your loved one, and discuss this with the Nursing Home. That way, you can ensure your loved one gets the best care possible.
Please know that you are not alone in this journey. CareAbout is here to provide guidance at every step of the way. We offer our expertise at no cost to you, helping you navigate this complex process, understand your specific needs, and supply a personalised list of Nursing Homes that accommodate your loved ones health, budget, lifestyle and cultural requirements.
Reach out to CareAbout today on 1300 721 855, and let us help you to find the right-fit Nursing Homes in your local area for your loved one.