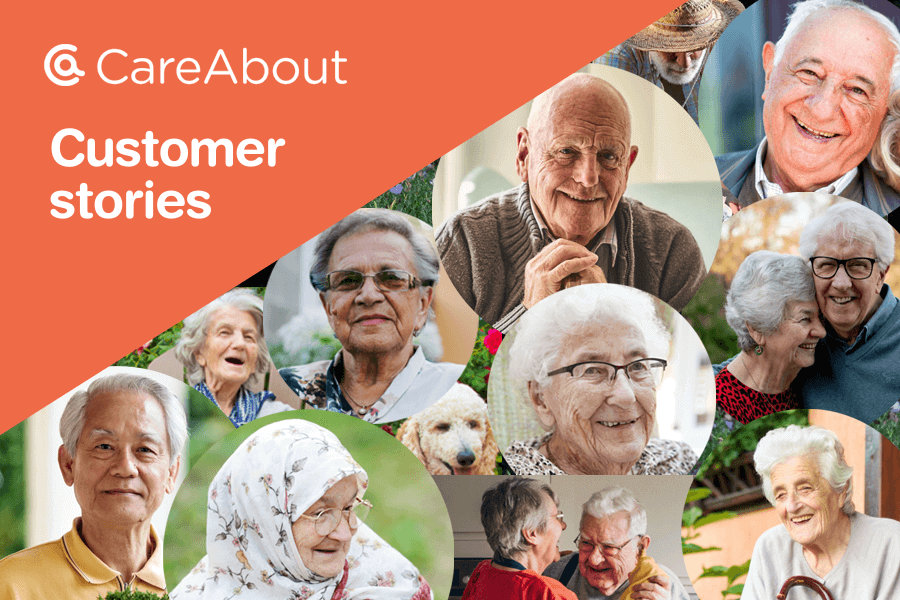 We help a huge number of Aussie families feel at ease and connect them with great, quality providers. Don't just take our word for it! Listen to Jo's story and how CareAbout was able to help her find the support she needed.
He was obviously genuine, he was also very caring and I felt safe I think that's an important word to use…I felt really excited actually because I felt like I found what I needed.
Like most people, Jo was nervous when it came to choosing a provider for her Home Care Package. She was a bit worried about who she could or couldn't trust, particularly when it came to such an important decision around her own care services.
After hunting around on her own, Jo came across CareAbout and thought she'd give it a try, hoping that the advice and assistance really was reliable and trustworthy. After speaking with Roland at CareAbout, Jo was relieved and thrilled, noting how genuine Roland's advice and information was, and how safe she felt with him.
Roland was able to quickly find several fantastic care providers who would help Jo achieve her goal of staying independent in her own home. Roland narrowed it down to a single provider – one who would not charge Jo any fees on top of her government funding.
Jo is absolutely thrilled with CareAbout's service, and with the provider Roland recommended. Jo says that she tells all of her friends to go straight to CareAbout!
Watch Jo's customer story below
What's your name and who were you looking for care for when you found CareAbout?
My name's Joe Buchanan and I was looking for care for myself when I found CareAbout.
What was your first impression of CareAbout?
When I first went on to look at it I hoped, well okay I have to be honest… I hoped that CareAbout was what they claimed to be. I didn't know because they said that they would help to get me something close to where I live and this happened but of course I didn't know whether it would be like that or not.
How did you find CareAbout?
I lost the use of my right leg and so I had to be on crutches and I couldn't drive anymore. I couldn't do the shopping, I couldn't do anything so I had to find a Home Care Package and so I went on the internet looking for them but I came across CareAbout that said they could help you get the right one.
What was your experience when you first called CareAbout?
I contacted CareAbout and it was fantastic so that's how I got on to CareAbout. It was the person there I think it was Roland I was talking to in the beginning, and he was just amazing. He was obviously very genuine and so he helped me to find the right care package.
What type of care were you looking for and how did CareAbout help you?
What I wanted was to remain independent in my home. I don't know the correct term but sort of low level care. Basically because I couldn't drive the car anymore and couldn't go shopping, I really needed someone to do my shopping and I needed someone to do housework for me but I didn't need anybody to shower on me or anything like that.
What was your experience with the agent you worked with?
I told Roland CareAbout all of that and he got he got it down to I think probably about four or five Home Care Package providers that would probably be good, but he recommended one in particular and the reason he recommended it was because it was one that didn't ask you to pay out  money every week on top of the Government package. So I was thrilled that Roland did this because I just couldn't afford to pay that extra money every week and so I did what he suggested. I knew he was genuine and he genuinely cared because he actually would ring and check how I was going, which I thought was amazing.
Was there anything that surprised you about the process?
As I got onto them, I was sort of surprised at how genuine they were, I don't know the right words to use but I felt safe with Roland. With the way he was talking to me and everything, because he rang a few times and it was really good. I could use the words he was genuine I knew that he wasn't a con artist he wasn't trying to con me. He was obviously genuine, he was also very caring and I felt safe I think that's an important word to use, I felt safe going with him. Because you know how sometimes you don't feel safe, you're a bit wary, but I just sort of knew it was genuine so I felt really excited actually because I felt like I found what I needed.
What would you say to someone just starting the process?
I say go straight to CareAbout I've told them already. They'll immediately get the help because that's what happened to me and I know that somebody from here already has already and is very happy.
How do you feel about CareAbout today?
To have CareAbout helping me get the package it happened very quickly and very easily and it just made me feel so relieved.