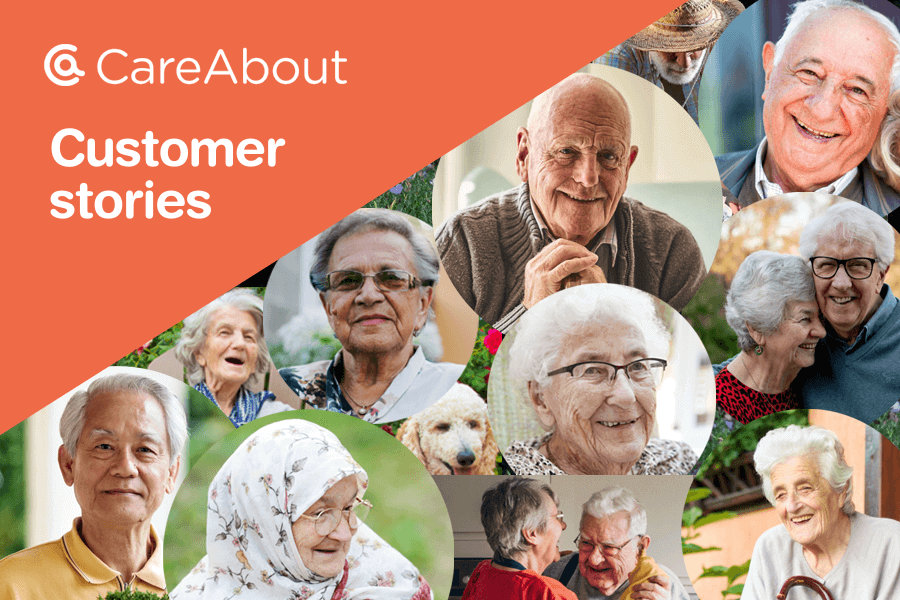 We help a huge number of Aussie families feel at ease and relief as we work with them to find the right Aged Care Home for their loved one. Don't just take our word for it! Hear Peter's story and how CareAbout was able to help he and his family find the support they needed for their mother.
On Mother's Day this year, Peter's lovely mum Joan had a fall at home and fractured her pelvis. Joan was in hospital for quite some time receiving treatment, when it became apparent to Peter and his family that Joan wouldn't be able to return home to live independently – they needed to find permanent Aged Care for Joan.
With pressure from the hospital to find something quickly, it was a stressful and daunting process that Peter and his family had to navigate with little to no experience in the Aged Care industry. Peter explained how he then came across CareAbout, "My partners brother had already been in contact with CareAbout earlier this year, and he had been referred on from someone else who had used the services of CareAbout also. So, he said to me this is who I've used, so you should call them and have a chat. So, I got onto Jeremy and that is how we found CareAbout".
When thinking about what they wanted in an Aged Care Home for Joan, it was simple, what Peter and his family "were really trying to locate was a suitable residential aged care facility that was going to provide our mum with the level of care that she needed for her health conditions and a location that was within reach of our families, because we are all sort of spread out a bit".
With the help and guidance of Jeremy from CareAbout, Peter and his family were able to get Joan into the home they wanted. When asked what his experience was like with CareAbout, Peter said "Excellent. Jeremy jumped into play and the experience was fantastic. Jeremy provided prompt and knowledgeable advice. He also provided us with some links with everything we needed regarding assessments, funding, and the type of facilities that were available. Including a list of facilities that in fact had vacancy. He also arranged for us to walk through some facilities, in terms of going through and having a meeting with the care providers, Jeremy set that all up for us".
Peter reflected on the benefit that using CareAbout's service made to him and his family, throughout what was a very stressful and emotional time. "I think the best thing about it was that it took the heat out of it. We were a bit worried because mum was in hospital, but he [Jeremy] explained that we didn't have to rush". By using CareAbout's services, Peter and his family could focus on being there for Joan, whilst Jeremy put in the leg work to finding suitable homes that they could tour.
When describing how he felt throughout the process, Peter said –
One word that would sum it up would be supported. Which is sort of interesting, being guided through the process was a good thing, but to know that someone was sort of behind us supporting us was another thing as well.
Throughout the process, Joan was still in hospital and unfortunately took a turn for the worse, leaving them a little unsure about what was going to happen. However, Jeremy encouraged them to keep on the path of finding a home, so that the work was done if they did end up needing a placement. Sure enough, whilst Joan didn't improve enough to move back home, she improved enough to move into an Aged Care home to receive the ongoing care that she required. And, because they had remained on the path of organising Aged Care with the support of Jeremy at CareAbout,  "all that work kicked in and we were able to find a suitable facility that mum is now in".
When talking about the home in which Joan now resides, Peter said "I really couldn't speak highly enough of where she is. It is a very pleasant facility to walk into, its well-resourced, the staff are very nice and more than anything she is safe, she is being cared for and she is being looked after. And that is the backbone of what we wanted". Whilst Peter remarked that Joan would much rather be back in her own home, he stated that the home she is in is the "very next best thing".
After receiving a referral from a family to contact CareAbout, Peter had some idea of how CareAbout might be able to help, "But I was surprised by the level of knowledge that CareAbout had within the aged care industry and that's not just knowledge about which ones, but the services, the availability of aged care homes that were in the area and vacancy rates which was important… the thing that surprised me most was the level and breadth that CareAbout knew about the industry. A lot of these places you feel like they've got skin in the game, where you get pushed into an area you don't want to go. But with CareAbout it was left to us, we weren't pushed, we weren't coerced, we were just guided more than anything."
Peter recalled how it was a difficult time for him and his family in the beginning, prior to Joan's fall permanent aged care was not on their mind. "It was very confusing in the beginning, but what Jeremy and CareAbout did was break it down and tackle it one thing at a time. And once we went through a process of tackling that, we started to understand things, instead of it all being thrown at us and having to fumble our way through".
Whilst reflecting on his experience with CareAbout Peter has some advice for others that might be a similar situation.
The most important thing that I would tell anyone, is that irrespective of your situation with a family member, CareAbout could provide you with anything you need from the beginning right through to the end.
He continued by saying,
I couldn't speak highly enough about CareAbout, from the moment I rang to the moment that we got mum placed, the support and the knowledge that CareAbout had within the industry really helped us.