Rescue dogs in Aged Care Homes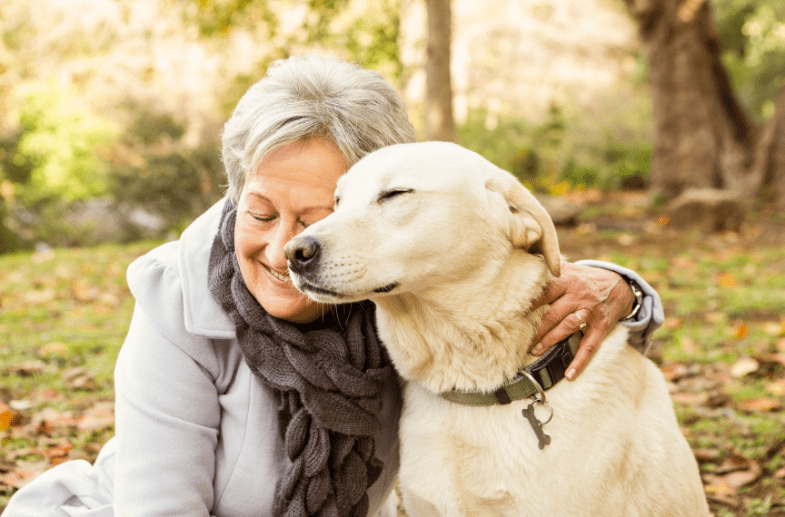 The dog lovers amongst us will appreciate the heart-warming news of Australian Aged Care Homes welcoming rescue dogs into their midsts. It's hoped these initiatives will prove to be beneficial for both elderly residents and the furry companions they're integrating into their lives. The use of dogs for therapy and companionship isn't new, but it's uplifting to hear of the bonds developing between Aged Care Home residents and rescue dogs.
The bond between Aged Care Home residents and pets
The companionship between Aged Care Home residents and rescue dogs offers a remarkable source of psychological and emotional support. Studies have consistently shown that interactions with pets provide a range of benefits for seniors, including reduced stress, anxiety, and feelings of loneliness.
Rescue dogs in Aged Care Homes: a second chance at life
With cost of living pressures impacting many Australians, pounds and animal rescue shelters are experiencing higher than usual numbers of animals seeking new homes. So the opportunity for rescue dogs to offer companionship within Aged Care Homes is beneficial for all. There's no shortage of love, attention or pats for these rescue animals in the calm, caring surrounds of Nursing Homes.
Benefits for Aged Care residents
Aged Care residents benefit greatly from interactions with dogs, and in fact, many Aged Care Homes have therapy dog programs to promote emotional and physical wellbeing. Some Aged Care Homes will even allow you to have your own dog move in with you. This can ease the transition for those moving into Aged Care Homes
Some of the benefits of having dogs in Aged Care Homes are:
Emotional wellbeing and reduction in loneliness
A 2020 Australian study concluded pet therapy positively impacts emotional well-being, including a tangible improvement in baseline depression scores. One of the most significant benefits is a reduction in feelings of loneliness and isolation. The constant companionship of a four-legged friend helps residents feel more connected and engaged.
Physical health benefits
Seniors become more active as they engage in walking, playing, and grooming their furry friends. This increased mobility contributes to better physical health. On average, pet owners have lower cholesterol and blood pressure than non-pet owners.
Cognitive benefits
Interactions with dogs stimulate cognitive functions, which can be particularly beneficial for residents with memory issues. A 2014 German study found that people living with dementia had better attentiveness and verbal communication skills after completing a therapy dog program. Additionally, the presence of dogs encourages social interaction among residents.
Sense of purpose
The daily care and attention required by a dog can instill a sense of purpose in residents. Feeding, grooming, and playing with the rescue dogs become integral parts of residents' daily routines.
Benefits for the rescue dogs
For rescue dogs who may not have experienced loving attention and a safe and stable environment, the move into an Aged Care Home can be life-changing. These dogs can be showered with the affection, attention and care of those living in Aged Care Facilities, providing them with comfort in the calm and welcoming atmosphere of an Aged Care Home.
Challenges and solutions
While the benefits of these initiatives seem clear, here are just a few of the factors a Nursing Home would need to consider:
Residents or staff may have dog allergies or phobias, and managing this could be difficult. If this is the case, rescue dogs may not be suitable animals for that particular Nursing Home. In some cases the dog may be able to be limited to certain areas of the Aged Care Home, if that were an option.
As with any re-homing of a rescue dog, these dogs must be screened to ensure they're compatible with the Aged Care Home environment and with residents. Additional training of the dogs (and staff) may also be required.
Aged Care Homes would also need to have plans in place for the care, health, and welfare of rescue dogs. Regular vet check-ups and proper nutrition are obviously crucial.
The broader impact: communities and beyond
The integration of rescue dogs into Aged Care Homes has been found to have a ripple effect that extends beyond the Homes and residents themselves.
Local communities and volunteers often play an essential role in supporting these initiatives. They may organise pet therapy sessions or help with the care of the dogs by taking them home for the night, attending veterinary appointments, or taking them for walks.
It's hoped that more Aged Care Homes will embrace rescue dogs and adopt similar programs, which will benefit more seniors in Australia. It may even serve as inspiration for other sectors, such as schools, prisons, and hospitals, to consider animal rescue programs that benefit both the animals and the people involved.
If the companionship of a canine friend can ease the transition of a loved one into a Nursing Home this article might provide food for thought!
CareAbout connect Australian families with quality-rated Aged Care Homes in your local area. We spend the time to understand your unique health, financial and cultural requirements and send you a customised list of local Nursing Homes. Our service is free and can save you hours of time and second guessing. Simply call us today on 1300 721 855.