Sesame Street has a new character with disability! Plus 5 more shows that represent children with disability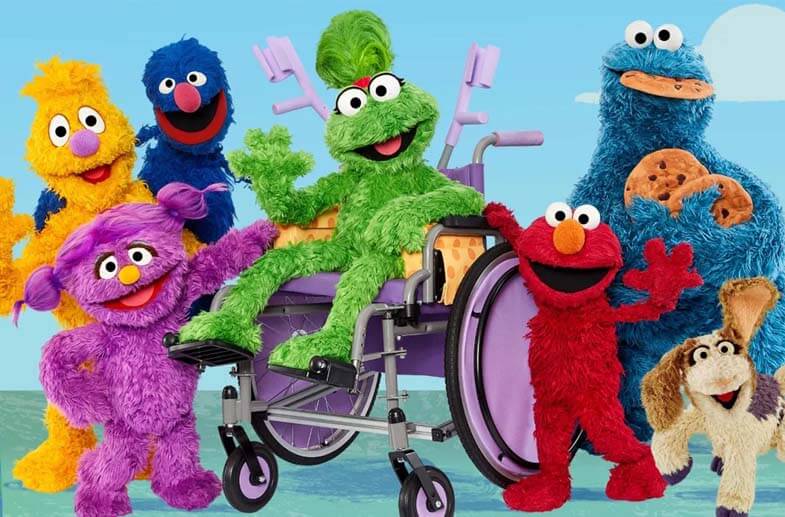 Sesame Street recently welcomed their newest character, Ameera. Ameera is an 8-year old Muppet who has a spinal cord injury and uses a wheelchair. She does not always use her wheelchair, and is also seen using arm crutches. 
Her character was in development for over two years, with Sesame Street producers seeking a lot of advice from inclusion experts to ensure that Ameera's identity, movements and equipment was representational of a person with spinal cord injury. 
With nearly 240 million children worldwide living with disability, the inclusion of characters with disability in children's shows is vital. More and more, we are seeing disability represented in mainstream media and entertainment, raising awareness and improving education for children and parents with and without disability. 
Here are 5 more great shows that represent children with disability:
1. Raising Dion
Raising Dion follows the life of Dion, an 8 year old boy with chronic asthma and ADHD who has just lost his father. Starting a new school, he feels on the outer and initially struggle to connect with anyone until he meets Esperanza,
Every superhero needs an amazing team, and Dion has one of the best by his side! Esperanza is smart, cheeky, kind, and she's usually the brains behind his many schemes and plans.
Sammi Haney, who plays Esperanza, uses an electric wheelchair because she was born with Osteogenesis Imperfecta Type III or "Brittle Bone Disease". The crew behind Raising Dion have done a fantastic job raising awareness and normalising the starring of actors who have a disability as the heroes, highlighting them navigating a once inaccessible world and making it accessible.
Where to watch?
Both seasons of Raising Dion can be streamed on Netflix.
2. Atypical
This is one of the most popular shows on Netflix. Atypical follows the life of Sam, a teenage boy with autism spectrum disorder (ASD) who is navigating his high school years. It is funny, quirky and endearing, and focuses heavily on Sam's insistence that he can do all of the things that he wants to, despite preconceived notions that may tell him he can't.
Whilst the actor who plays Sam is very good in his portrayal and did spend a lot of time researching, it's good to note that he himself is not on the autism spectrum and many people in the disability community may find that to be an inaccurate or inauthentic representation.
Where to watch?
All four seasons of Atypical are available on Netflix.
3. Hardball
The Aussie show, Hardball, features a character called Jerry who lives with cerebral palsy and uses a wheelchair. The actor who plays Jerry is Logan Reberger, who himself lives with Minicore Myopathy, a rare congenital disorder that causes muscle weakness and wasting.
The character of Jerry was introduced into Hardball to represent diversity and the show said it was important that they cast an actor who had a disability to ensure that the representation was authentic. However, Logan's disability was not the focus and it was his humour, and ability to bring to life a character that was funny, interesting and textured.
Where to watch?
Hardball can be viewed on ABC iView – 2 full seasons are available.
4. Avatar: The Last Airbender
Avatar: The Last Airbender is a multi award winning animation and has gained critical acclaim for its storylines and characters. It focuses on subject matters that aren't often touched on in children's entertainment, such as imperialism, war, genocide and disability. One of the main characters is Toph, who has been blind from birth and is one of the most powerful earthbending masters of her time. The show follows Toph's initial struggle with overprotective parents and patronising treatment from others, watching her overcome this to become a famous warrior and champion.
Where to watch?
You can watch all episodes of Avatar: The Last Airbender on 10play or Amazon Prime.
5. Peppa Pig
Peppa Pig welcomed a new character in 2019 – Mandy Mouse! Mandy Mouse is a 4 year old mouse who uses a wheelchair. When Mandy Mouse was introduced to the show, there was no fanfare or hype around the fact that she moves around using a wheelchair. This was celebrated by parents and fans of Peppa Pig, thanking the show for bringing visibility and representation of children with disabilities in a simple way that mirrored everyday life and championed inclusiveness.
Where to watch?
You can watch Peppa Pig on ABC iView and Foxtel.