10 ways to use your Home Care Package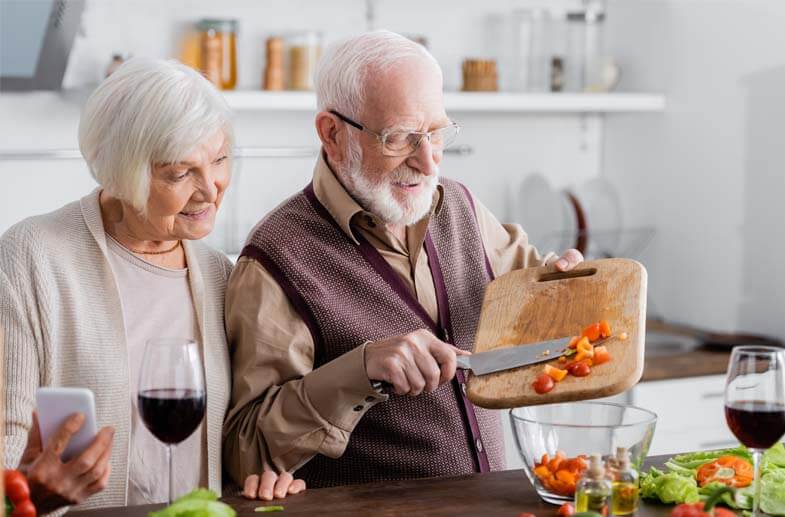 Get ready for your Home Care Package! If you're waiting for a Home Care Package, use this time to get prepared and learn a bit more about the common services available to you.
Did you know that most people who have been approved for a Home Care Package are also approved for services through the Commonwealth Home Support Program (CHSP)? This program gives you access to basic services through your local council, and is available to you while you're waiting for your Package. Once you receive your Home Care Package, any CHSP services you are accessing will stop and be replaced by your Package.
Your Home Care Package will give you a much wider range and higher level of Home Care services compared to CHSP, so it is certainly worth waiting for! In the meantime though, the CHSP can give you some basic support to assist you while you're waiting.
Here are 10 of the most popular Home Care Package services
1. Doing your laundry and changing bedlinen
Washing and hanging out your laundry, or changing the sheets on your bed can be a tricky task, particularly if you have poor mobility or arthritis. Simple, everyday aches and pains can also make this job daunting! Having your home care provider do this for you can be a great help.
2. Organising your groceries, and stacking and sorting your fridge and pantry
If you're finding it hard getting to the supermarket, navigating those often-unfriendly supermarket trolleys, or carrying all of your groceries, don't worry! Your Home Care Package allows you to utilise your care workers to do a lot of this for you. You can also choose to have your groceries picked and delivered by the supermarket themselves, and then use your Home Care workers to pack away your groceries.
If your fridge and pantry need a bit of upkeep, you can have your provider organise these for you too, making sure all of your regular use items are within easy reach.
3. Keeping your home tidy and hazard-free
Having a home that is clean and free of any trip hazards or clutter is really important and will help to make sure you don't have any unnecessary falls or accidents. When you've been living in the same home for a long time, it can be hard to notice potential hazards or risks. A care worker can help you to identify whether there are some things within your home that could be dangerous, such as excess furniture, stacks of boxes, upturned carpet or rugs, and general clutter.
4. Assistance showering and getting ready for your day
Bathrooms are often the biggest concern for safety. Many bathrooms are not built in a way that is easy for older adults to move about, for example, shower and bath combinations which require stepping up and into a bath. These are really tricky for people with declining mobility, especially when the area becomes wet and slippery. A Home Care worker can assist you to move safely around your bathroom, and can even help you with showering if you require it.
Your Home Care Package can also be used to purchase aids and equipments, such as a shower chair, that will improve your safety in the bathroom.
A Home Care provider can also help you to get dressed each day, help you do your hair and/or makeup if you wear it as well as any other personal or grooming tasks.
5. Help getting to any appointments, groups or activities
Finding your way to appointments and social outings isn't something you'll need to try and navigate anymore. It's likely that you've had to rely on family, friends, or taxi services in the past which may have meant that you weren't able to do things on your own terms or within your own timelines.
Your Home Care provider can help you with transport to and from appointments at times that suit you, and they can stay with you the entire time if necessary.
6. Vacuuming and mopping your floors
Vacuuming and mopping is a tedious job! It can leave you feeling sore and exhausted and it's probably not something you want to be doing on a regular basis. Let your Home Care provider take care of these for you, leaving you to relax and read your favourite book, do a crossword, or watch a favourite program on TV.
7. Helping you to prepare meals
There's nothing better than having a nice meal prepared for you! Making your own meals every day can get tiresome, especially if you find it hard standing for long periods of time. Let your care worker help you out with meal preparation.
Eating well and getting all of the right nutrition is important to keep you healthy and well for longer. If you have special requests, or dietary requirements, these will certainly be taken care of as well.
8. Raking up leaves/tidying garden paths so you don't slip or trip
Do you find that you don't venture out into your front or back yard as much as you used to? This may be because you don't feel confident on your feet and worry about slipping or tripping. Your Home Care provider can arrange to have your garden paths and regular walkways cleared of any leaves, long grass or other potential hazards, giving you some extra assurance.
You may also be able to have additional safety measures installed, such as grab rails, to further improve your safety and confidence.
9. Mowing your lawns and weeding your garden
Looking out and seeing well-kept lawns and a tidy garden will make you feel great! Garden tasks are yet another thing that your Home Care provider can help you out with.
If you are still able to enjoy some gardening tasks yourself, you can choose which of the more difficult jobs you get your provider to look after such as lugging around that heavy mower!
10. Help with strength and mobility
Your Home Care Package can be used to enlist the services of an occupational therapist or a physiotherapist to help you maintain your independence at home. A physiotherapist can help you with things like hands-on therapy and exercise programs that will help to reduce muscular and joint pain and allow you to build or maintain your strength and flexibility.
An occupational therapist can assess you and determine what modifications to your daily routine might assist with your mobility and independence. Often they might recommend small in-home modifications or other aids and equipment, such as modified eating utensils, that will allow you to stay safe and independent at home.
Do you already have your Home Care Package? Ready to find a great provider?
To find quality providers in your area who will meet your individual needs, speak with one of our Care Advisers today, on 1300 576 386.