5 Ways to Look after Your Loved Ones Remotely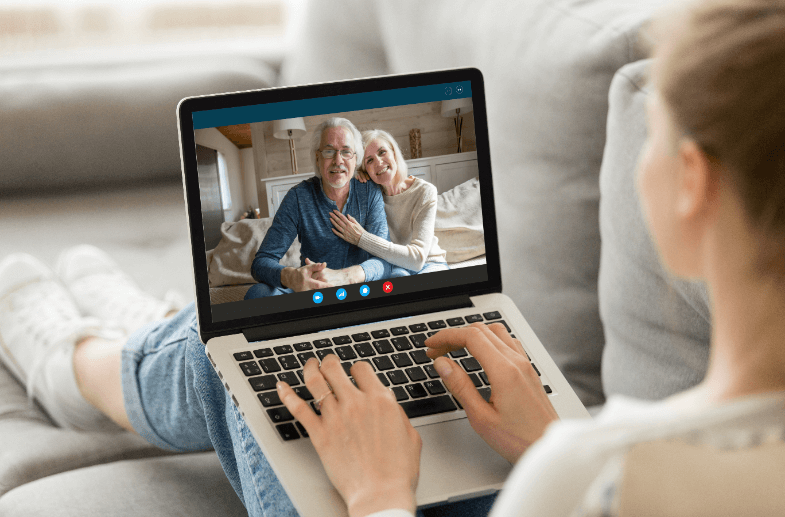 Living vast distances from your loved ones is tough, especially when they're ageing, vulnerable, or need ongoing support.
While you can't be there in person to provide comfort or perform everyday tasks, there's a myriad of ways you can help remotely.
From face-to-face communications to managing domestic duties and organising a Home Care Package, we're covering five ways to support your loved one from a distance.
1. Regular video calls
Keeping in touch with your loved ones means more than shooting off the occasional email. Video conferencing is all the rage in the modern age, and there's no reason you shouldn't incorporate the technology into your family communications.
Unlike a text message, a video call lets you discuss complex topics in-depth and receive visual cues through body language and facial expressions. While it's not quite the same as sitting side-by-side with a nice cup of tea, video calling is the next best thing.
Apps like WhatsApp Messenger, Facebook Messenger, FaceTime, Skype, and Zoom all offer free, easy-to-use video call services. Your loved one may need some help to get going and if they have a Home Care provider they may be able to arrange this and pay for the technical support from the Home Care Package.
2. Arranging deliveries
Whether you're based in another city or on the other side of the world, it's no longer possible to pop in with an impromptu gift. However, you can lend a much-needed helping hand by organising deliveries direct to your loved one's door.
Got a birthday coming up?
Get a florist to drop off flowers or purchase a home delivery care package from their favourite retailer. Food delivery apps like UberEats offer a smorgasbord of culinary treats, while Woolies and Coles have grocery delivery services.
Navigating a shopping mall can prove challenging for people with mobility impairments, including the elderly. To make life easier, you could organise online shopping on your loved one's behalf.
3. Arranging home care services
It's not just goods you can get delivered remotely. With some research, you can book a bewildering array of services online or over the phone.
If your loved one is eligible for a Home Care Package, you could help them navigate the application process. If you can't be there when they are selecting a Home Care provider you can ask to be dialled in via video conferencing and be part of the conversation about your loved one's needs.
Your loved one doesn't need a Home Care Package to receive support services at home. An endless array of private enterprises offer home care services, from gardeners to house cleaners and clinical care.
If you're loved one isn't in a solid financial position, you could consider covering the costs yourself.
4. Join online communities
Video calls are all well and good, but the best way to spend quality time with your loved one is by practising a shared passion.
Identify a hobby you both enjoy—gardening, reading, board games, etc.—and seek out online groups or communities. That way, you can keep in close contact with your loved one while enjoying your passions.
Some hobbies, such as chess, bridge, and video games, can be played online. Or, if you both like cooking, you could arrange to prepare new recipes together over a video call.
5. Perform tasks on their behalf
As we get older, it becomes difficult to manage everyday administrative duties. Mobility impairments, fatigue, and forgetfulness can turn simple organisational tasks into stress-inducing chores.
The good news is you can perform a wide range of "life admin" duties on your loved one's behalf. From managing the household budget to organising transport and booking medical appointments, there's a whole host of ways you can help remotely.
Not only does such assistance make life easier for your loved one, but it also provides a way to maintain close contact. As you'll liaise frequently, there's plenty of opportunity to chat and catch up on current affairs.
Looking after a loved one remotely
While living vast distances apart, it's crucial to maintain close contact with your loved ones. The practice becomes particularly important for those living alone, who are susceptible to loneliness-related depression.
But close contact isn't the only crucial consideration. It's vital to ensure your loved one has all the support services they need. From food deliveries to house cleaning and landscaping, domestic services can have a significant impact.
If you'd like to learn more about home care services for your loved one, contact CareAbout today. We work with a broad network of pre-vetted Home Care Package providers and Nursing Homes throughout Australia.