Aged Care Home Star Ratings: What Families Need to Know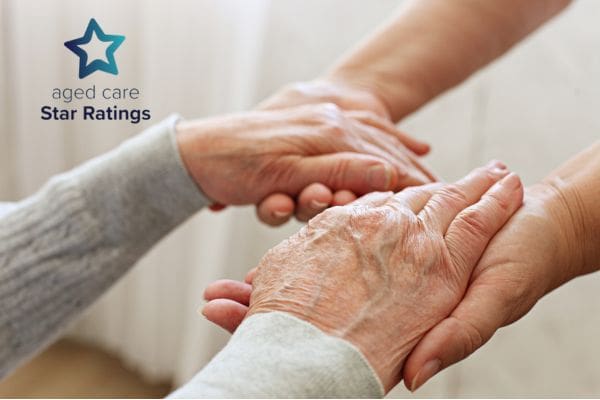 Are you looking for an Aged Care Home for your loved ones? If you are not sure where to begin, then reading this guide to understanding quality in Aged Care Homes is for you.
Choosing the right Aged Care Home or Nursing Home for your loved one is more than just a casual decision. To ensure your loved one receives the highest quality of care and support in a safe and comfortable environment, the Australian Government has introduced Aged Care Star Ratings. This is the beginning of finding the right Aged Care Home. So, let's understand what Aged Care Star Ratings are and how it can benefit you in selecting a quality Aged Care home for your loved one.
What are Aged Care Star Ratings?
Aged Care Star Ratings are an evaluation system designed to provide simple and transparent information about the quality of care delivered by residential Aged Care Homes across Australia. These star ratings are aimed at assisting older Australians, their families, and carers in making informed decisions by comparing the quality and safety measures of different Aged Care facilities.
How Do Aged Care Star Ratings Work?
Aged Care Star Ratings are based on an overall star rating from one to five, with five being the highest rating. This overall rating is determined by evaluating four sub-categories: compliance, residents' experience, staffing minutes, and quality measures. Let's take a closer look at each of these sub-categories:
Compliance
The compliance rating assesses the adherence of Aged Care Homes to government regulations and standards. It is based on non-compliance decisions made by the Aged Care Quality and Safety Commission, which are reported daily. Non-compliance decisions can range from minor issues to more serious breaches of care requirements.
Residents' Experience
The residents' experience rating provides insights into the overall experience of older Australians living in residential Aged Care Homes. At least 10% of residents are interviewed face-to-face about their experience These interviews cover various aspects of their stay, including the quality of care, staff interactions, food and overall satisfaction.
Care Minutes
The Care minutes rating is derived from reporting under the Quarterly Financial Report and Annual Financial Report. This rating reflects the amount of time dedicated to direct care by staff members in Aged Care Homes. There are mandatory staffing minutes that Aged Care Homes must provide each day, to every resident. Average care minutes targets for a residential service will reflect the care needs of residents in that service. They will be calculated on the amount of direct care time a resident would be expected to need over 24 hours.
Care minutes are expected to average about 200 minutes a day per resident, with 40 of these minutes being delivered by a registered nurse. The average care minutes targets will increase from 200 to 215 minutes from 1 October 2024.
Quality Measures
The quality measures rating is based on data concerning five existing quality indicators. These indicators include pressure injuries, physical restraint, unplanned weight loss, falls and major injury, and medication management. The data provides insights into the performance of Aged Care Homes in managing these critical aspects of care.
Benefit of Aged Care Star Ratings
For families searching for suitable Aged Care Homes or Nursing Homes, star ratings serve as a valuable tool in narrowing down options. It provides an at-a-glance overview of each facility's performance, making it easier to compare and choose the best possible option for their loved ones.
Moreover, these star ratings encourage Aged Care facilities to continuously improve their services. By publicly displaying their rating and striving for higher scores, Aged Care providers are motivated to enhance their standards of care and create a positive environment for residents.
Overall, Aged Care Star Ratings provide transparency that empowers families with information-driven choices, and encourages continuous improvement within the industry. These benefits contribute towards ensuring that our older Australians receive the highest level of support and comfort they deserve during this important phase of life.
How to Check Star Ratings of a Particular Nursing Home?
Families can check the Aged Care Star Ratings of a particular Nursing Home on their own using the 'Find a provider' tool on the My Aged Care website. This tool allows you to search and compare My Aged Care star ratings for different Aged Care Homes in Melbourne, Sydney, Brisbane, Canberra, Adelaide and across Australia, including regional areas. Read more about on My Aged Care – Find a provider tool here.
Additionally, the My Aged Care website provides a range of resources to support families in understanding and utilising the star rating system. These star rating resources include articles, frequently asked questions, how-to video and fact sheets.
How Often Do Ratings Get Updated?
Each category of Aged Care Star Rating is updated at different time periods. Staff and quality measure ratings are updated every 3 months. However, Compliance rating is updated daily, and resident's experience rating is updated yearly. The overall star rating automatically recalculates when new data is available.
Who Can Help You Find A Top-Rated Nursing Home?
CareAbout can simplify the process! Choosing the right Nursing Home for your loved one can be overwhelming. It's more than just a bed; it's about their comfort, well-being, and happiness. We've helped 12,000+ families like yours through the process.
Our mission is to ensure that every older Australian receives the quality care they deserve. That is why we only recommend 3, 4 and 5 star-rated Aged Care facilities based on your loved one's needs. It goes beyond just providing assistance; we strive to make a positive impact on the lives of older Australians by offering them support when they need it the most. Reach out to one of our expert advisers at 1300 826 508 and receive a curated list of Nursing Homes in areas we can provide support.
Watch this video to know more about Aged Care Star Ratings: