Ever wondered what the perfect diet looks like when it comes to curbing the ageing process?
Well 86-year-old Paul has it down pat and has received a big tick of approval from PhD qualified nutrition scientist and accredited dietitian, Joanna McMillan. As part of the recent article, Joanna described Paul's 'Day on a Plate' "flawless".
Joanna continued by stating that
If you keep eating like this you'll … Support your brain health while keeping the brakes on the ageing process of your body through a combination of good nutrition, exercise and mental stimulation.
What is the 'perfect' diet for over 75's?
So what magical foods does Paul eat that's going to pump the brakes on ageing? It's not as complicated or expensive as it might sound, it's actually rather simple and it sounds absolutely delicious too!
8am Muesli with yoghurt, walnuts, prunes, figs, apple and grapes, then a flat white while reading The Sydney Morning Herald on my iPad. Then it's on to back-strengthening exercises and walking to the shops.

10.30am A cup of black tea.

1pm Prawns, mayo, cucumber and lettuce on olive sourdough, plus an orange and a banana. I also have a black coffee before 30 minutes of walking, then reading and writing.

7.30pm Swordfish pan-fried in extra virgin olive oil with chervil and garlic sauce, steamed potato, carrot and zucchini. Fresh fruit salad with rockmelon, pear, mandarin, banana, kiwifruit and passionfruit. Half a glass of red wine.
What is the Mediterranean diet?
Paul's diet is essentially of Mediterranean style. Queensland Health describes a Mediterranean-style diet as coming "from the traditional eating pattern of people from countries bordering the Mediterranean Sea. These include Greece, Italy and Spain. This diet is based on healthy whole foods and includes very few processed foods", you can read more about it here.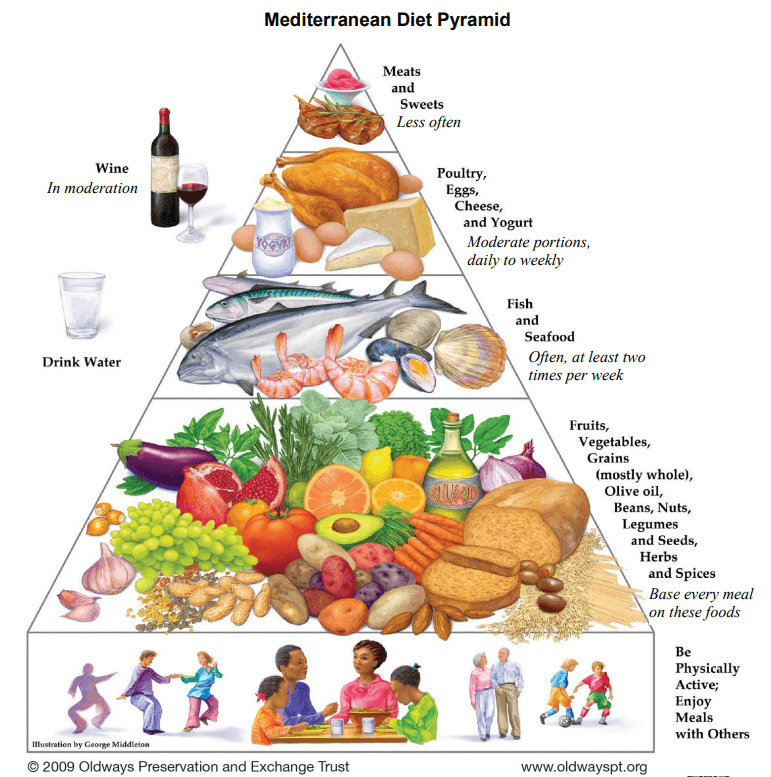 Try these great Mediterranean recipes
Paul's day on a plate not only sounds delicious but is considered by Dieticians to be supporting his health and wellbeing as he ages, along with regular physical activity and mental stimulation. If you think it's something you might like to try, firstly, all dietary recommendations should be provided by a licenced practitioner, but why not give the following recipes a go.
Many supermarket muesli brands aren't as healthy as they seem, with many containing lots of added sugars. Why not try making your own muesli at home, trust us it's not as hard as it might seem, here's a great recipe to try.
If DIY isn't for you, use these tips when picking out muesli at the supermarket, to help you select the brands with the most wholefoods.
And for dinner, we've taken some inspiration from Paul's menu with this Gourmet Traveller Pan-fried swordfish with lemon-caper butter and salted potatoes.
Happy Cooking!