Study Reveals Hearing Aids Halve Cognitive Decline Risk in Older Adults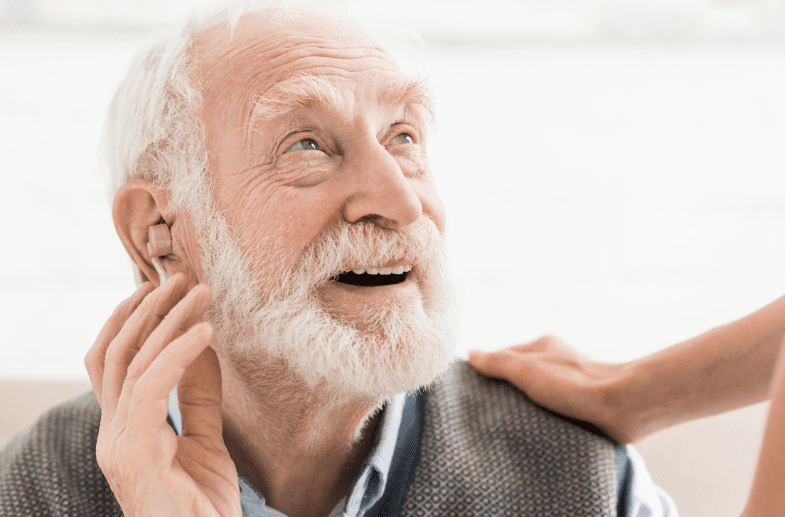 Last month, we observed World Alzheimer's Day, a very important day in our calendar. As Aged Care advocates, dementia is prominent and is part of our everyday conversations with customers and partner providers. It's important to highlight the growing impact of dementia in Australia.
According to Dementia Australia, over 400,000 Australians are currently living with dementia, a number that's expected to rise significantly in the coming years. With dementia being a significant health concern, new findings from the Aging and Cognitive Health Evaluation in Elders (ACHIEVE) study offer valuable insights. The study suggests that using hearing aids can significantly slow down cognitive decline in older adults with mild to moderate hearing loss.
What is the ACHIEVE study?
The Aging and Cognitive Health Evaluation in Elders (ACHIEVE) study is the largest clinical trial of hearing aids for reducing long-term cognitive decline in older adults. It ran for three years and was conducted in the United States of America. There were 977 older adults between the ages of 70-84 involved in the study, all of whom experienced hearing loss but no significant cognitive impairment.
During the three year study, participants in the intervention group were given the use of hearing aids, a self-management hearing toolkit and ongoing counselling with an audiologist. The comparison group received health education about chronic disease prevention.
The goal of the study was to measure any changes in cognitive comprehension.
Mixed Overall Results, but Promising Subgroup Findings
While the study did not find a significant impact on cognitive decline across the entire study population, a pre-specified segment consisting of 238 participants in an ongoing observational study of heart health did show a remarkable 48% reduction in the rate of cognitive decline when using the hearing intervention.
These 238 adults were deemed to be at a higher risk of cognitive decline than the overall study population, so the observation that their use of hearing aids for three years cut cognitive decline in half is very promising.
Why this matters – hearing loss, social isolation and dementia
Maria C. Carrillo, Ph.D., the Alzheimer's Association chief science officer, called the ACHIEVE study subgroup results "encouraging" and noted that hearing loss has been identified as a significant, yet often overlooked, dementia risk factor.
Social isolation and loneliness are also significant risk factors for the development and progression of dementia. Unfortunately, both social isolation and loneliness are pervasive in modern society, particularly among older adults.
Hearing loss is a significant risk factor for social isolation, compounding the risk factor for dementia. It is more than just a physical impairment, affecting emotional well-being, social connections, and overall quality of life. The connection between hearing loss and social isolation is undeniable, with both contributing to a downward spiral of diminished communication, emotional distress, and cognitive decline.
Broader Implications
Given that people with hearing loss often avoid social activities, including family gatherings, outings with friends, and community events, the hearing intervention could work by helping older adults stay more socially and physically active.
Researchers also propose that hearing intervention may reduce the risk of dementia by easing the cognitive load on the brain during listening.
What's Next
Further research is needed to explore how exactly hearing aids and counseling contribute to these cognitive benefits. Meanwhile, healthcare providers recommend that older adults get their hearing regularly checked as part of an overall strategy to maintain good health and well-being.
Early detection and intervention are essential. Regular hearing screenings, especially for older adults, can identify hearing loss in its early stages, allowing for timely treatment with hearing aids or other assistive devices.
Take Action Now
Raising awareness about the impact of hearing loss and challenging stereotypes can reduce stigma. Encouraging open conversations about hearing health can empower individuals to seek help without shame
If you or a loved one is an older adult at risk for cognitive decline and also has hearing loss, consider taking action today.
For more information or to find support, see:
Hearing Services Program – provides free high-quality hearing services and devices to eligible Australians.
How CareAbout Can Help
Did you know that you can also access support to assist with social isolation through government funded Home Care Packages. At CareAbout, we can guide you through the process of accessing these resources. Our services are 100% obligation-free and come at zero cost to you. Simply give us a call at 1300 713 407.