Autumn Recipe Ideas – Nutritious for Body and Soul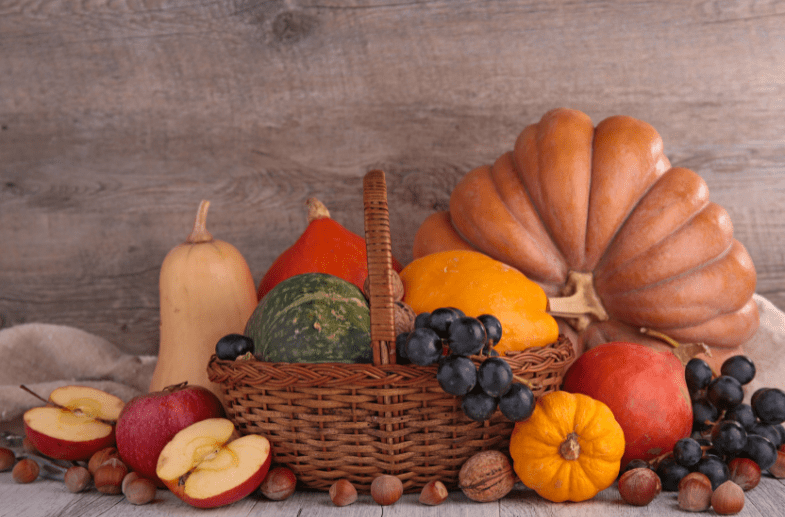 The key to eating healthy is to stick to seasonal ingredients and Autumn in Australia is a great time to enjoy delicious and nutritious meals with ingredients that are abundant this time of year. Here are some foods that are readily available and offer health benefits while tasting delicious:
Pumpkin: Packed with beta-carotene, vitamin C, and fibre, pumpkin is a versatile and tasty ingredient. All types are great, but butternut pumpkins are the most versatile for roasting and using in soups.
Lentils: These protein-packed legumes are great for maintaining energy levels and keeping you feeling full. Lentils are delicious in soups and easy curries.
Salmon: Rich in omega-3 fatty acids, which can support a healthy heart you can find ready-to-eat salmon in the deli section of your supermarket.
Autumnal vegetables: Broccoli, capsicum, cabbage, brussels sprouts, sweet potato, and mushrooms all offer a range of nutrients, such as vitamins, minerals, and fibre.
Beef: A great source of iron, which is important for maintaining energy levels you can select cheaper cuts of beef from the deli or from your local butcher and add to a slow cooker, so they melt in your mouth when cooked for a long period of time.
Here are 5 nutritious meal ideas that incorporate these Autumn ingredients and offer a range of health benefits for older adults:
Roasted Vegetable and Lentil Salad:
This dish is not only delicious but also packed with nutrients. The roasted vegetables provide a great source of fibre, while the lentils offer a healthy dose of protein. You can use a variety of vegetables, such as pumpkin, sweet potato, zucchini, and capsicum. To add some extra flavour, you can sprinkle some feta cheese and a drizzle of olive oil over the top. This recipe makes the hero of the dish eggplant. It's delicious and easy to make.
Pumpkin Soup:
Nothing says Autumn like pumpkin soup! This classic dish is not only comforting but also nutritious. Pumpkin is a great source of beta-carotene, which is important for eye health, and vitamin C, which supports a healthy immune system. You can add some cream for a creamier texture or some roasted nuts for some crunch. Use this recipe as a basis and add your own tweaks as you get more confident.
Baked Salmon:
Salmon is a great source of omega-3 fatty acids, which are important for heart health. To make this dish, you can marinate the salmon in a mixture of soy sauce, honey, and ginger, and then bake it in the oven. Serve it with a side of roasted vegetables, such as broccoli or asparagus, for an extra boost of nutrition. This Jamie Oliver recipe is simple to follow and tastes amazing.
Lentil and Vegetable Stir Fry:
This dish is quick and easy to make and provides a healthy dose of protein and fibre. You can use a variety of vegetables, such as capsicum, broccoli, and snow peas, and add some cooked lentils for protein. For some extra flavour, you can add a sauce made with soy sauce, garlic, and ginger. This recipe is vegan, easy to make and can easily be customised to vegetables that you like best.
Beef and Vegetable Casserole:
This hearty dish is perfect for chilly Autumn nights. Beef is a great source of iron, which is important for maintaining energy levels, and the vegetables provide a variety of nutrients. You can use a variety of vegetables, such as carrots, celery, and mushrooms, and add some herbs and spices for extra flavour. If you haven't got a slow cooker, it may be time to invest. Slow cookers allow you to use cheaper cuts of meats, reduce waste and are a low effort way to create delicious and heart dishes. Find here the recipe.
These five meals are easy to make, delicious, and packed with nutrients to help you stay as healthy as possible in the change of seasons.
Bon Appetit! 😊
Did you know you can access pre-made healthy meals from your Home Care Package? Food preparation can be subsidised by your Home Care Package but not the cost of the raw ingredients. To understand more what you can and can't fund through your Home Care Package read this article.