Home Care Package Changes 2023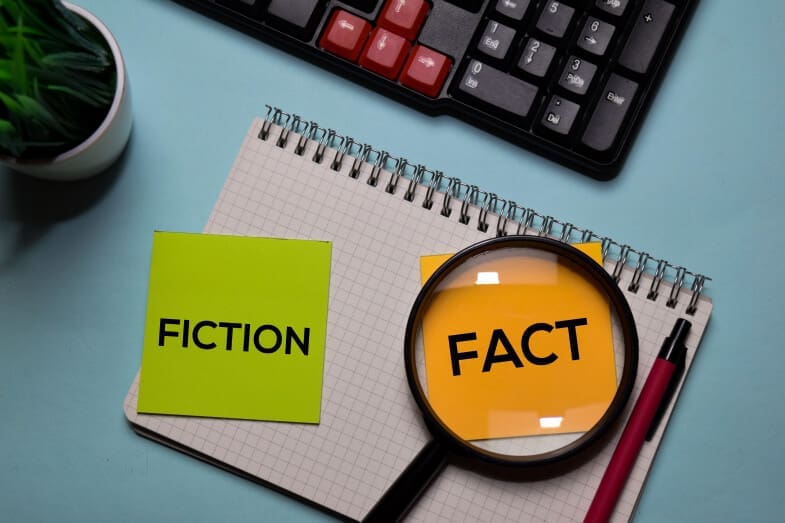 Fact or Fiction: Changes to Home Care Package Guidelines will mean older Australians are worse off
Are Australians worse off with the changes to the Home Care Package Guidelines released in January 2023? Can you still pay for physiotherapy? The preparation of meals? Your mobility scooter?
This article talks you through the facts and the fiction of changes to Home Care Package Guidelines.
The Home Care Package Guidelines sets out what is included and what is excluded from the funding attached to your Home Care Package. The Government released a new Operational Manual in January 2023 which made some changes to what's included and excluded in the funding. But this doesn't mean older Australians will be worse off. Let's look at the facts.
The changes mean it will be harder for older Australians to access a Package.
Fiction. The Home Care Package program's intention is to help older Australians remain living safely in their own homes. This hasn't changed. The new guidelines released are about giving greater clarity and consistency around what you can and what you can't pay for out of the Home Care Package funding. It has nothing to do with access and wait-times which is the real issue.
Home Care Package amounts will be increased.
Fact. From 1st July 2023, the Home Care Package amounts will be increased by 11.9%.

That means the maximum funding for a Level 4 Home Care Package will be $59,594 per year. Read more about the changes here. If you're interested in the Home Care Packages amounts, don't miss this article.
Home Care Packages can no longer pay for home modifications.
Fiction. The modifications to your home must be needed in order for you to remain living safely at home. In some cases, these modifications are to the bathroom, to ensure that it is safe, such as grab rails to assist in getting out of a bath. Modifications covered by the Home Care Package include: installing easy access taps or grab rails in the toilet, bath and shower.

Exclusions listed in the Guidelines, include:
Home modifications that don't support ageing safely e.g., non-accessible bathroom and kitchen modifications; non-standard fittings in accessible bathroom modifications (e.g., mosaic tiles)
Home modifications requiring development applications
Aesthetic modifications of any kind
Significant changes to the floorplan of the home, such as adding a new bathroom or extension.
Mobility scooters are on the exclusion list for Home Care Packages
Fiction. Mobility scooters are not listed on the items for exclusion. The Guidelines do not list everything that could possible be required to support ageing safely. The guiding principle of the Home Care Package Program is to help older Australians maintain independence and capabilities in health and wellbeing, safety in the home and connection to services and community.
Inclusions listed in the Guidelines for mobility and dexterity include:
Providing crutches, quadruped walkers, walking frames, walking sticks and wheelchairs
Providing mechanical devices for lifting, bed rails, slide sheets, sheepskins, tri‑pillows, and pressure relieving mattresses
Assistance in using the above aids.
In fact, the Minister for Aged Care took to Twitter to reassure people that mobility scooters would still be able to be funded out of the Home Care Package.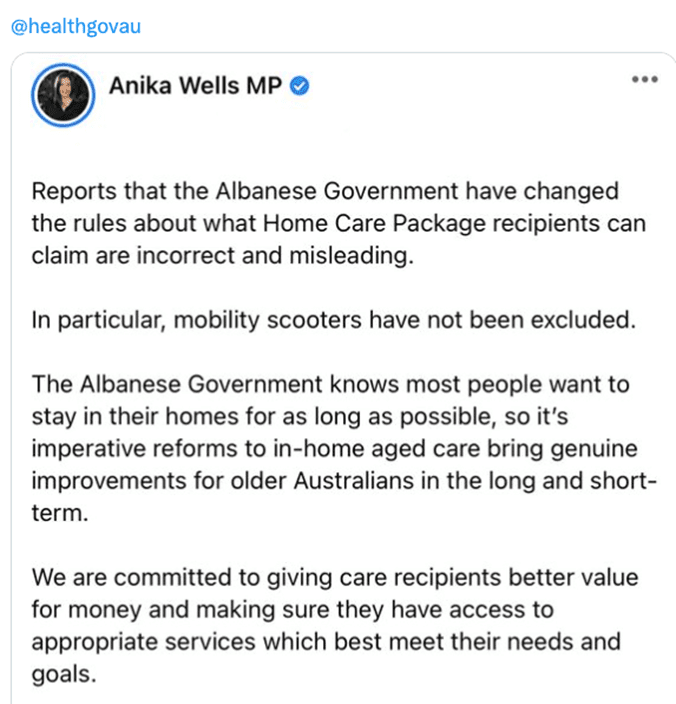 Meals will no longer be paid for out of the Home Care Package
Fiction. The preparation of meals will continue to be paid for out of the Home Care Package funds if required. However fresh ingredients will not be covered (and never were) as they are considered a part of ordinary day-to-day expenses.
Inclusions listed in the Guidelines for meal services include:
Preparation and delivery of meals can be included
The raw food component of meals cannot be included, except in the case enteral feeding
However, takeaway food is an excluded item. And this hasn't changed.
Lawn mowing is an excluded item from the Home Care Package budget
Fiction. Lawn mowing and light gardening continues to be funded out of the Home Care Package. More extensive gardening such as landscaping is excluded under the Guidelines:
Extensive gardening services are excluded, such as:
The installation or maintenance of raised garden beds
Compost heaps
Watering systems
Landscaping
Tree removal
You can no longer buy a microwave or air-conditioner from the Home Care Package budget.
Fact and fiction. You have never been able to pay for climate control and microwaves out of the Home Care Package funding. These are considered general income expenses which householders are expected to fund themselves and have been excluded from 2013.
All of this buzz hides the real problem that there are not enough Packages and the wait-time for an assessment is too long.
Fact. We should be urgently calling for more Packages on a needs basis not a limited number and for these to be assigned and supported in a timely manner. Not people languishing on the National Queue or barely getting by waiting for an ACAT assessment.
The real issue is getting the right funding at the right time.
Fact. Many people don't receive the right funding at the right time and have no other choice than to move to a Nursing Home. The focus needs to be on ensuring that the supply and access of funding through the Home Care Package program meets the demand.
There are three key changes CareAbout is calling for:
Shorter wait-times for Assessments for Home Care Packages
Right funding, at the right time not just being given interim support through the Commonwealth Home Support Program
Quality providers working with consumers and their families: a true collaboration to support individuals to live the way they want.
Home Care Packages provide over 4.4 billion dollars of funding to keep older Australians living at home.
Fact. It's an amazing service that CareAbout wishes more Australians knew about and importantly could access at the right time to keep them out of Aged Care.
It's also true that not enough people know about the Home Care Package funding and assessments and allocation of Home Care Packages are so slow that many people miss out and have no other option than moving to a Nursing Home.
In fact 😊, that's our mission: to ensure all older Australians have access to quality care and supports when they need it.
CareAbout in the news!