Mature Age Employment: CareAbout and National Seniors Australia's New Initiative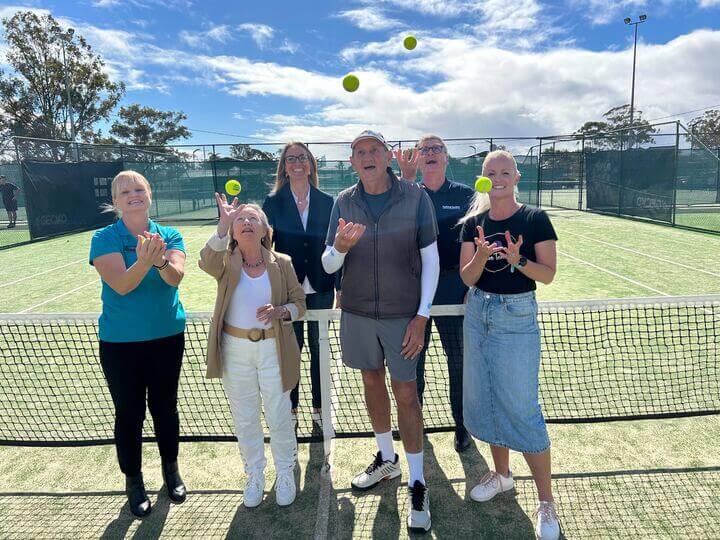 Last week CareAbout joined National Seniors Australia at the Gold Coast Seniors Tennis Club to announce a new partnership advocating for senior Australians.
Amid tennis balls and racquets, that advocacy started by promoting the benefits of mature age employment to help ease an over-stretched Home Care system.
Home care workers, Lin from Hazel Home Care and Linda from Life Without Barriers, joined Kyra-Bae Snell, co-founder of CareAbout, and Chris Grice Chief Operating Officer at National Seniors Australia to chat to senior tennis players about the flexible nature of working in the Home Care sector. Channel 9 News and ABC Radio both covered the launch and recruitment effort.
Kyra-Bae Snell said with wait times for Home Care elongated due to staff shortages, the recruitment of mature age workers could help people find the right Home Care option and reduce these waits.
"A lot of older people would like to work casually or part-time but do not have the opportunity," said Ms. Snell.
"When we speak to families seeking Home Care, we find seniors are a great match. Their life experience, reliability, and ability to relate to older people are highly valued. For some Home Care roles, there's not a lot of formal qualification needed. It may be driving care recipients to medical appointments, assisting with cooking and cleaning, or perhaps giving them a social outlet by having coffee together. It can give people a continued purpose when they're winding down work or considering retirement. People can register on CareAbout's website where we will help connect you to providers that have work opportunities."
Providers like Hazel Home Care and Life Without Barriers are open to creating employment opportunities that suit lifestyles, particularly when it comes to retired or semi-retired people looking for flexible work hours.
Lin from Palm Beach has recently taken up a role working in Home Care for Hazel Home Care on the Gold Coast. "After decades running my own business in the finance sector, I was looking for a change as my career wound down. As I'm getting a bit older, I want flexibility but also something with a community benefit," she says.
"So, it's been the best of both worlds for me, I've been able to continue running my business in a flexible way, but also take on hours in Home Care that suit my lifestyle. It provides some extra income but also a sense of connection with great people."
Chris Grice said there is a collective benefit of older people keeping engaged through employment.
"Older people often bring with them life experience, reliability, and flexibility. These are attractive attributes for any employer, including those within Home Care," Mr. Grice said.
"Mature workers in turn have a continued sense of purpose, keep physically and mentally active and maintain important connections with community. While governments have introduced programs and policies to help increase mature age employment, a major hurdle for those of pension age is the Age Pension income test. This is the driver behind NSA's 'Let Pensioners Work' campaign which calls for pensioners and other government payment recipients to work as much as they want without losing their pension. Pensioners who chose to work would benefit from extra income and understaffed sectors, such as Home Care, would benefit from more workers to help deliver their critical services.
"National Seniors would also like to see a Mature Age Traineeship Program to help meet Home Care staff shortages. There's already a successful pilot program in South Australia to train mature age workers in Home Care. This must be rolled out across the country to encourage mature workers back into the workforce."
To register an expression of interest in Home Care employment click here.