Celebrating 3,000+ 5-star customer reviews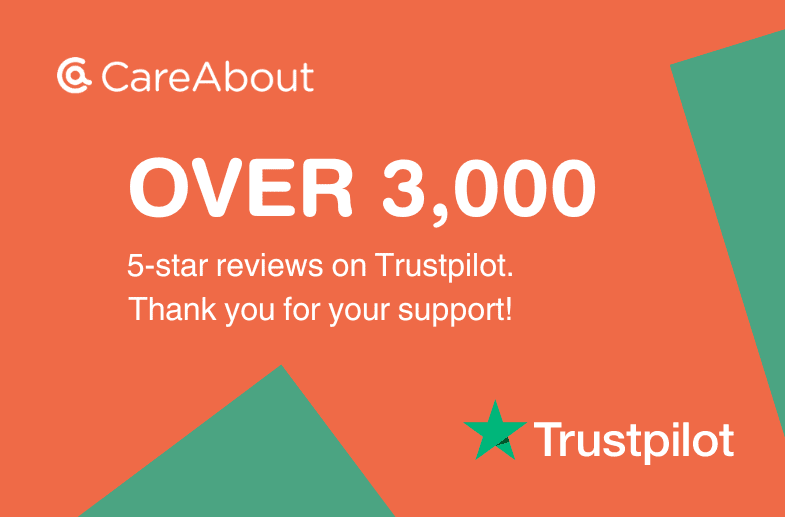 At CareAbout, our purpose is to help Australians access quality care and support with the right information and at the right time. We have always known that the true measure of our success lies in the satisfaction of supporting older Australians and their families. We are so proud to announce that we have reached a significant milestone – 3000+ five-star reviews on Trustpilot! These words are why we do what we do and we want to take this opportunity to say a heartfelt thank you to all who have placed their trust in us.
Guiding more than 80,000 people and their families
CareAbout's beginnings were formed by personal experience when desperately trying to find a quality Home Care provider and understand the support available. Since we started in 2017 with the goal to help 1000 older Australians find quality care, we have now helped more than 80,000 people and their families navigate their way through the confusing and frustrating maze of Aged Care support in Australia.
We've had tens of thousands of conversations, written hundreds of articles, sent out thousands of plain English guides and advocated for much needed reforms in Aged Care in Australia through many media channels including television, radio and print on the ABC, Channel 9, Channel 10 and in many newspapers such as the Australian. We feel honoured and privileged to support families through the journey and offer compassion and timely guidance.
A Tribute to Our Customers
To everyone we have supported, we extend our heartfelt thanks. Your trust in us at one of the most challenging times of your lives has been invaluable. We are committed to continually improving our services to better meet your needs and those of your loved ones.
As we celebrate this milestone, we look forward to helping even more families navigate their Aged Care journeys, always striving to offer clarity, compassion, and care.
With gratitude,
The CareAbout Team
What our customers are saying