Celebrating 100 years of Edna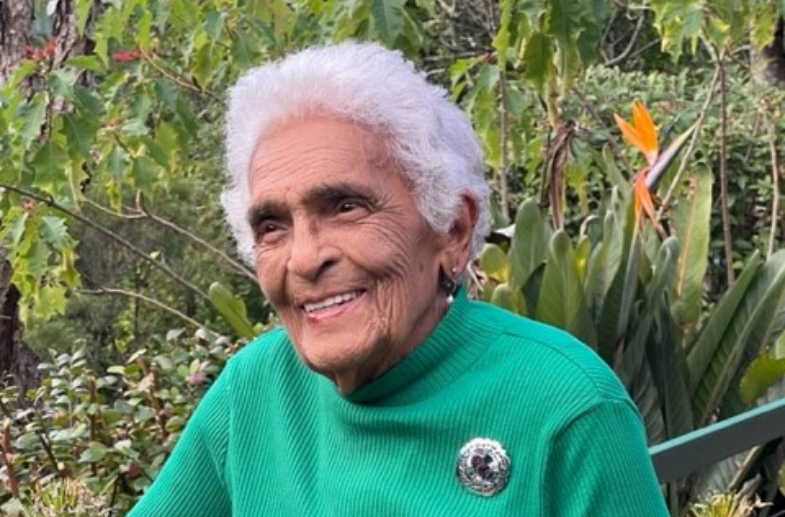 Edna McLeod is CareAbout's newest centenarian, turning 100 in August – and what an amazing and inspiring 100 years she has had!
Born in Cape Town, South Africa, Edna has dedicated much of her life to helping others. Working as a midwife and registered nurse caring for people in Rhodesia, she would cycle to visit all of her patients, accumulating thousands of pedalled kilometers during her time as a nurse.
She emigrated to Australia in 1984 and has continued her care for and desire to help people, most notably knitting baby clothes to donate to hospitals. These clothes, at Edna's request, were given to the babies of single mothers. Edna has even won a Senior Australian Citizen Award!
More recently, Edna has spent much of her time volunteering and contributing to her local community through planning and leading countless events such as food and clothing drives. Her lush backyard is the 'talk of the town', and Edna's neighbours are lucky enough to benefit from her advice, tips and tricks.
Edna has a strong faith and is known as somewhat of a matriarch at her local church, with people almost 'fighting' to sit next to her during services and events! Edna has found wonderful support through her church, giving back to the community and in turn receiving help from her 'church family' who banded together to get her a wheelie walker.
Edna is lucky to be surrounded by a very supportive family, with two daughters and a granddaughter who take it in turns to spend time with her and help around the house and garden. Edna's daughter, Normajean, says that "people can't believe how old Mum is, she looks and dresses well to this day. She is proud, but also quiet and humble."
Now that CareAbout has been able to find a great Home Care provider for Edna, many of her daily tasks are taken care of and her wonderful family have more quality time to spend with her.
When we spoke to Edna's daughter, she said Edna was very excited to share her 100th birthday with friends and family – many of those coming all the way from South Africa to help her celebrate!
From all of us at CareAbout, Happy Birthday Edna!! We hope you had a wonderful day filled with love, laughter, and the sharing of old and making of new memories.
If you're currently looking for a Home Care provider or perhaps considering other available providers in your area. CareAbout is here to help.
CareAbout's Care Advisers are experts at finding the right Home Care for your individual needs, and can guide you through the whole process, at no cost to you. For a discussion about your Home Care Package and needs, speak to CareAbout at 1300 826 508.